The Metropolitan Police have issued more than 50 new fines for breaches of Covid rules in Downing Street and other government buildings.
The Fixed Penalty Notices follow more than 50 handed out last month, including to Boris Johnson, wife Carrie Johnson and Chancellor Rishi Sunak.

Neither the PM nor Mrs Johnson are among those to be fined this time.

The latest penalties are thought to involve a Christmas party in December 2020, which Mr Johnson did not attend.

No 10 has promised to reveal any further fines imposed on the prime minister.

The Met have been investigating 12 gatherings, at least three of which Mr Johnson is known to have attended.

As he arrived for a special cabinet meeting taking place at a pottery in Staffordshire, the prime minister was asked whether he was "shocked" at the scale of law-breaking in No 10.

"We'll have plenty to say about that when the thing's finished," he replied.

In a statement, the Met said the investigation "remains live". Further fines are expected to follow, but no timescale has been given.


The latest Met update screams two things: scale and culture. Covid law-breaking, involving loads of people, happened for months on end, at the heart of a government led by Boris Johnson.

While millions of people made colossal sacrifices to live within rules devised in Downing Street, behind that door, and others in Whitehall, the rules were being ignored, broken.

And we are far from the end of the revelations about what has become known as Partygate.

So what does Labour make of all this?

Well, it's been rather muted. Leader Sir Keir Starmer, his deputy Angela Rayner and others are themselves under investigation by Durham police.

While they've said they'll resign if they're fined, that twist appears to have dialled down, if not neutered, the moral outrage we've heard from them on all this in the past.

Senior civil servant Sue Gray and the House of Commons privileges committee are also running inquiries into what has become widely known as Partygate.

Opposition parties have called for Mr Johnson and Mr Sunak to resign, but Labour leader Sir Keir Starmer has also come under pressure after he was filmed drinking beer in City of Durham MP Mary Foy's constituency office during coronavirus restrictions in April last year.

Durham police launched an investigation last week and Sir Keir - who denies any rule-breaking - has said he will resign if he is found to have been in breach of regulations in place at the time.

Last month, Mr Johnson, Mrs Johnson and Mr Sunak were each fined £50 over a surprise birthday party for the PM that took place in Downing Street's Cabinet Room in June 2020.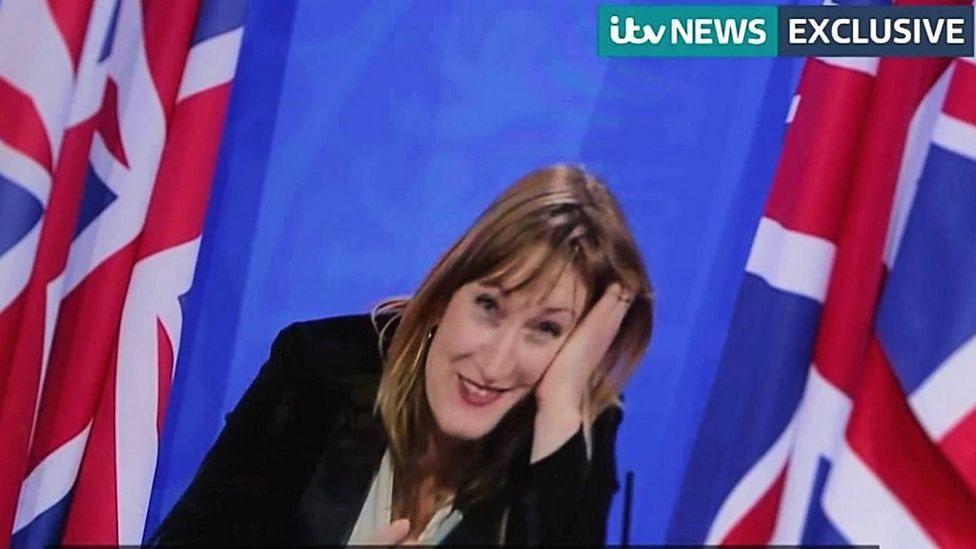 Allegra Stratton resigned over video footage a Downing Street mock press conference was revealed

The latest set of penalties are thought to relate, in part, to the 18 December 2020 Christmas party, which Downing Street staff were filmed joking about a few days later.

Allegra Stratton, the prime minister's former press secretary, resigned in December last year, after the footage was revealed by ITV News. She had not been at the party but was filmed joking with officials who had attended.

Speaking in the House of Commons on the day Ms Stratton quit, Mr Johnson said he had been "repeatedly assured" that "there was no party" on 18 December 2020 and "no Covid rules were broken".

He later added that guidance and regulations had been "followed at all times".

Responding to the latest fines, Labour's shadow House of Commons Leader Thangam Debbonaire accused the prime minister of presiding over "industrial scale" rule-breaking.

She added that Downing Street and Whitehall were the "most fined location anywhere in Britain".

Liberal Democrat leader Sir Ed Davey said: "Boris Johnson stood up in Parliament and said Covid rules were followed in No 10 at all times.

"Now 100 fines have been issued by the police over Partygate. It shows the shocking scale of the law-breaking in Johnson's Downing Street and the extent of his lies."

But Culture Secretary Nadine Dorries and Education Secretary Nadhim Zahawi both backed the prime minister as they arrived for Thursday's cabinet meeting.

Asked if they still had faith in Mr Johnson, Ms Dorries replied: "We do."

"Absolutely," Mr Zahawi added.

The publication of Ms Gray's full report has been delayed by the Met Police investigation.

But her interim findings, released in February, criticised "failures of leadership and judgement by different parts of No 10 and the Cabinet Office" and said that "some of the events should not have been allowed to take place".