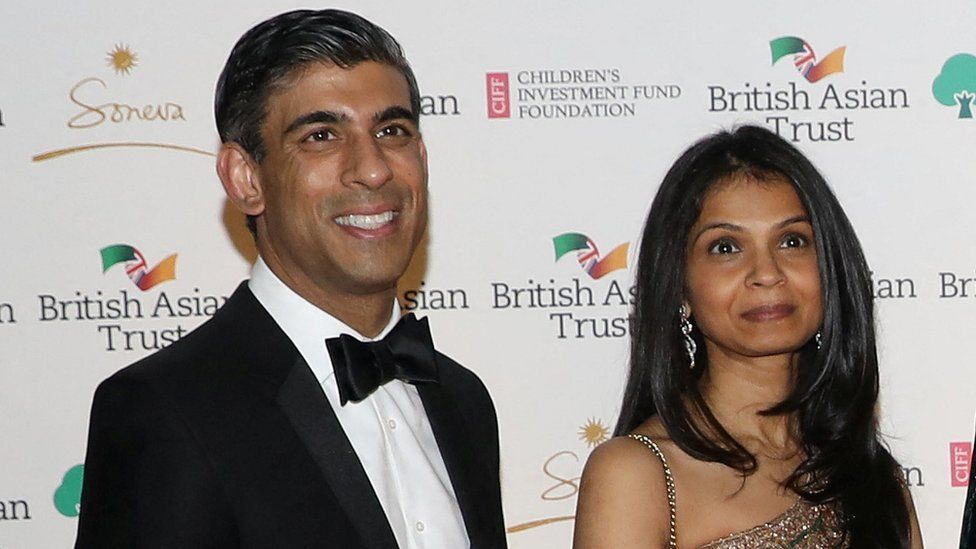 Rishi Sunak's wife Akshata Murty defends non-dom tax status
Chancellor Rishi Sunak's wife, Akshata Murty, has revealed she has non-domiciled status for UK tax purposes.
The status means Ms Murty legally does not have to pay UK tax on income she earns outside Britain.

But Ms Murty's spokeswoman told the BBC she pays all the tax that is legally required in the UK.

Labour said it was "staggering" Mr Sunak's family "may have been benefitting from tax reduction schemes".

The party's shadow Treasury minister Tulip Siddiq called on the chancellor to "urgently explain how much he and his family have saved on their own tax bill at the same time he was putting taxes up for millions of working families".

The story - first reported in the Independent - comes on the day the National Insurance rise came into force.

The government says the increase will raise £39bn which can be spent on health and social care.

Responding to the report, Ms Murty's spokeswoman confirmed that "according to British law, Ms Murty is treated as non-domiciled for UK tax purposes.

"She has always and will continue to pay UK taxes on all her UK income," she said.

The BBC has been told that Ms Murty does pay taxes abroad on her foreign income.

Ms Murty, who is a fashion designer, was born in India in 1980 and holds an Indian passport.

She married Mr Sunak in 2009. Her father NR Narayana Murty founded the IT services company Infosys which has grown to be one of India's biggest firms and he is now a billionaire.

Ms Murty is reported to own a little under 1% of the shares of Infosys with a value estimated last month of more than £500m. She also has interests in several companies in the UK.

Ms Murty's spokeswoman said: "Akshata Murty is a citizen of India, the country of her birth and parents' home. India does not allow its citizens to hold the citizenship of another country simultaneously."

A resident of the UK would have to actively declare they believed themselves to be eligible for "non-domiciled" status from HMRC.

Asked to confirm this is what Ms Murty did, a government source said: "Her domicile status is a matter of fact/law determined by her specific circumstances (domicile at birth)", but added they would not be commenting further on a private individual's tax status.

It is understood that Mr Sunak made the Cabinet Office aware of his wife's tax status as part of his declaration of interests when he first became a minister in 2018. The Treasury was also made aware of the fact in case there were any conflicts of interest.