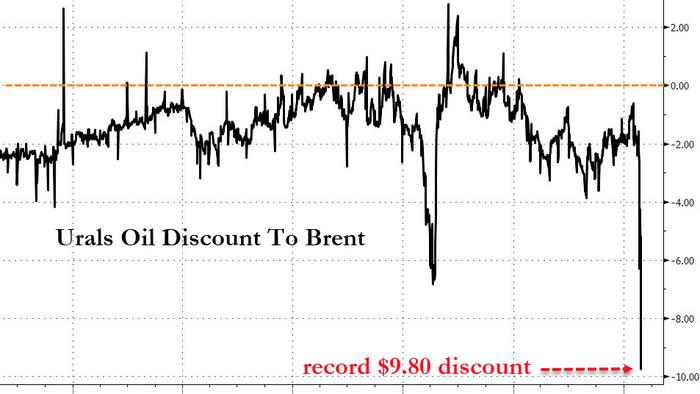 Russia Offers Record Discount For Its Oil As Buyers Pause, Struggle To Finance
Three buyers of Russian crude oil have been unable to open letters of credit from Western banks to cover their purchases, four trading sources said on Thursday following the Russian attack on Ukraine.
A letter of credit is a letter issued by banks that guarantees a buyer's payment to a seller will be received on time and for the correct amount. However, banks may find such a definitive guarantee hard to stand by after Russia arrived in Ukraine cities by land and sea early on Thursday morning in what Russian President Vladimir Putin referred to as a "special military operation."

Missile fire was reported near the city of Kiyv, and Russia has landed in port cities such as Odesa. Crude oil prices have shot up as a result, with Brent crude spiking to more than $104 per barrel.

So who is trying to purchase Russian crude oil? Buyers of Russian oil include Big Oil companies such as BP, Chevron, Exxon, Shell, and TotalEnergies, to name just a few. Trading houses, including Trafigura and Vitol, also purchase Russian crude oil.

Vitol also trades with Russian mining companies, according to Vitol's website.

The anonymous Reuters sources have not disclosed which banks refused to offer letters of credit for the Russian crude oil, but any halt in the flow of Russian crude oil, which exports 7.5 million barrels of crude oil and crude oil products per day, including to the United States.

In November of last year, 17.8 million barrels of Russian crude oil and petroleum products made their way to the United States.

And we note that the US imported an average of 106,000 barrels per day last week from Russia...

We await the sanctions news later today to see what happens with that data next, and more than 12 million barrels of Russian-origin crude oil and refined products are en route to the U.S. aboard almost two dozen vessels for delivery in the next month, according to oil-analytics firm Vortexa.

Additionally, as Bloomberg reports, some oil traders are pausing purchases of Russia's crude while they wait to see how the West responds to the nation's invasion of Ukraine.

Five crude traders and refinery officials said that there's currently a hiatus in buying of Russian barrels.

"The restrictions will be very deep. We're expecting most European banks will pull out of financing any commodities from Russia. Letters of credit are being stopped, financing in general towards Russian commodities is being stopped," said Igho Sanomi, founder of energy trading company Taleveras.

The pause mirrors what's happening in the oil-tanker market, where owners are also avoiding offering their ships to transport the nation's crude.

"The key word today is obviously hold off and do not do anything that could backfire in the future," said Hugo De Stoop, chief executive of Euronav, one of the world's biggest tanker owners, in an interview.

"At the moment, we're not touching any cargo that's linked to Russia."

The situation has seen traders rushing to secure supplies from elsewhere in the world, according to Frontline Ltd., one of the world's largest owners of supertankers.

In response to this pause in buying (or inability to find credit), Russia has slashed its price for Urals crude to a record $9.80 discount to Brent, according to Platts...

That is almost 10x wider than the average over the past few years.

"We're a big buyer of Urals, but we're not buying at the moment," said a person at a major European refiner.

"We stopped about a month ago."

So, everyone needs Russian oil... but everyone is also terrified to buy it right now due to fears over sanctions.