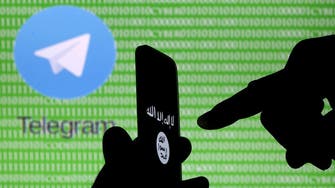 Saudi Arabia works with Telegram to remove over 15 million extremist content in 2022
Saudi Arabia's Global Center for Combating Extremist Ideology (Etidal) and Telegram removed 15,021,951 extremist content throughout 2022 and shut down 6,824 channels that were being used to spread radical ideology, the Saudi Press Agency (SPA) reported.
From September to December 2022, Etidal and Telegram coordinated to remove 8,494,035 different types of extremist content on 3,616 channels that were linked to al-Qaeda, ISIS, and Hayat Tahrir al-Sham.

At least 4,172,215 extremist content that was broadcasted by 2,654 channels that belonged to ISIS was removed, while 3,696,483 extremist content linked to 703 accounts belonging to Hayat Tahrir al-Sham were taken down.

The monitors also found that al-Qaeda had shared 625,337 different extremist content through 259 channels.

Etidal and Telegram will continue their joint efforts to crack down on extremist propaganda published in Arabic on the platform in all its forms, SPA reported.