Sixty-seven-year-old died following shooting in Nara in western Japan, and a suspect has been detained
* Japan's former prime minister Shinzo Abe has died after being shot while giving a speech in the western city of Nara on Friday.

* Abe appeared to be in a state of cardiac arrest when he was airlifted to hospital after the shooting. Emergency services said he had been wounded on the right side of his neck and left clavicle.

* Police arrested a 42-year-old man at the scene. He has been named as Tetsuya Yamagami, from Nara. He is a former member of the maritime self-defence force, according to Fuji TV. He reportedly left the force in 2005.


* Media reports quoted police as saying that the weapon thought to have been used in the attack was homemade. Japan's gun-ownership restrictions do not allow private citizens to have handguns, and licensed hunters may own only rifles.

* Abe, Japan's longest-serving prime minister, had been in Nara giving a campaign speech ahead of this Sunday's upper house elections when he was shot. All parties suspended campaigning after the shooting.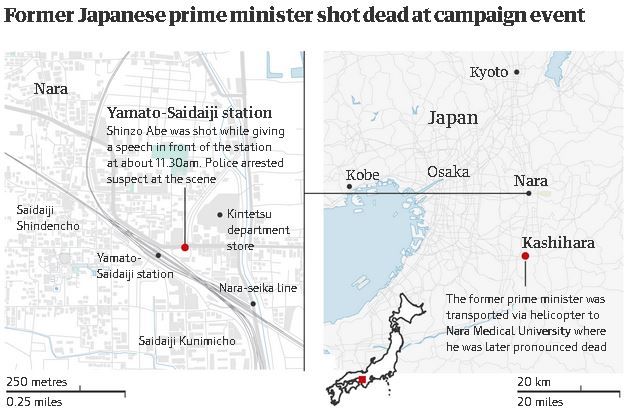 * Japanese politicians reacted with extreme shock to the shooting. The current prime minister, Fumio Kishida, said Abe had led the country "with great leadership" and he was "lost for words". Kishida added: "I have great respect for the legacy Shinzo Abe left behind and I pay the deepest condolences to him."

* The US secretary of state Antony Blinken called the assassination "shocking" and "profoundly disturbing", describing Abe as a leader of great vision and an extraordinary partner for the United States.

* Attacks on politicians in Japan are unusual. There have been only a handful in the last half century, most notably in 2007 when the mayor of Nagasaki was shot and killed by a gangster - an incident that resulted in still further tightening of gun regulations.

* The last time a former prime minister was killed was in 1936 during Japan's radical prewar militarism.