The ship, TCG Anadolu, will arrive at an important time for Turkey, which is increasingly active in its region and around the world.
Turkey is getting closer to commissioning its first aircraft carrier, TCG Anadolu. In January, Ankara announced that the ship had begun its acceptance trials, capping off a nearly decade-long development cycle marked by unfortunate delays.

The ship, which is to be Turkey's flagship, will bolster the Turkish military's force-projection and expeditionary capabilities and will make Turkey one of the few countries with a domestically built aircraft carrier.

But Anadolu will be more than Turkey's first carrier. It will also be the world's first flattop with an air wing made up mostly of unmanned aircraft.

The US kicked Turkey out of the F-35 program in 2019, leaving Ankara without fighter jets for its new carrier. But Turkish officials were determined to operate fixed-wing aircraft aboard Anadolu and have turned to Turkey's increasingly capable drone industry to fill in the gap.

No F-35s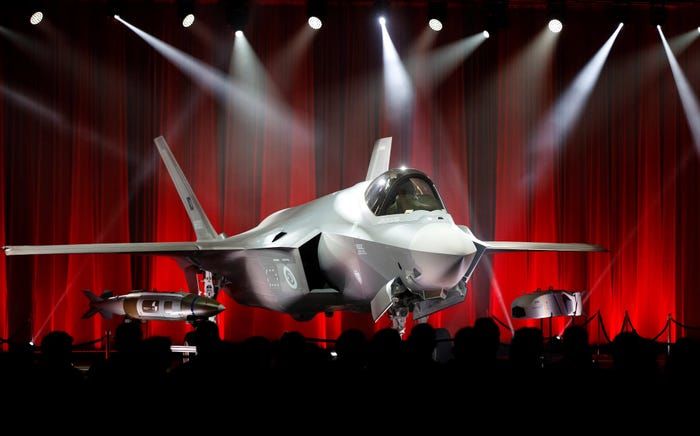 At 757 feet long, 105 feet wide, and with a displacement of 27,436 tons, Anadolu will be the Turkish Navy's largest warship. It has a top speed of 20.5 knots, a range of 9,000 nautical miles, and can operate at sea for 50 days.

Strictly speaking, Anadolu is not a dedicated aircraft carrier but an amphibious assault ship — specifically a landing helicopter dock, or LHD. Its design is based on Spanish shipbuilder Navantia's Juan Carlos I-class, which is also the basis for Australia's two Canberra-class LHDs. A second Turkish LHD, which will be named TCG Trakya, is also planned.

Anadolu was ordered in 2015, laid down in February 2018, and launched in April 2019. Its commissioning was scheduled for 2021 but has been delayed by the Covid-19 pandemic.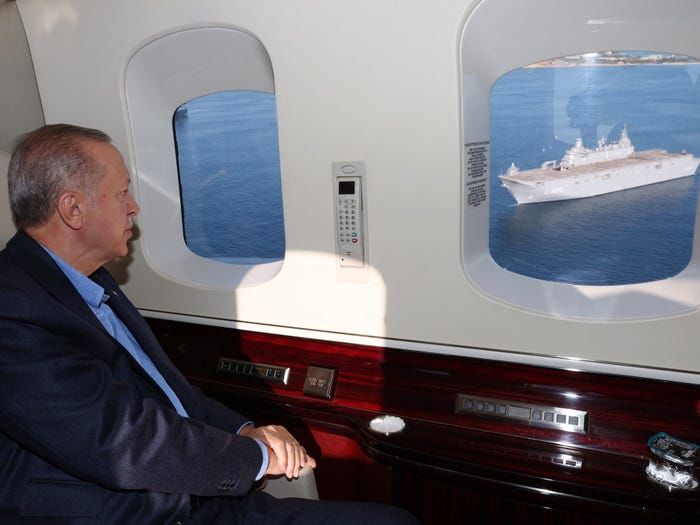 When ordered, Anadolu's air wing was planned to be composed of F-35B stealth aircraft. Turkey was a Level III partner in the US-led F-35 program, with Turkish companies making about 900 parts for the aircraft.

By 2019, Turkey had contributed $1.4 billion to the program and had received six of the 30 F-35As it had ordered. (The jets were handed over in the US and never arrived in Turkey.) About two dozen pilots and maintainers were in the US learning how to operate them.

In July that year, however, Turkey was expelled from the F-35 program because of its purchase of Russia's S-400 surface-to-air missile system, which US and NATO officials worried could be used to gather intelligence on the F-35.

Turkish carrier drones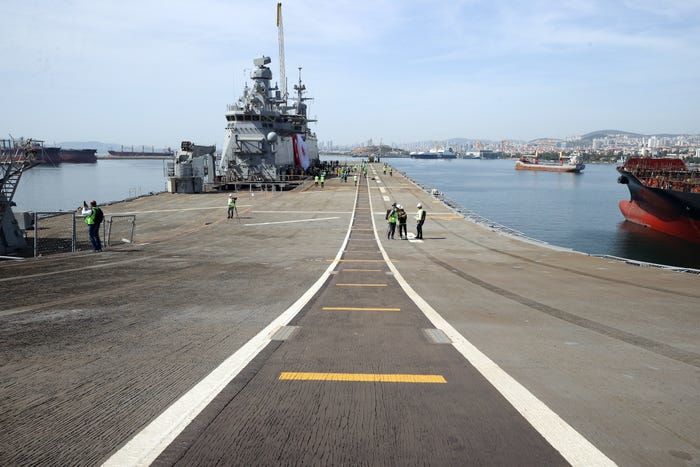 Turkey could have made Anadolu a helicopter carrier, as Australia did with its Canberra-class ships, but Turkey's desire to conduct reconnaissance and strike operations farther from its shores requires fixed-wing aircraft.

Fortunately for Turkey's navy, it didn't have to look far for a replacement, as Turkey has become one of the world's leading drone manufacturers.

The exact makeup of Anadolu's air wing is still undecided, but it will be composed mostly of Bayraktar TB3s, the naval variant of the famous Bayraktar TB2 made by Turkish defense company Baykar.

The TB3, which is still in development, will have a number of improvements over its land-based counterpart, including a higher takeoff weight, longer wings that can be folded for storage, and a total payload nearly double that of the TB2. This will enable the TB3 to carry at least two additional laser-guided smart bombs and fly farther than the TB2 while having a similar endurance of about 24 hours.

Another model expected to be in Anadolu's air wing is Baykar's Kızılelma, a jet-powered combat drone that is also still under development. Called a "fighter UAV" by Baykar, the Kızılelma will have a 500 nautical-mile range, a ceiling of 35,000 feet, a 1.5-ton payload, and a cruising speed of 0.6 Mach.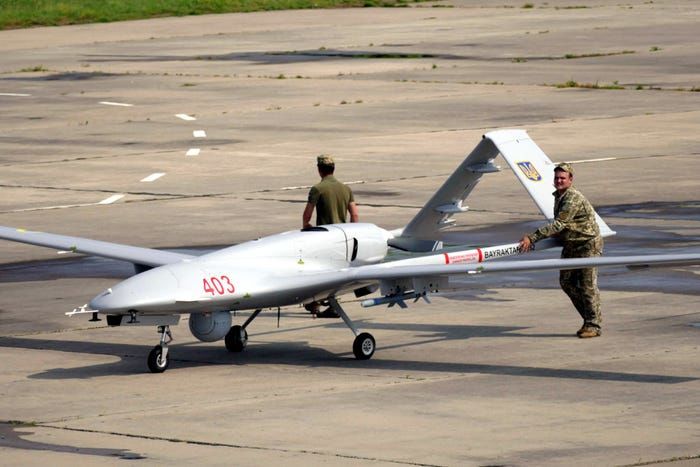 The Kızılelma will have an active electronically scanned array radar and be able to operate continuously for five hours. Baykar says it will also have stealth properties thanks to its angular cross-section and internal weapons bays. Turkish media has claimed the Kızılelma will be able to perform close air support, suppression and destruction of enemy air defenses, and air-to-air combat.

The Kızılelma conducted its second test flight last month, and Baykar claims it will be able to take off from short-runway aircraft carriers without a catapult. The TB3 is expected to make its first flight this year.

Anadolu is being refitted slightly to support infrastructure for drone operations, such as drone control stations with satellite terminals for long-range connections. A roller system to help launch the TB3s will be installed at the bow, and a hook arresting system will be installed on the deck to enable the Kızılelma to land safely. Safety nets will also be available for TB3 landings.

In addition to drones, Anadolu will field helicopters, including the domestically produced T129 ATAK. Turkey's navy has already conducted drills with AH-1W Super Cobra attack helicopters and SH-70B utility helicopters operating on Anadolu's deck.

Power projection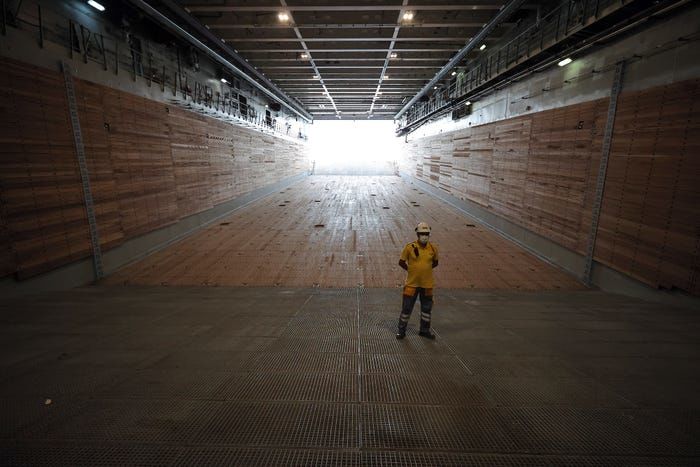 Turkish Defense Minister Hulusi Akar has said that Anadolu can carry up to 94 vehicles in total. This includes armored vehicles like Turkey's Altay tank and landing craft, which can deploy from the ship's rear well deck. The ship can also carry and deploy 700 troops, and has a 30-bed hospital.

The size and composition of Anadolu's air wing may change based on its mission. Akar has said it can carry 24 helicopters, while Ismail Demir, head of the government office overseeing Turkey's defense industry, has said that it can carry up to 80 drones, 10 to 15 of which can be operated simultaneously, which may mean less room for helicopters.

Anadolu will arrive at an important time for Turkey, which is increasingly active in its region and around the world. It has bases or military personnel stationed in Cyprus, Iraq, Qatar, Syria, and Somalia, and it is involved in Libya's civil war.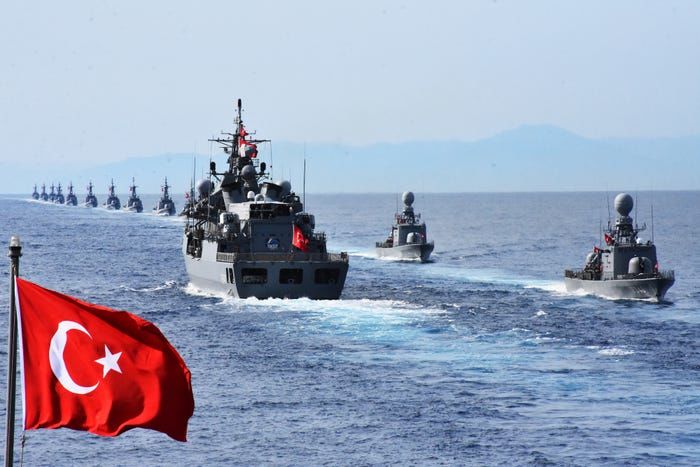 Moreover, Turkey's "Blue Homeland" strategy puts it at odds with its neighbors and other European powers in the Mediterranean. Ankara's desire for supremacy in the Black Sea has only increased since Russia invaded Ukraine last year.

"Our sphere of influence is now three continents and our field of interest is the whole world," Akar said in January.

Anadolu would allow Turkey to project power as far as the Indian Ocean and to support its troops or allied forces with reconnaissance and strike missions.

Anadolu is also an important part of Turkey's efforts to improve its domestic defense industry. About 70% of the ship and its systems are made in Turkey, and Ankara is pursuing new frigates and corvettes that will also be mostly built domestically. Like Anadolu, Trakya will have mostly Turkish-made components.

"We will continue these efforts decisively until we become the most powerful naval force in the region and the world," Turkish President Recep Tayyip Erdoğan said at the end the "Blue Homeland" exercise, conducted in the Aegean and Black seas and the Eastern Mediterranean, in April 2022.