More teenagers are turning away from traditional media outlets and getting their news from social media, new research from Ofcom has shown.
The number of people consuming news content on TikTok has increased from 800,000 in 2020 to 3.9 million in 2022.

For the first time, Instagram is the most popular news source among younger people - used by 29% of teens in 2022 - with TikTok and YouTube close behind.

But print, TV and radio news outlets still dominate in older age groups.

The growth in news consumed via TikTok is being driven mainly by younger age groups - half of users consuming news on the platform are aged 16-24.

The number of people consuming news via the video sharing platform is now similar to the number using the Sky News website and app, Ofcom said.

TikTok users who took part in the study said they get more of their news from "other people they follow" (47%) than from news organisations' own accounts (24%).

Increasingly, news stories also originate on the platform. Earlier this week, a video showing a student being harassed by a man on a Cardiff street was watched more than two million times and picked up by news outlets.

And the recent high-profile libel case between Amber Heard and Johnny Depp dominated the video sharing platform, with many users watching the proceedings unfold live on YouTube before selecting clips to share with their followers on TikTok.

'Increasingly unlikely'

Yih-Choung Teh, Ofcom's group director for strategy and research, said in a statement that teenagers nowadays are "increasingly unlikely to pick up a newspaper or tune into TV news", preferring to stay informed by "scrolling through their social feeds".

"And while youngsters find news on social media to be less reliable, they rate these services more highly for serving up a range of opinions on the day's topical stories," he added.

Despite its newfound popularity though, less than a third of young people (30%) asked in the study said they actually trusted the news content they found through TikTok.


That teenagers are using Instagram and TikTok for news is probably not a surprise. It was perhaps more surprising that, right up until 2020, BBC One remained their number one source of news and still remains top of the list for "most important source". The research shows 59% say they still watch some news on TV.

However, for anyone interested in which news sources are most influential, this new research makes interesting reading.

The decline of printed newspapers has been apparent for many years, but the drop in the last two years has been startling. In 2020, 35% of the population (the vast majority over the age of 55) were still reading a paper, but that's now dropped to 24% - a drop of almost a third.

It appears deliveries and popping out for a paper are some of the former daily habits which were disrupted by Covid.

And for those hoping digital readership was replacing print, it's not good news. Online reach for newspaper websites also dropped slightly (from 20% to 19% of the population).

However, it's worth noting that this misses out a crucial part of the news landscape. The news agenda is still, in many ways, driven by what appears on front pages and news websites.

Instagram and TikTok are popular platforms for news, but the stories themselves often have their origins in what used to be called Fleet Street.

And what's easily forgotten is that the biggest source of news for teens isn't Instagram but their families (65%), and mum or dad are probably not relying on TikTok just yet.

The Ofcom report also shows an acceleration in the decline in consumption of traditional outlets, particularly among young people.

BBC One and BBC Two, previously the most popular news sources among teenagers, have been knocked off the top spot and are now down in fifth place.

Just under a quarter (24%) of those asked used the those channels to find news last year, compared with almost half (45%) five years ago.

For adults in the UK the picture is a little different however, as BBC One remains the most used news source.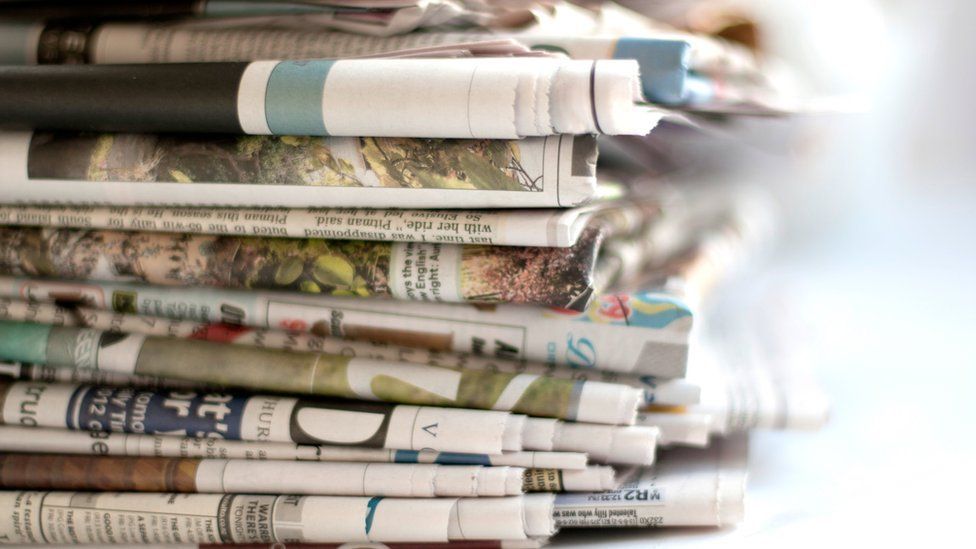 Sales of physical newspapers have fallen further in the last two years as daily habits were disrupted by Covid lockdowns

TV news generally remains the most trusted source among most (71%) adults, with news on social media deemed to be the least reliable (35%).

CNN (83%) was found to be the most trusted of the all the news channels, with Sky News (75%) in second place and the BBC (73%) in third, followed closely by ITV (70%).

Sixty-seven percent of newcomer GB News's viewers said they trusted its reporting.

There is still a trend for traditional networks like BBC, ITV and Sky News being in general decline in terms of overall viewing figures, which are now below pre-pandemic levels.

Readership of print and online newspapers among adults (38%) also declined again this year, the study suggested, with a significant decrease from 2020 (47%) and 2018 (51%).

When the newspapers' online presence was removed, those consuming news solely from physical papers also declined from 35% in 2020 to 24% in 2022.

The use of newspapers among teenagers fell from 19% to 13% in the past five years.