Modern interiors with dark decor and colourful accents. Featuring colouful accent furniture, dark living spaces, unique kitchens, and a contemporary bedroom.
Dark spaces set a strong image with a heavy mood. They appear dramatic and serious, cool and confident. So, what happens when you inject a little colour… Or a lot? These two modern home designs explore the combination of colourful brights in dark spaces, showing how to hit the balance just right. Our first home tour takes place in a charcoal grey home interior that is uplifted with an array of punchy furniture pieces to achieve a 50/50 blend. In contrast, home design number two employs just a couple of electric blue interludes to shake off the shadows of a grey and black backdrop. Each offers a different ratio of colour to achieve exciting aesthetics.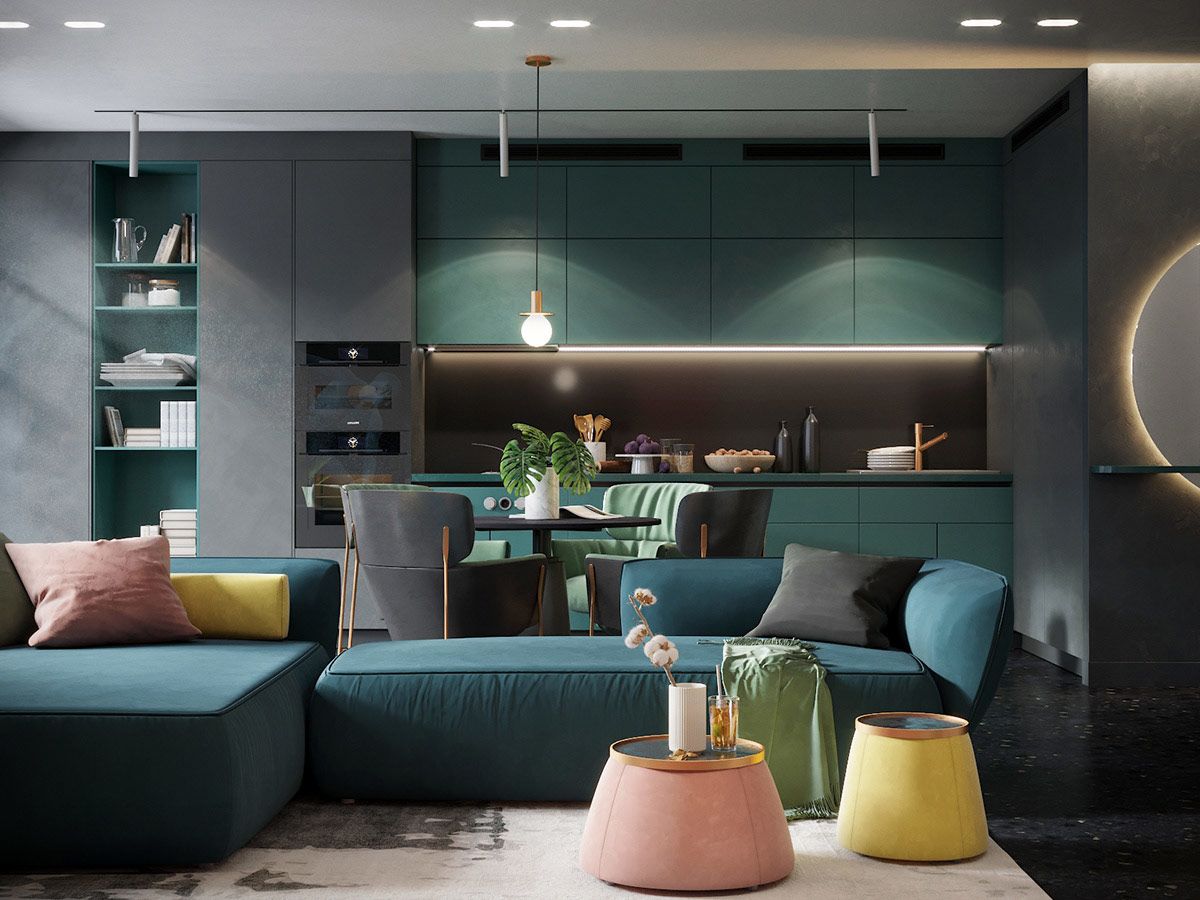 This two-room apartment design was created for a young and enthusiastic homeowner who teaches art history at a university. Therefore the interior was shaped upon a concept of modern style that meets historical elements. In this dark interior concept, a modular sofa and an ottoman coffee table set introduce punchy green, salmon, and yellow interruptions.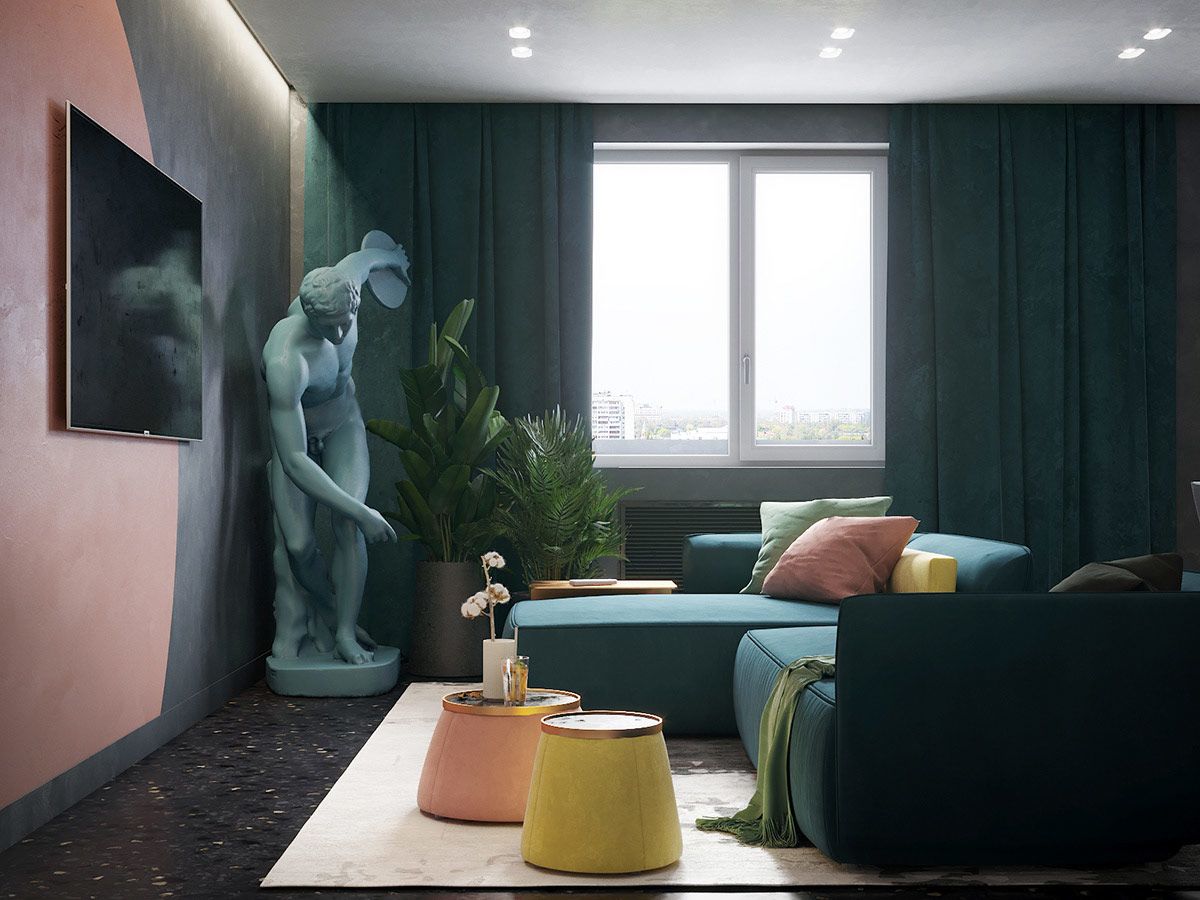 Dark walls are cut with bright paint features that form an artistic background for statues and paintings of ancient Greek culture.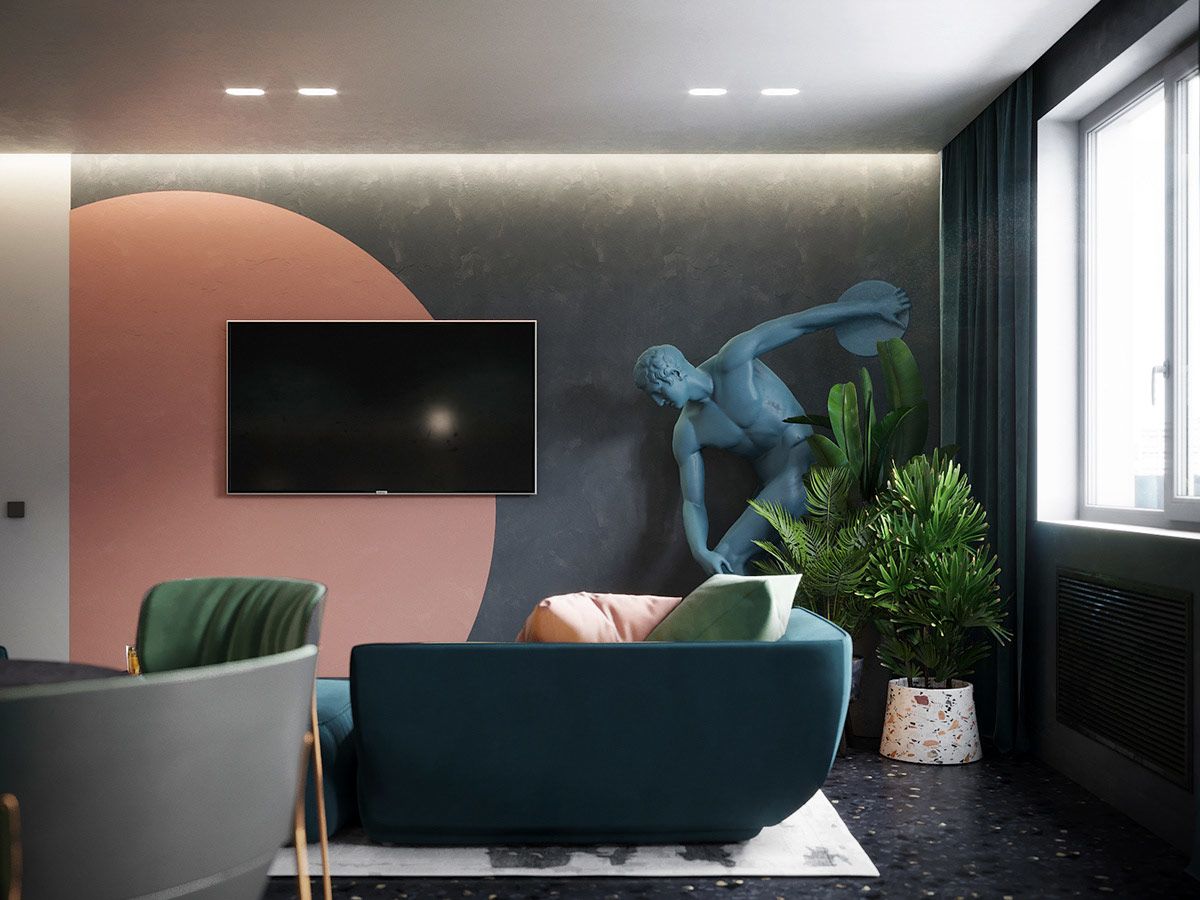 Mature indoor plants feather the edges of the room, where they merge into heavy green drapes.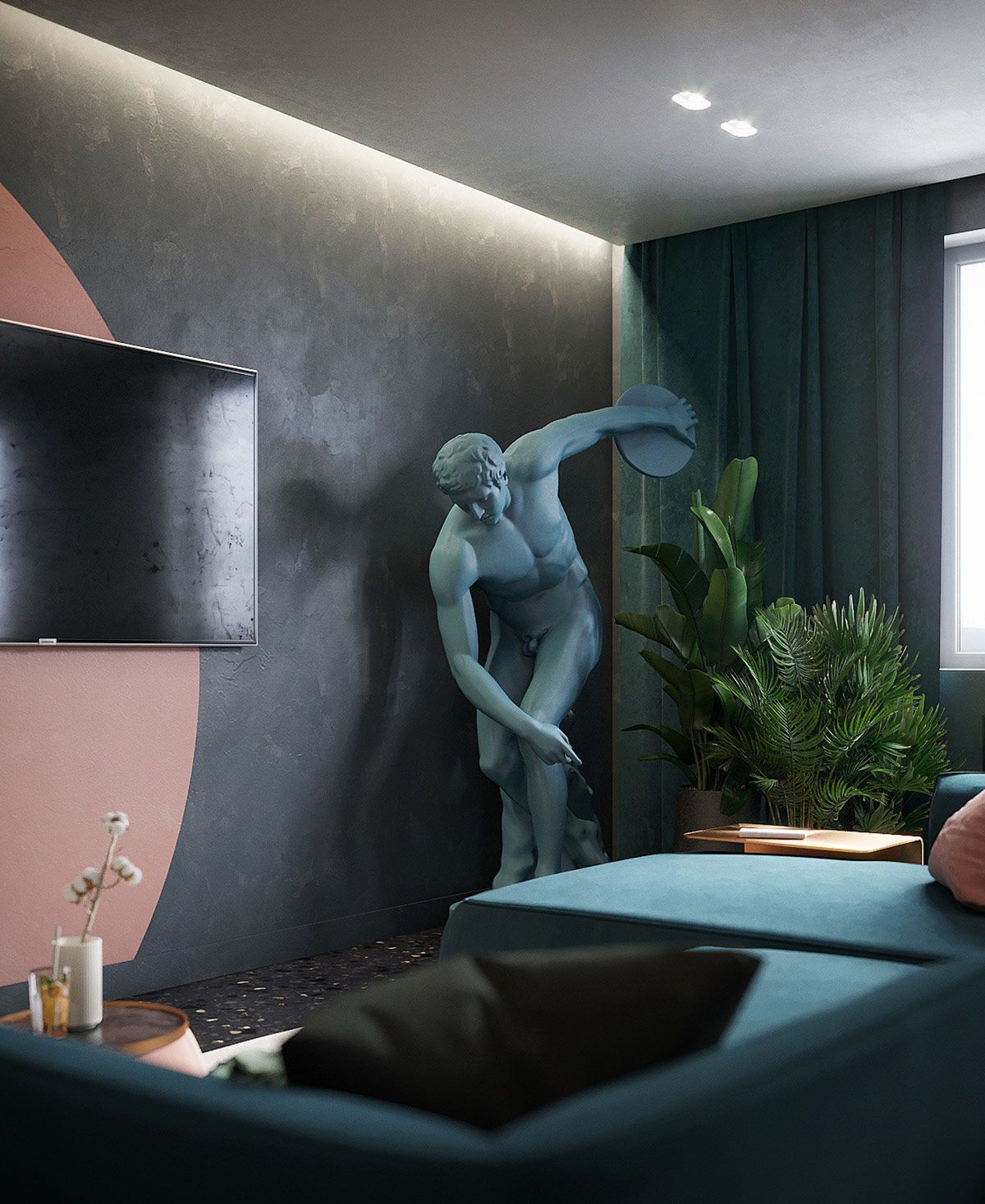 One life-sized statue beside the TV has been given a modern paint treatment that incorporates it into the surroundings more effectively.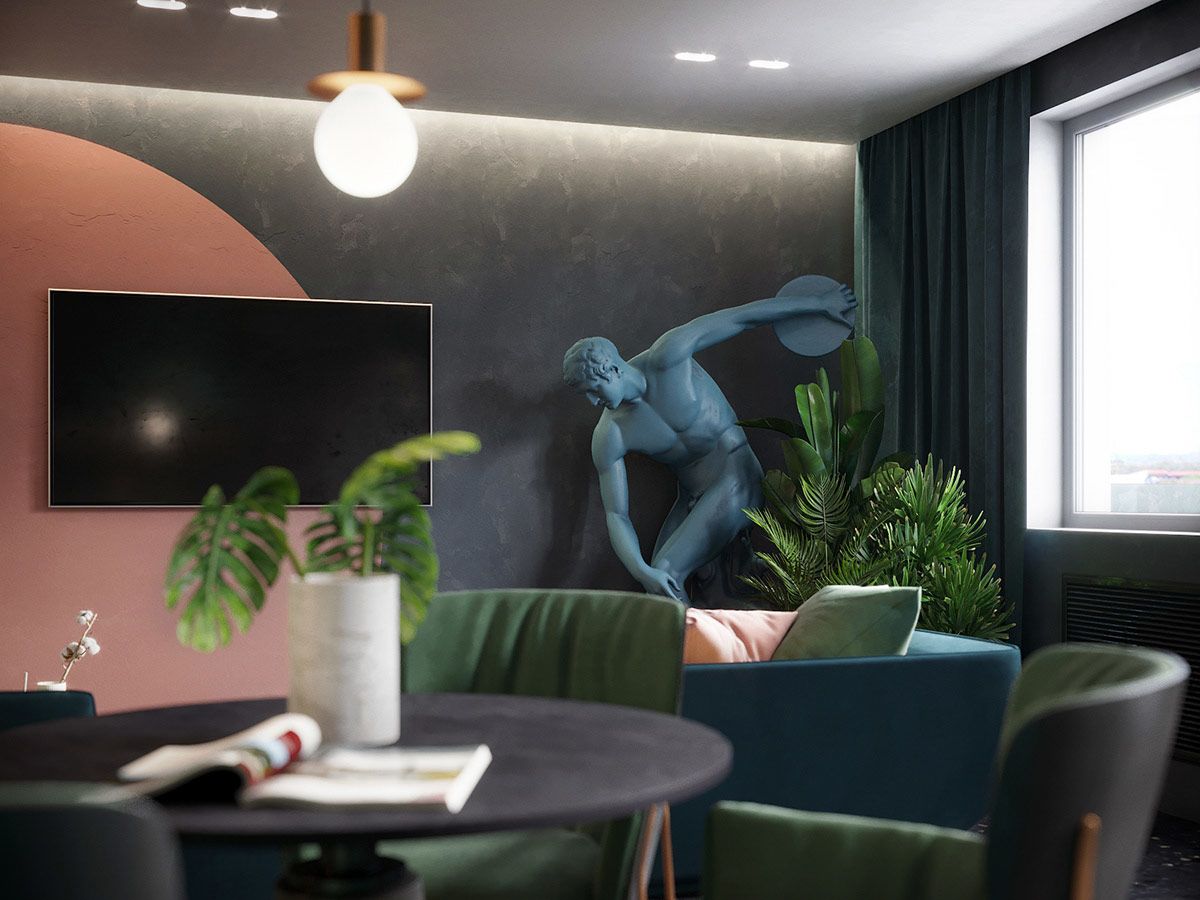 The rest of the TV wall offers no media storage but comes alive with a shapely salmon pink painted circle that contrasts against dark grey wall stucco.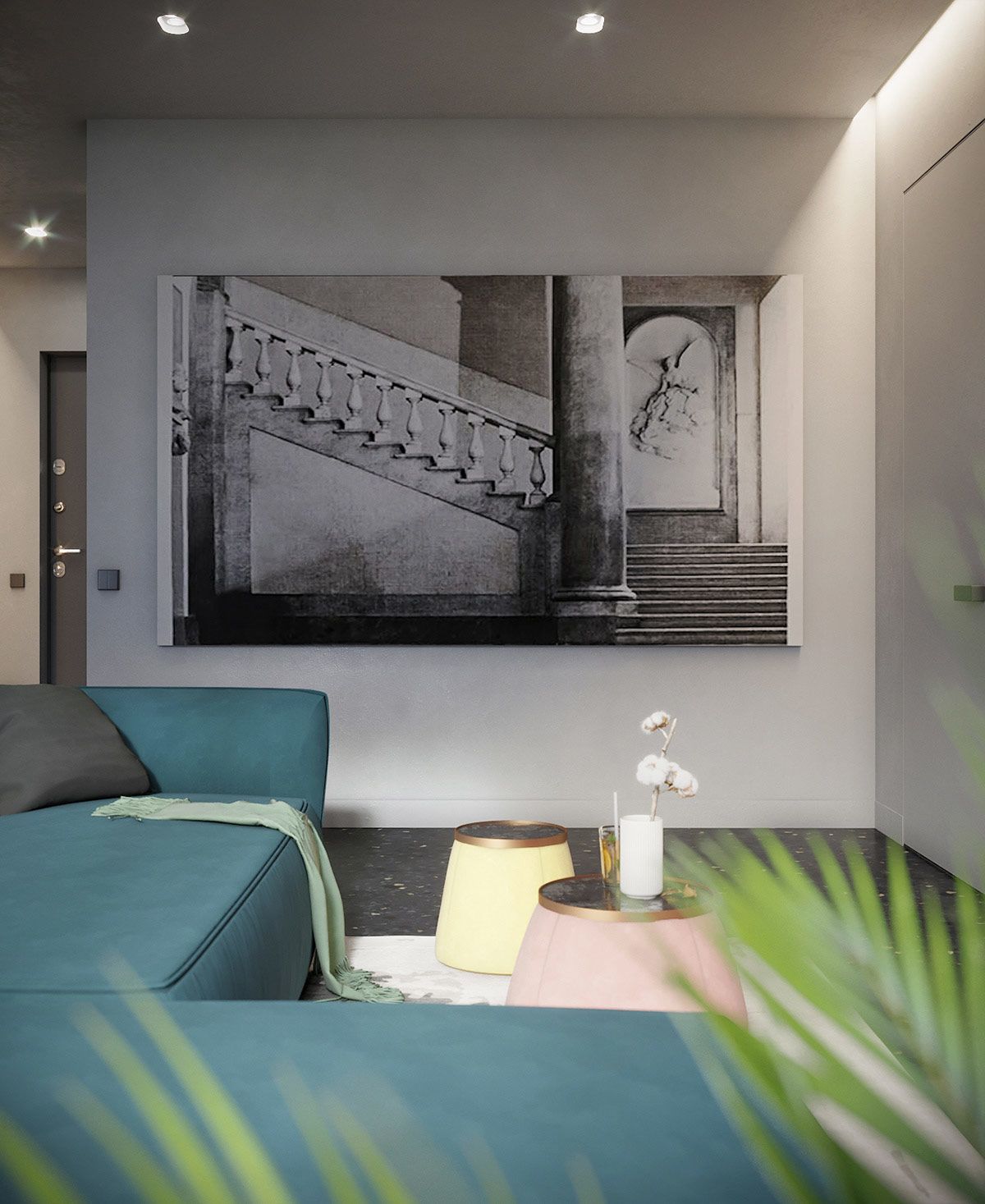 A small vase of flowers brightens the coffee table with its all-white arrangement.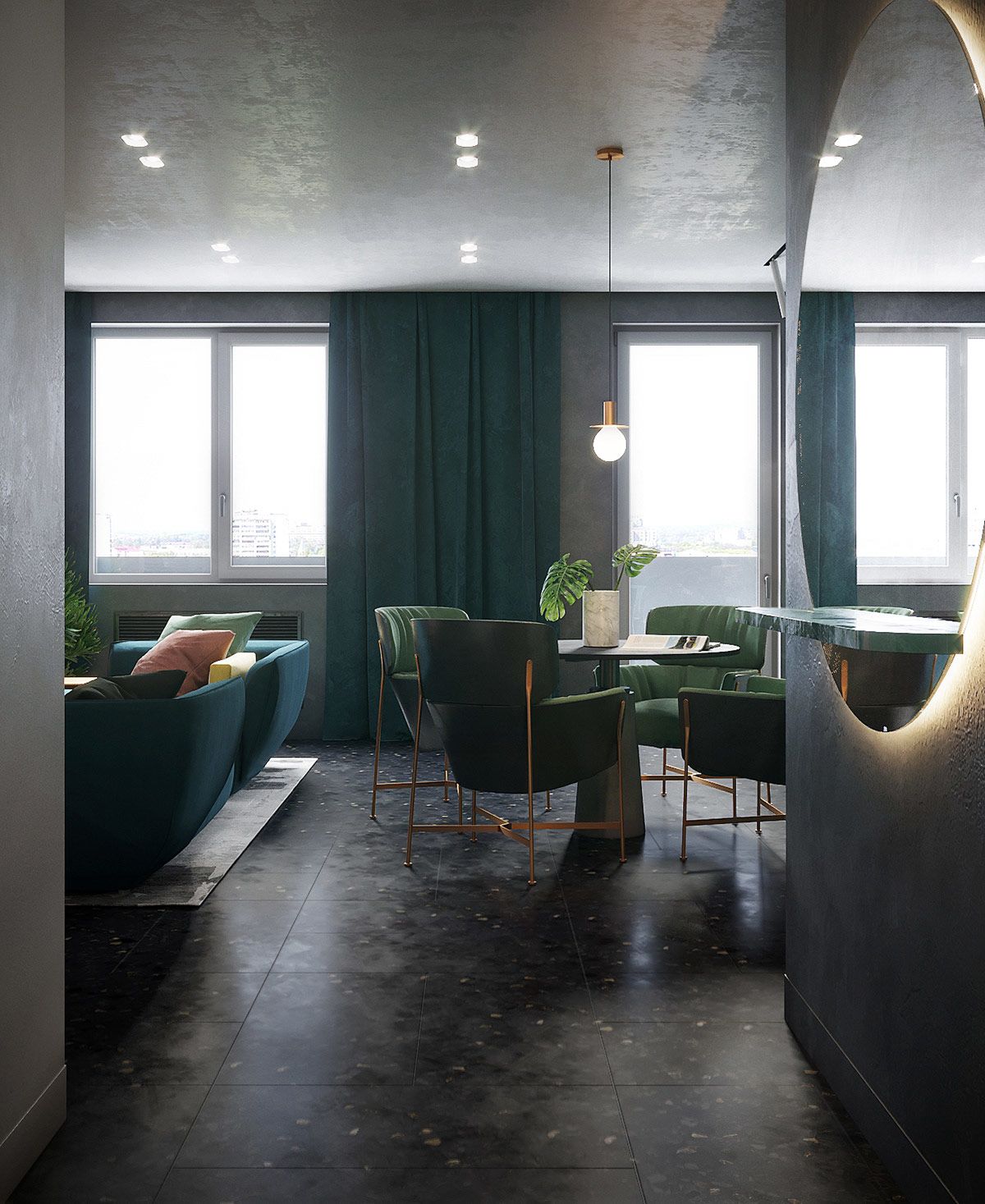 The lounge forms an open plan concept with the kitchen and dining area, which each offer a cohesive collection of contrasting colours and tones.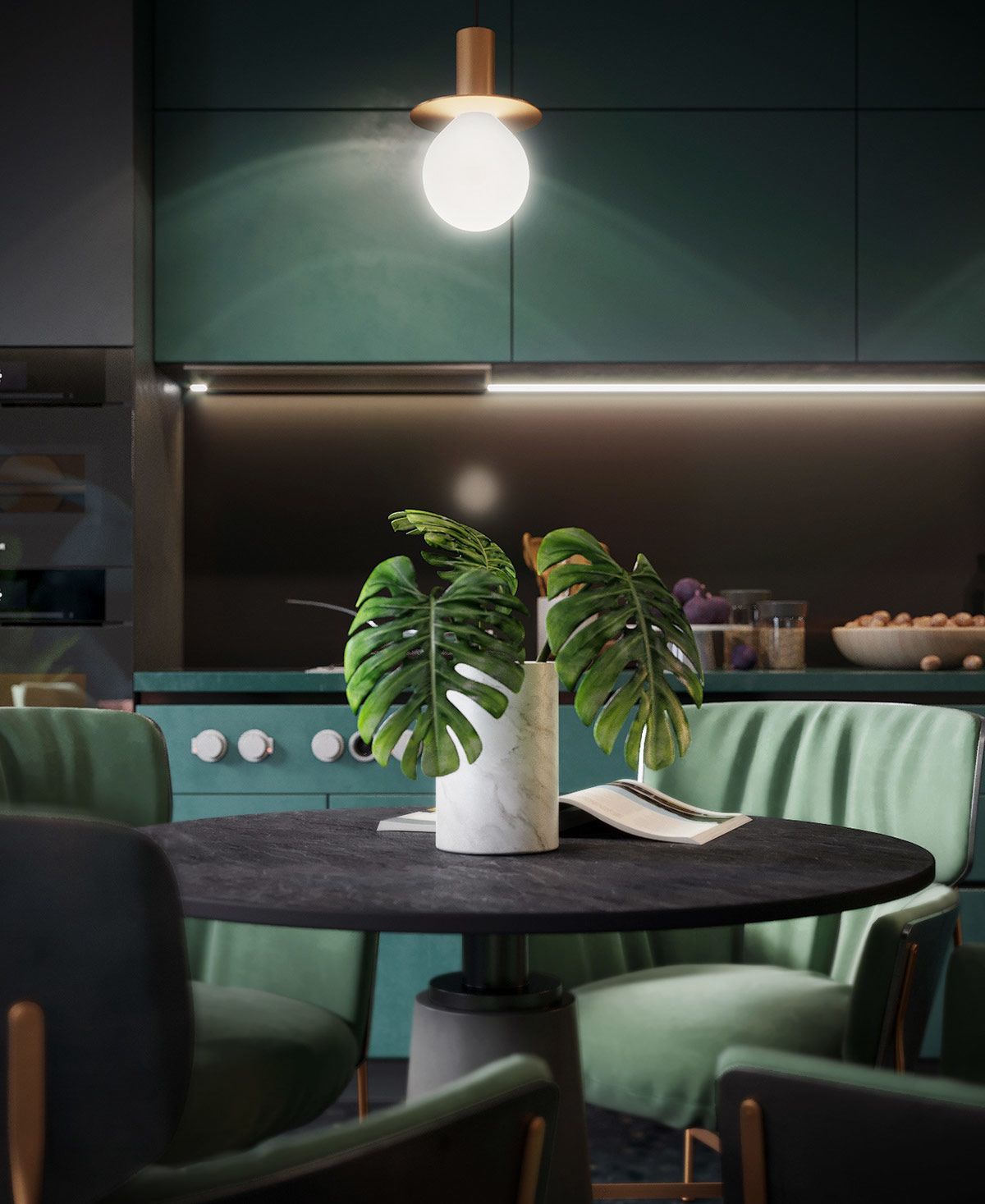 Behind the teal sofa, a small pedestal dining table is encircled by green upholstered dining chairs. A marble vase brings a few glossy green fronds to the dining table centrepiece.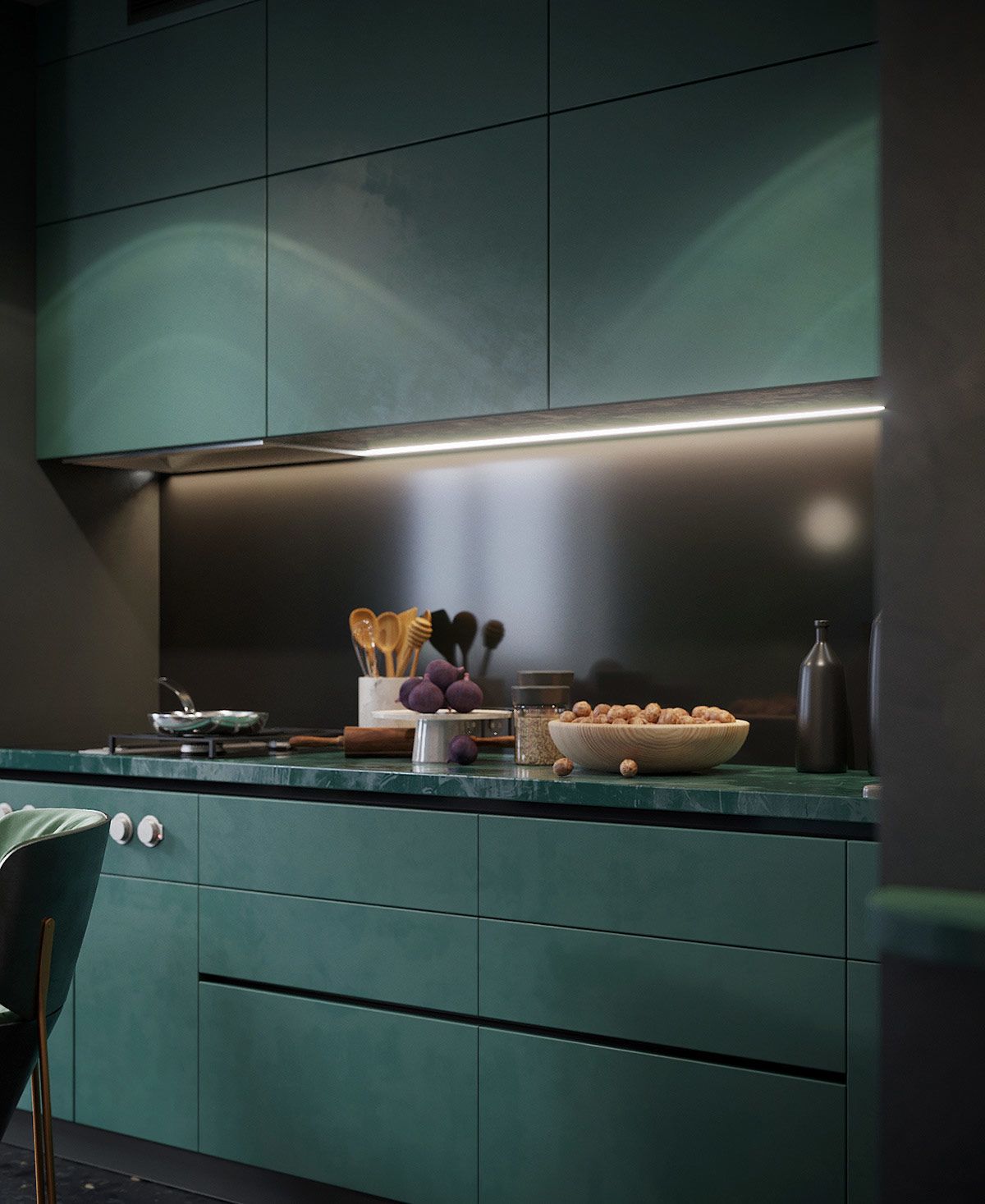 The kitchen is a colour-blocked design, with coniferous green base and wall cabinets and a matching green countertop.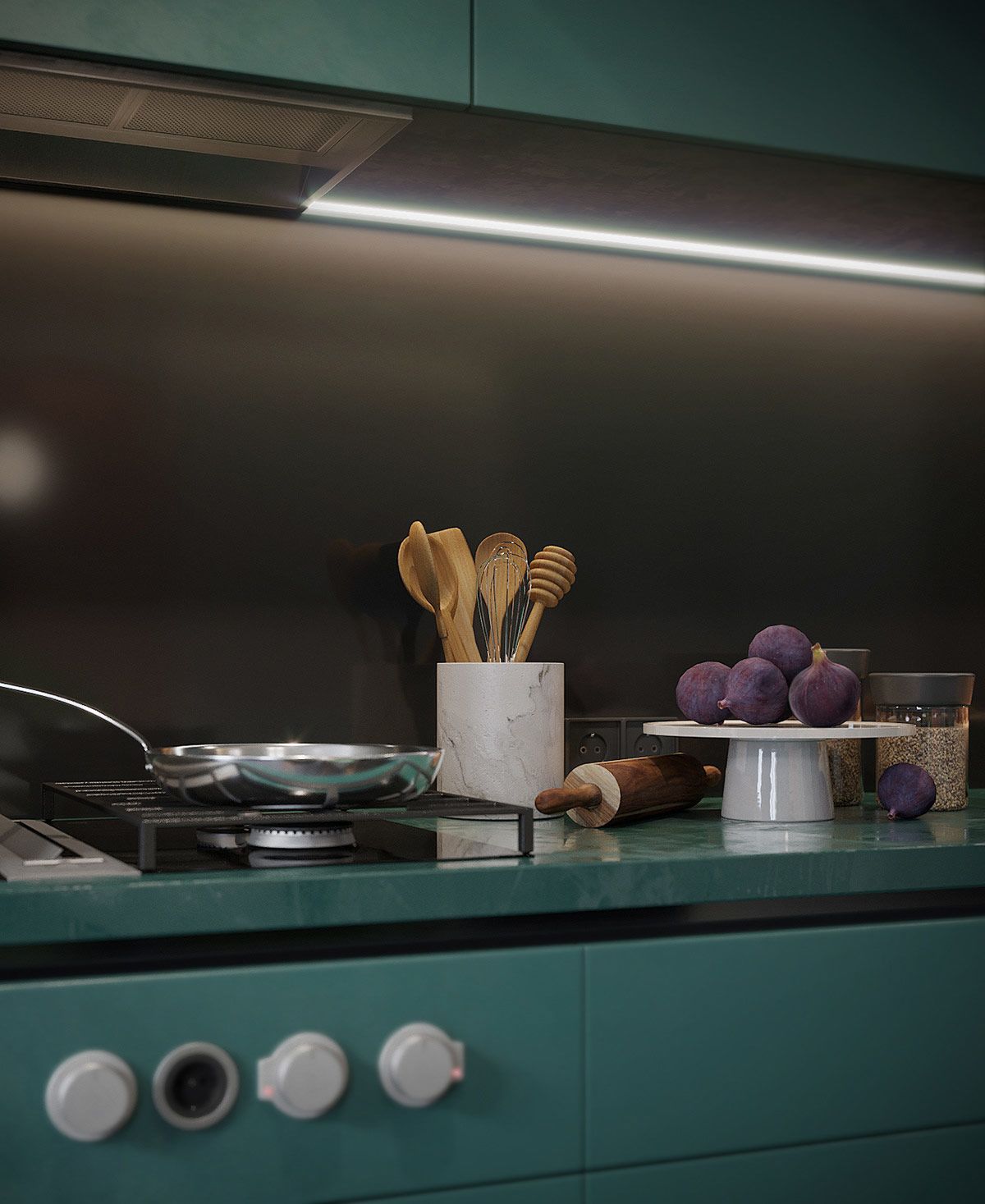 Under cabinet lighting reflects brightly against a reflective black backsplash. A marble utensil holder and serving stand place white accents against the dark background.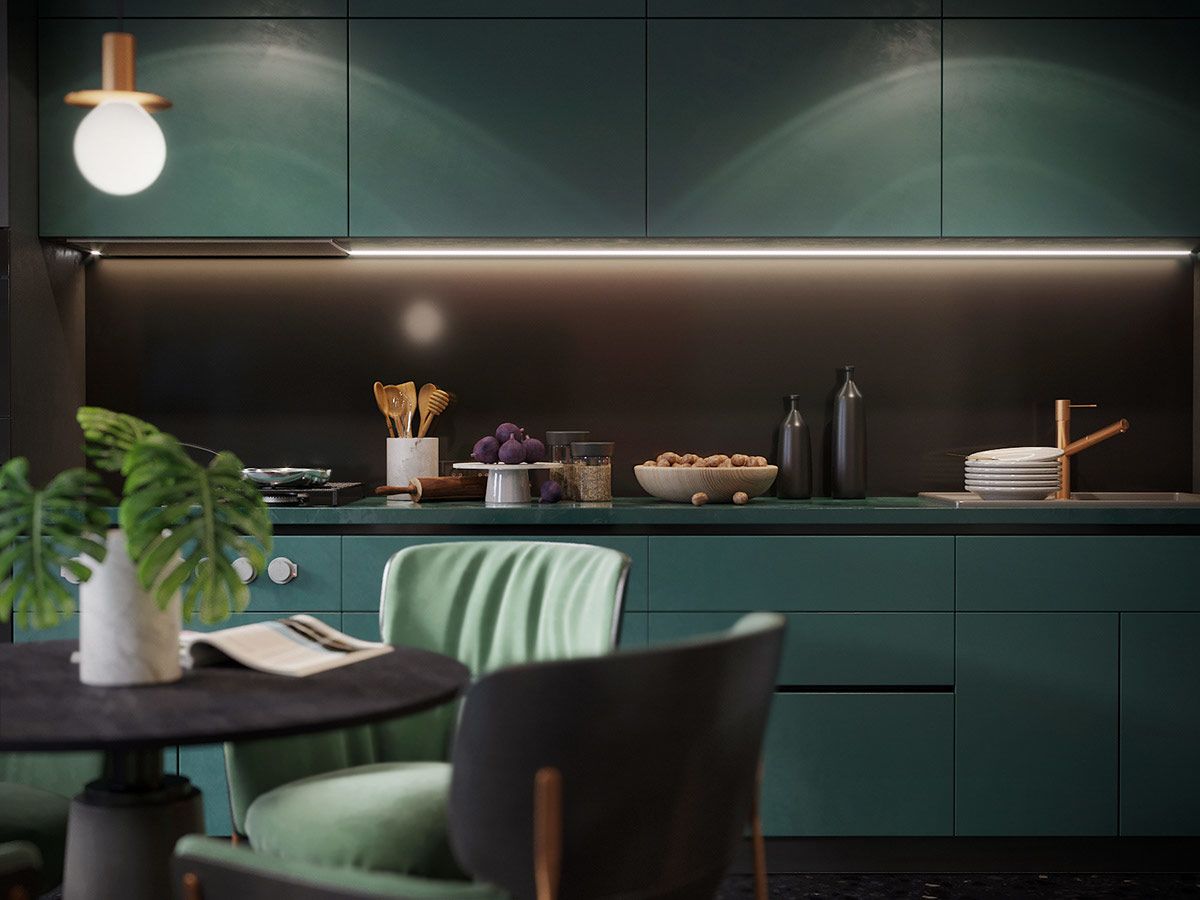 A copper kitchen tap warmly complements the dining room pendant light finish.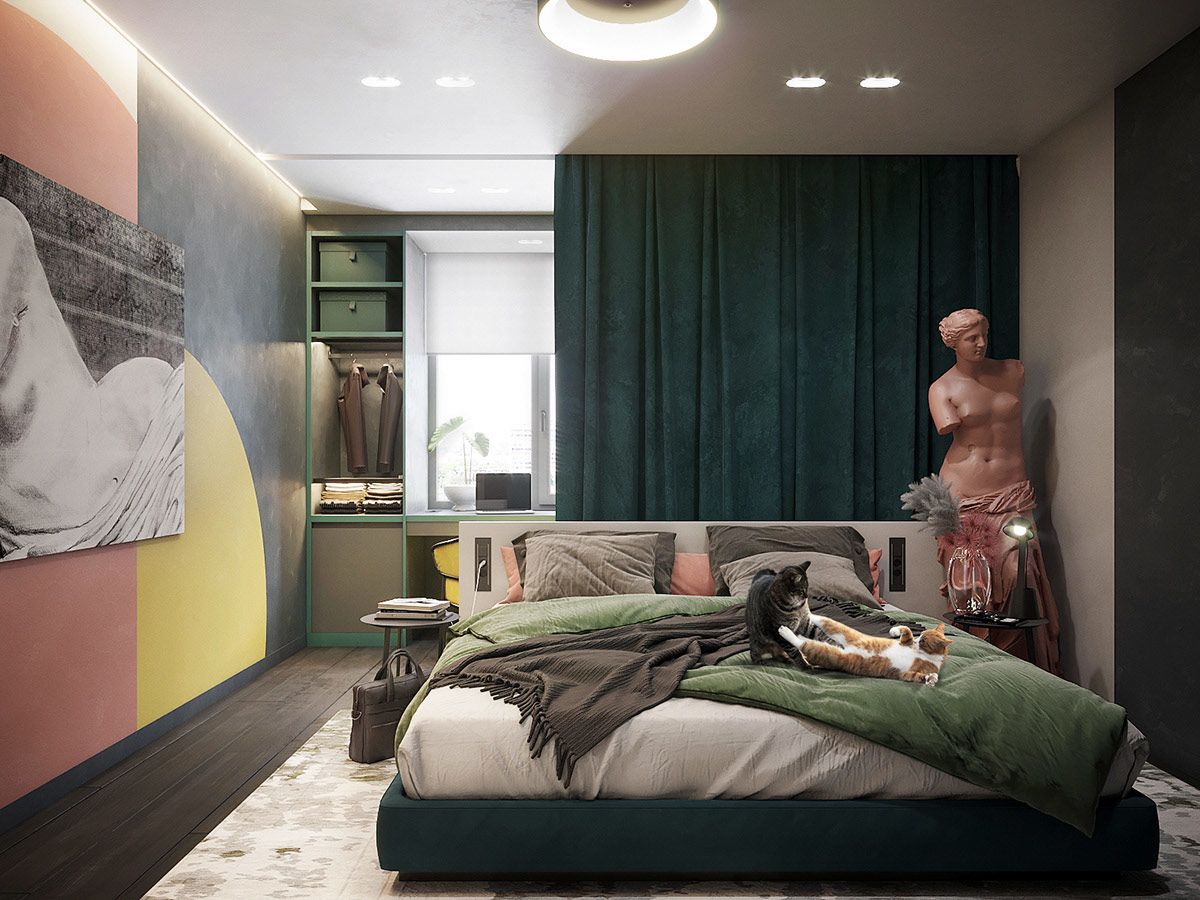 Inside the bedroom, the riot of colourful interruptions continues with more modern paint effects across a focal wall and a colour-treated greek statue.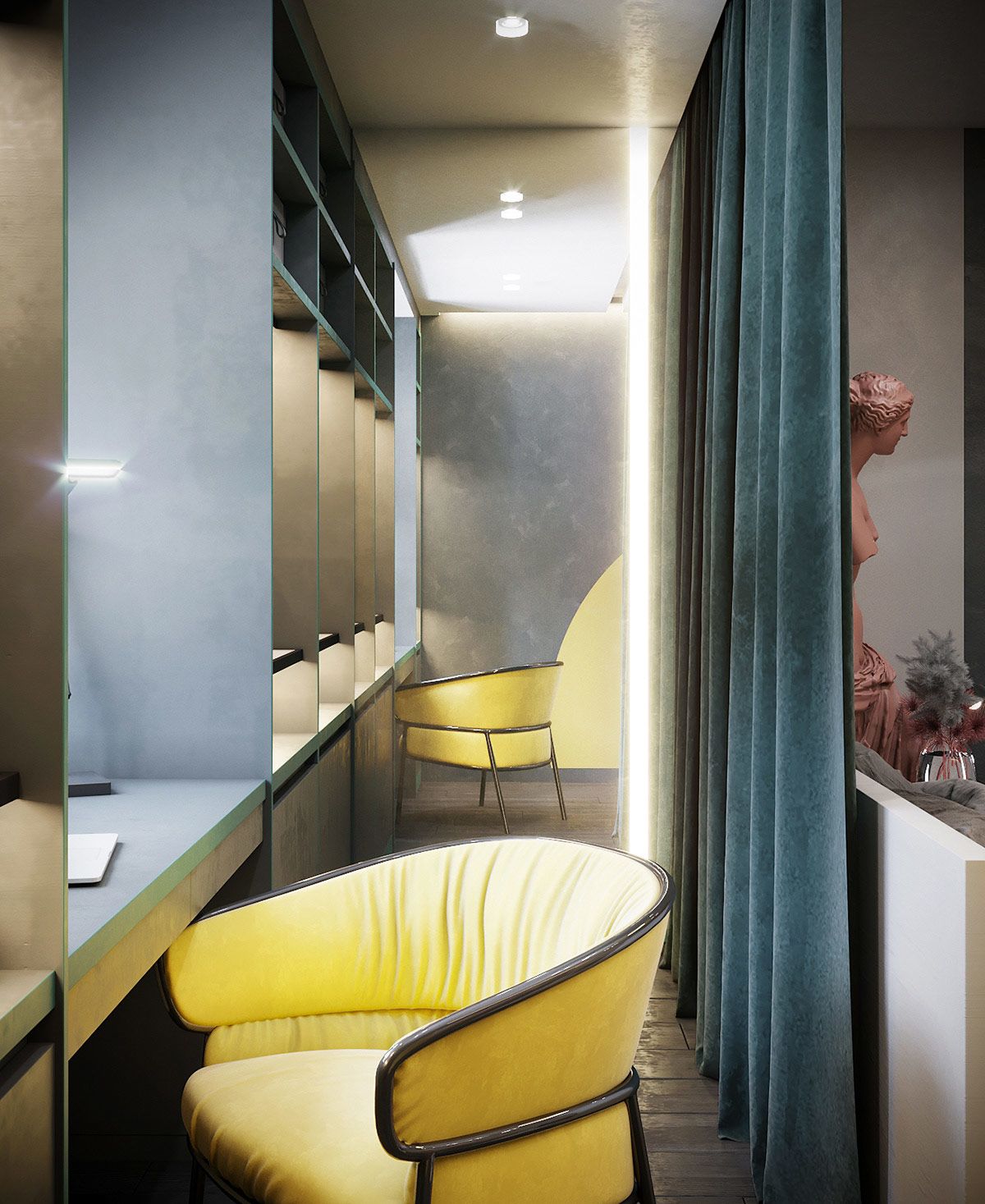 The bedroom is divided by a green portiere behind the headboard. The curtain separates the sleeping zone from a home workspace and a dressing area with a custom-cut full-length mirror.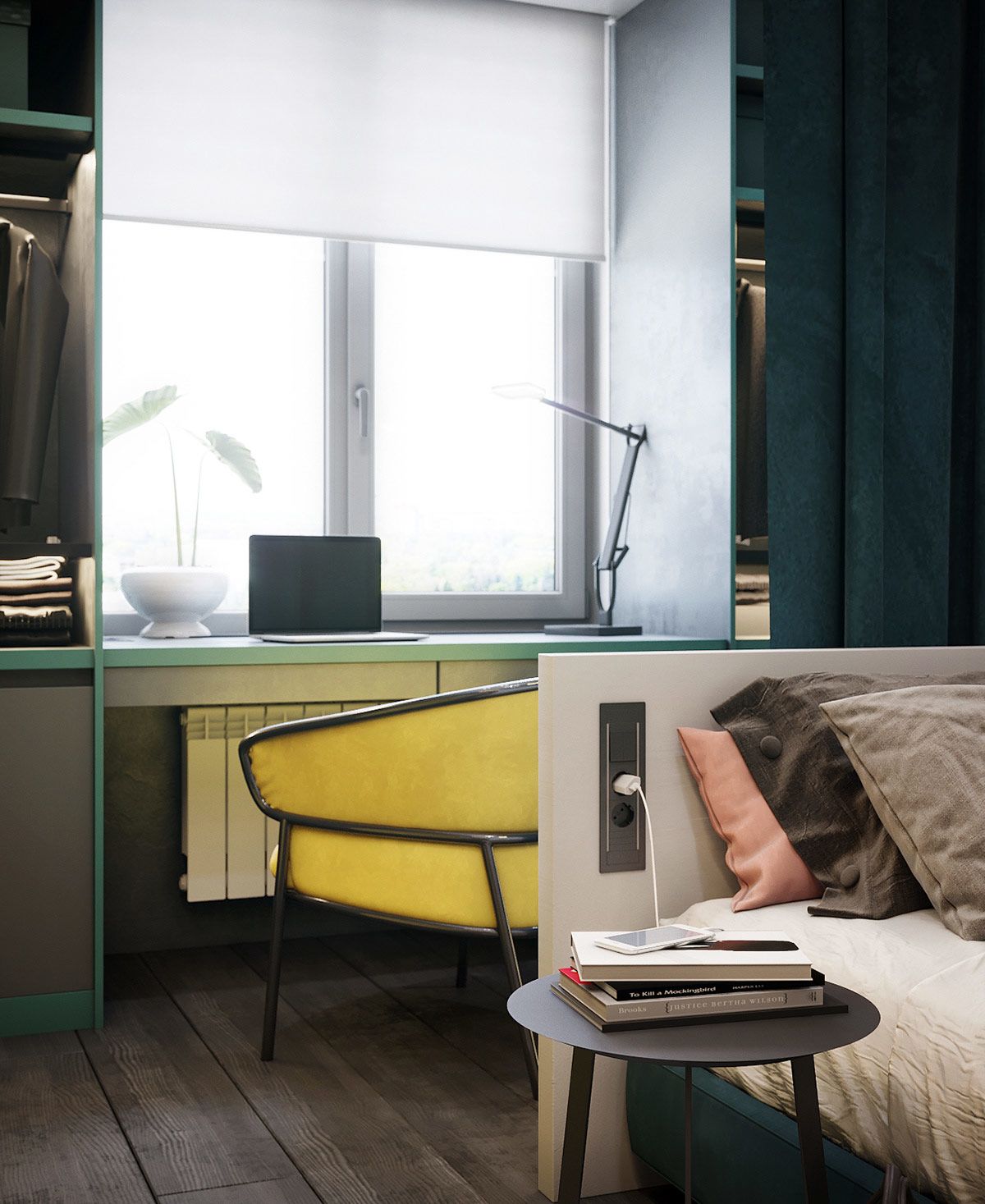 In the home office area, a custom-made green desk is contrasted by an eye-catching yellow desk chair. The workspace runs directly beneath the window and is flanked on either side by two open-fronted wardrobes. An LED desk lamp provides focussed task light to the study area when the sun goes down, and a potted plant delivers light decoration.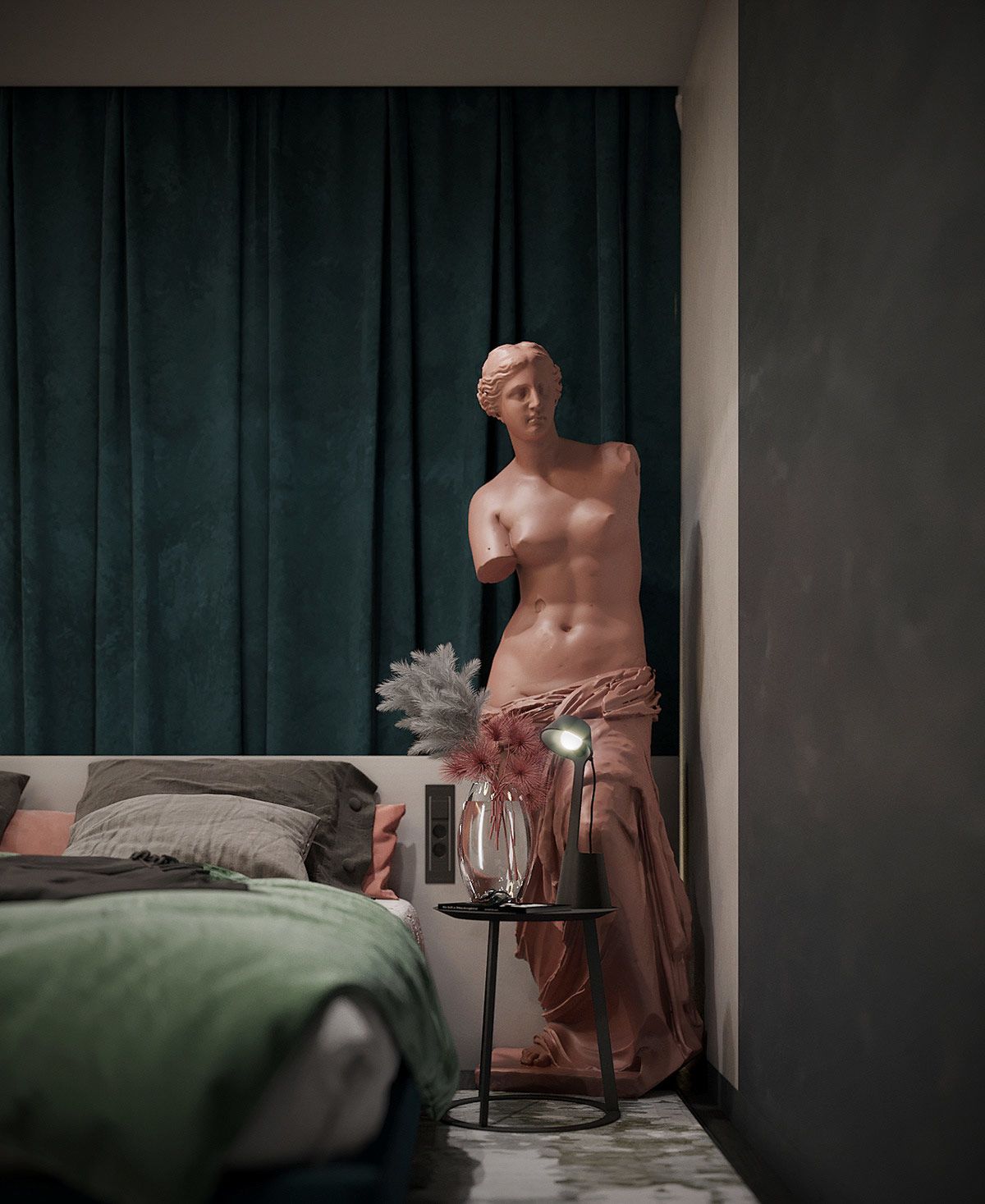 A small bedside table holds a vase of contrasting botanical plumes and a modern table lamp for reading.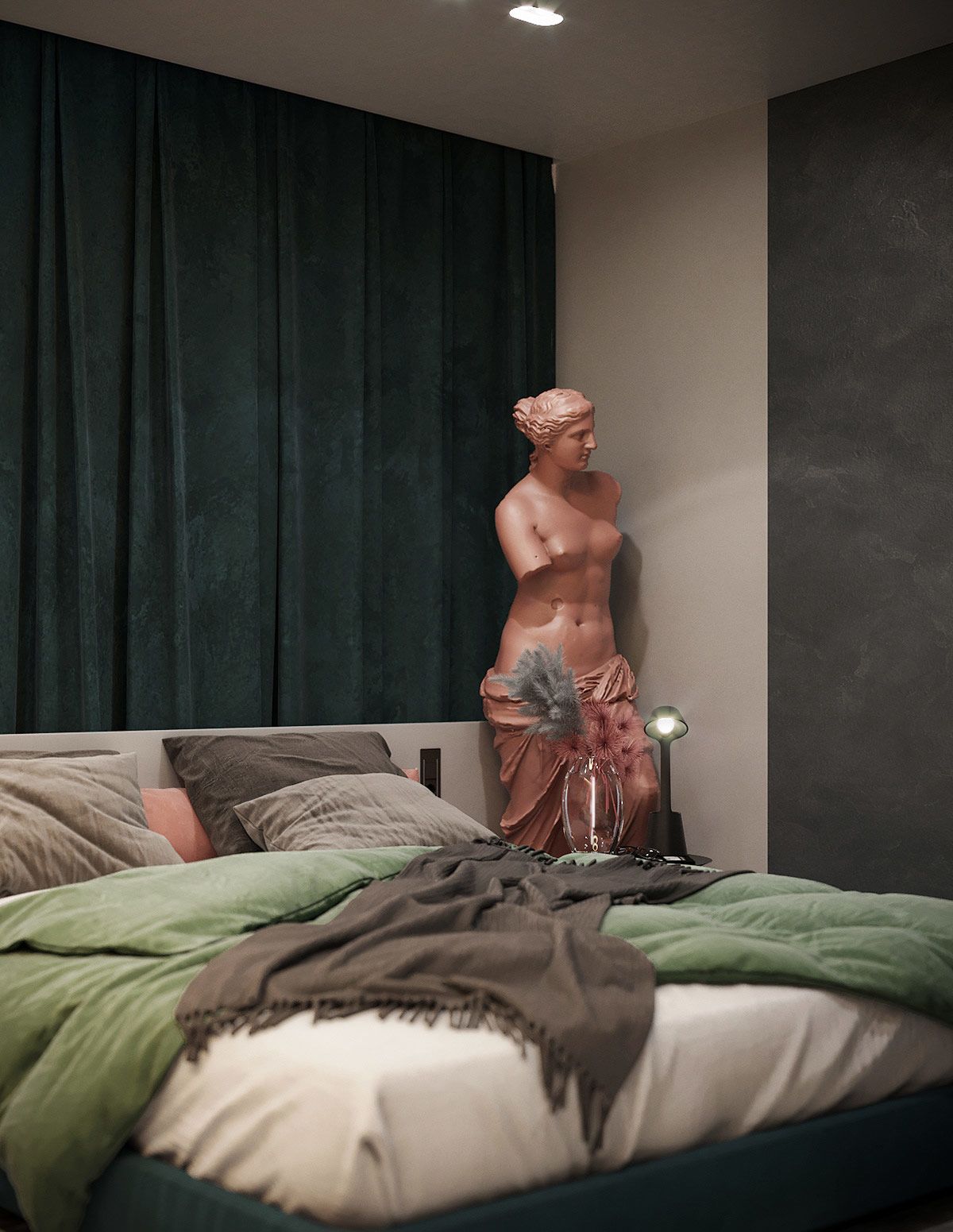 Scatter cushions and bedclothes are layered to achieve a creatively colourful combination.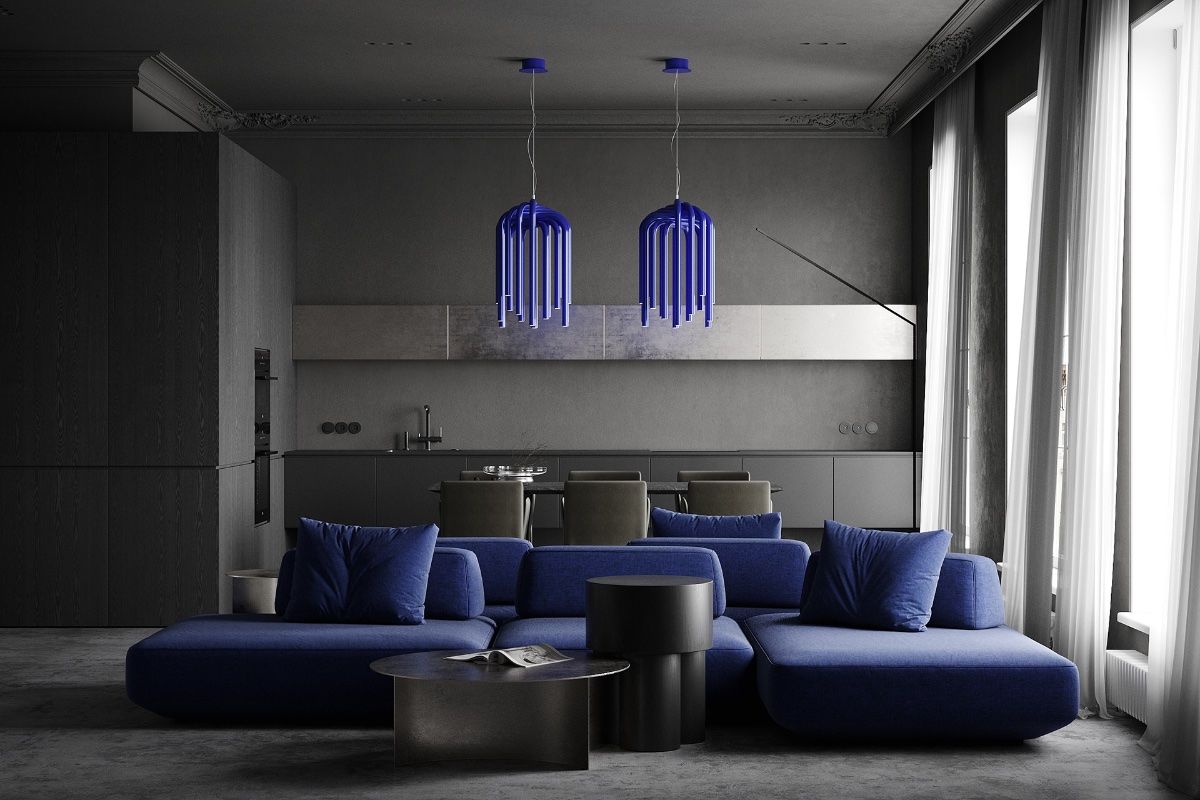 In our second featured home design, an electric blue sectional sofa strikes through a dark grey and black living space, creating a visual buzz.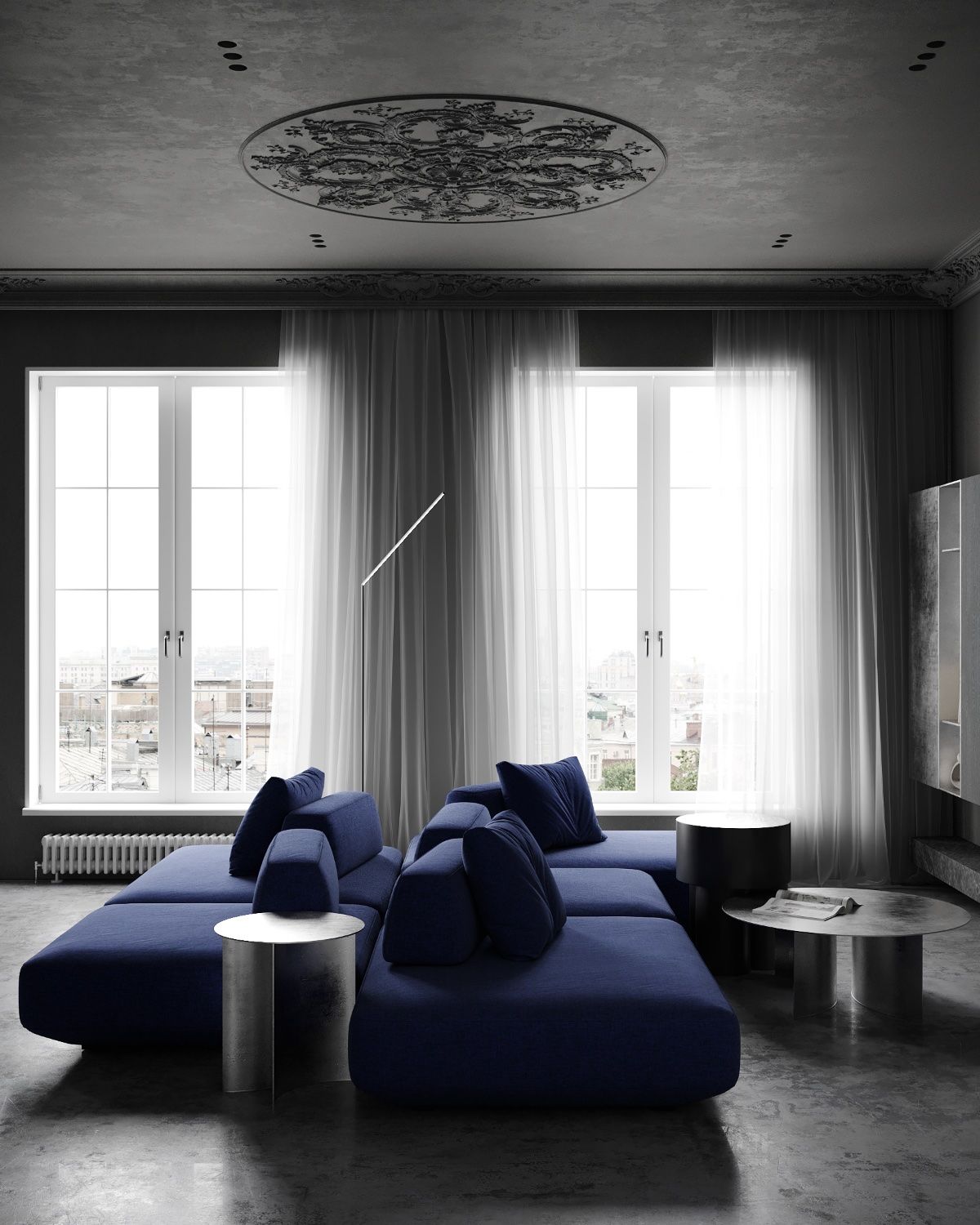 An ornate ceiling rose emerges from a shadowy grey ceiling. Small, recessed spotlights dot across the grey stucco in trios to disperse pockets of illumination. Down below, a small side table and coffee tables echo its circular outline.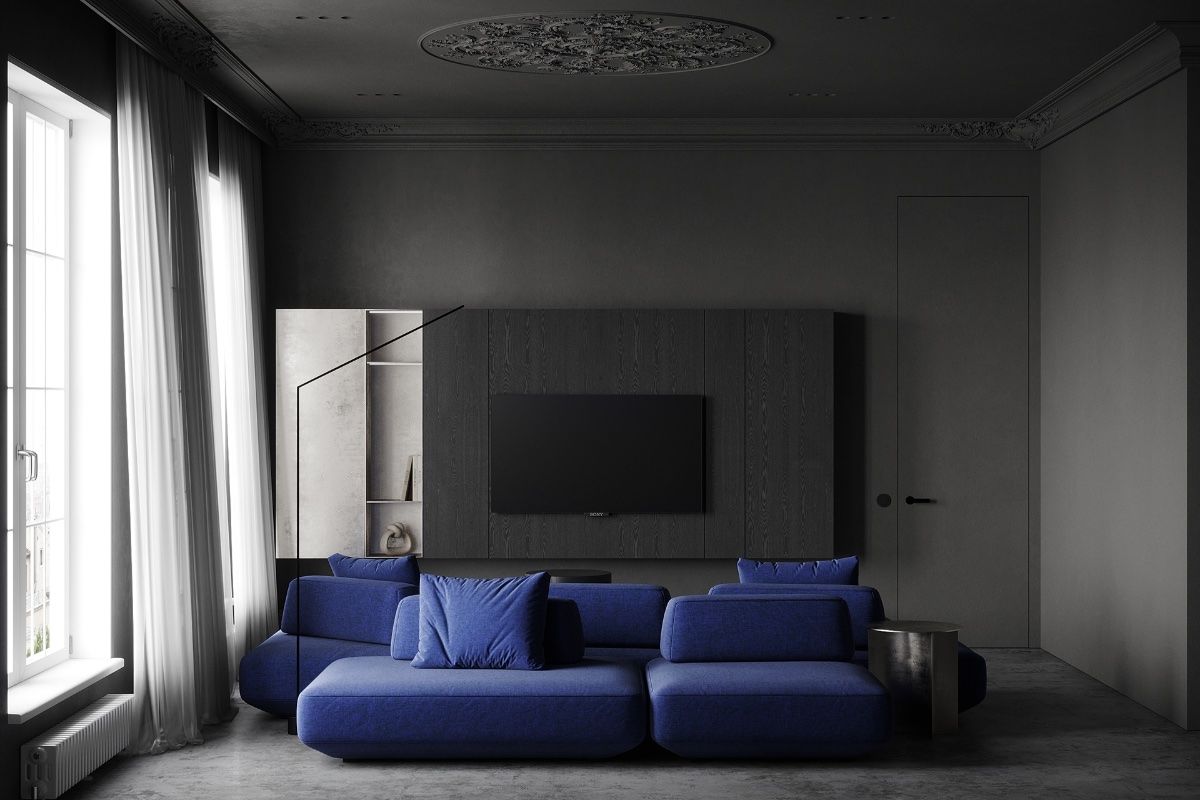 The living room floor lamp cuts a sharper silhouette over the sofa, replacing curves with a slimline angular form. Tall interior doors disappear into the grey walls, free from any framework, discernible only by modern back hardware.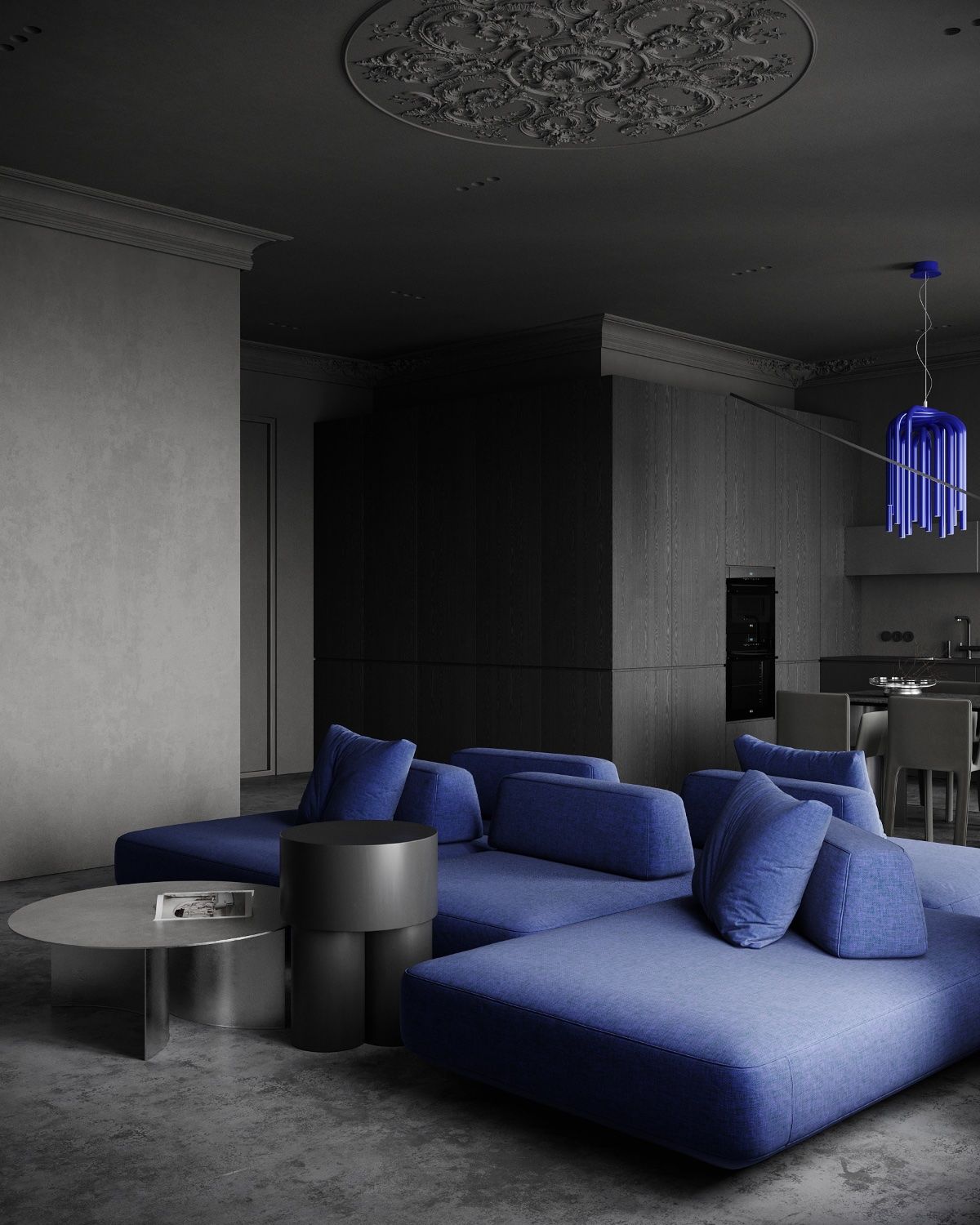 The nesting coffee tables bear a unique and bold minimalist aesthetic that strongly competes with the strike of colour.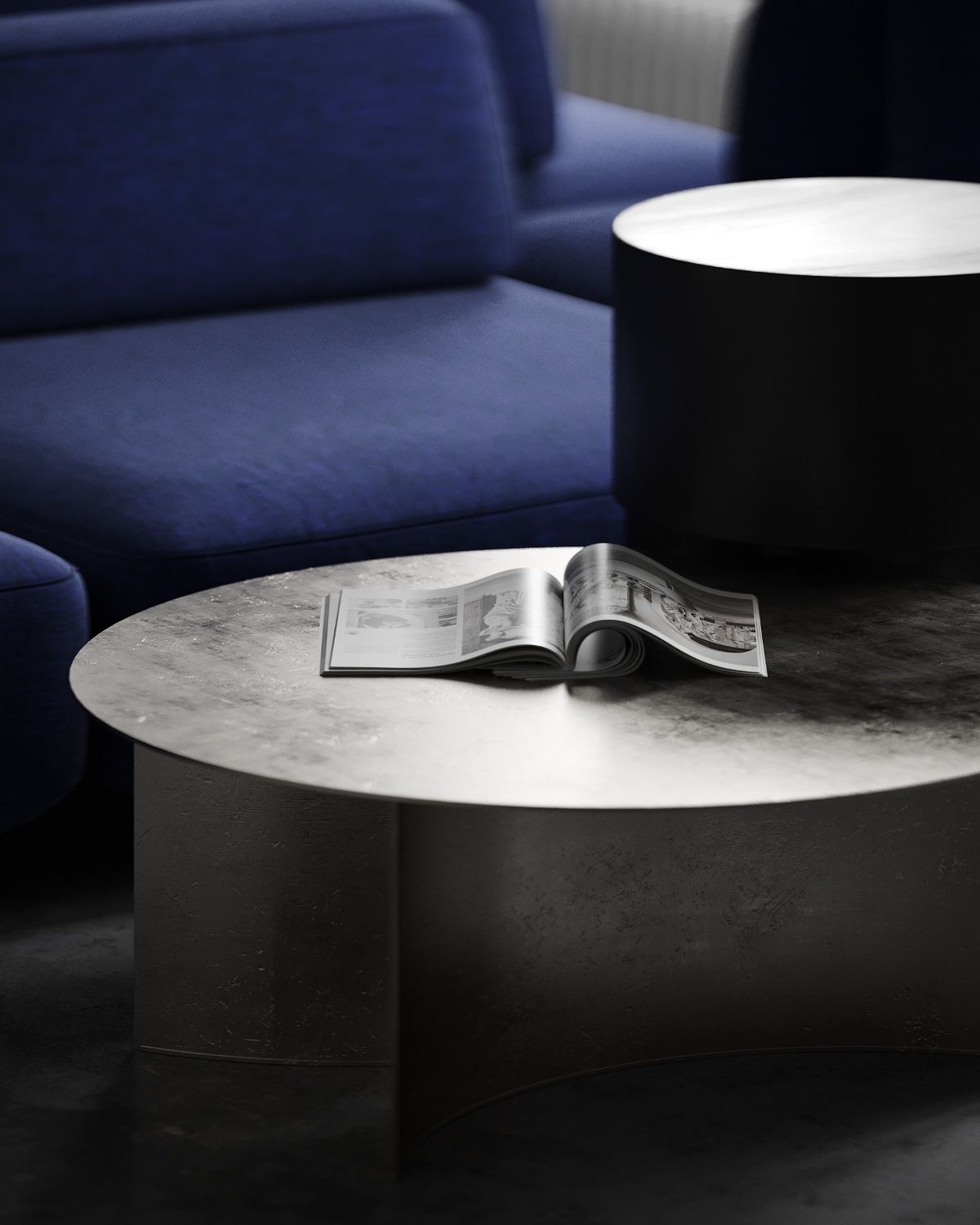 Surfaces in the room are clear from clutter, which evokes a sculptural feel.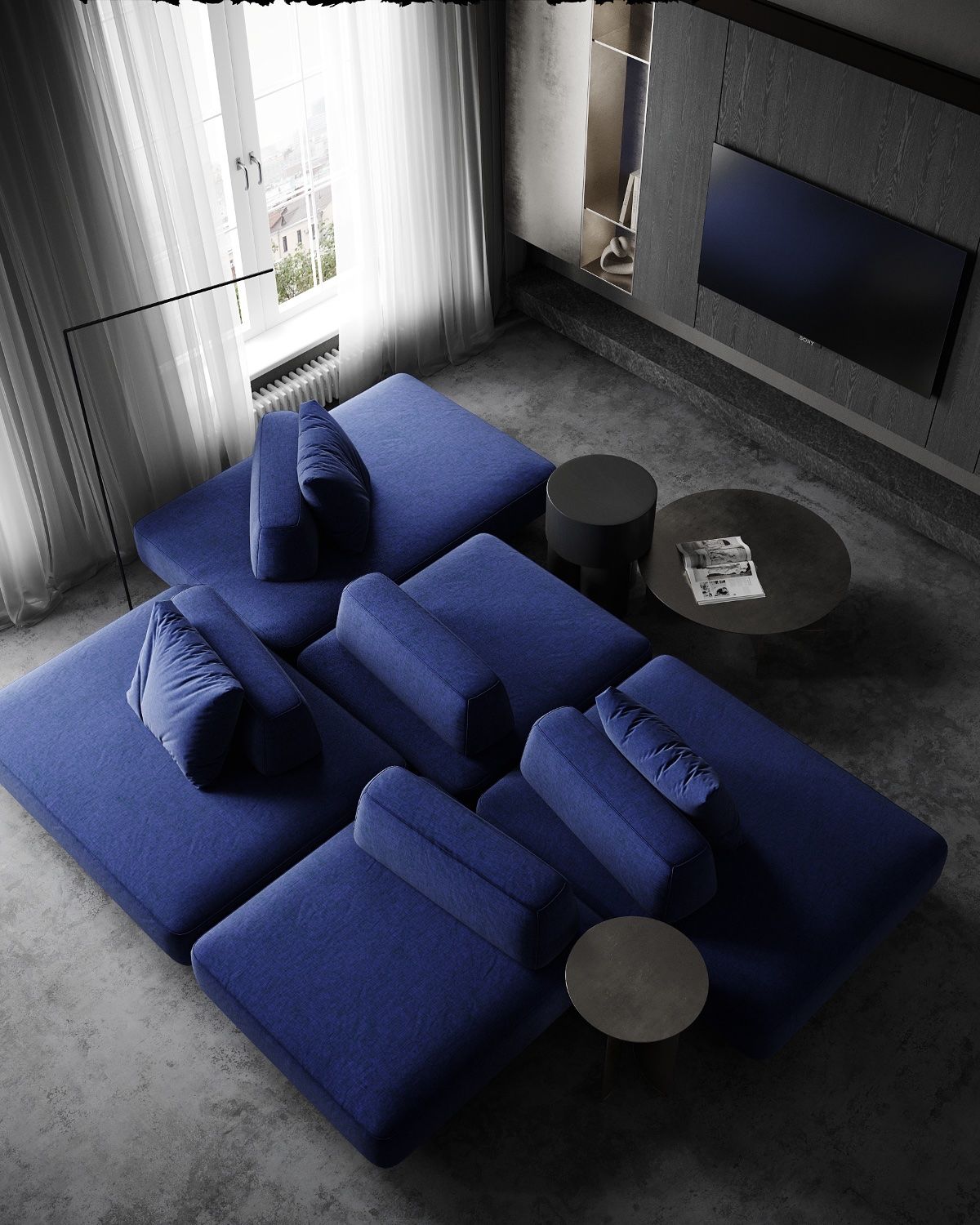 The modular sofa itself looks like a piece of installation art.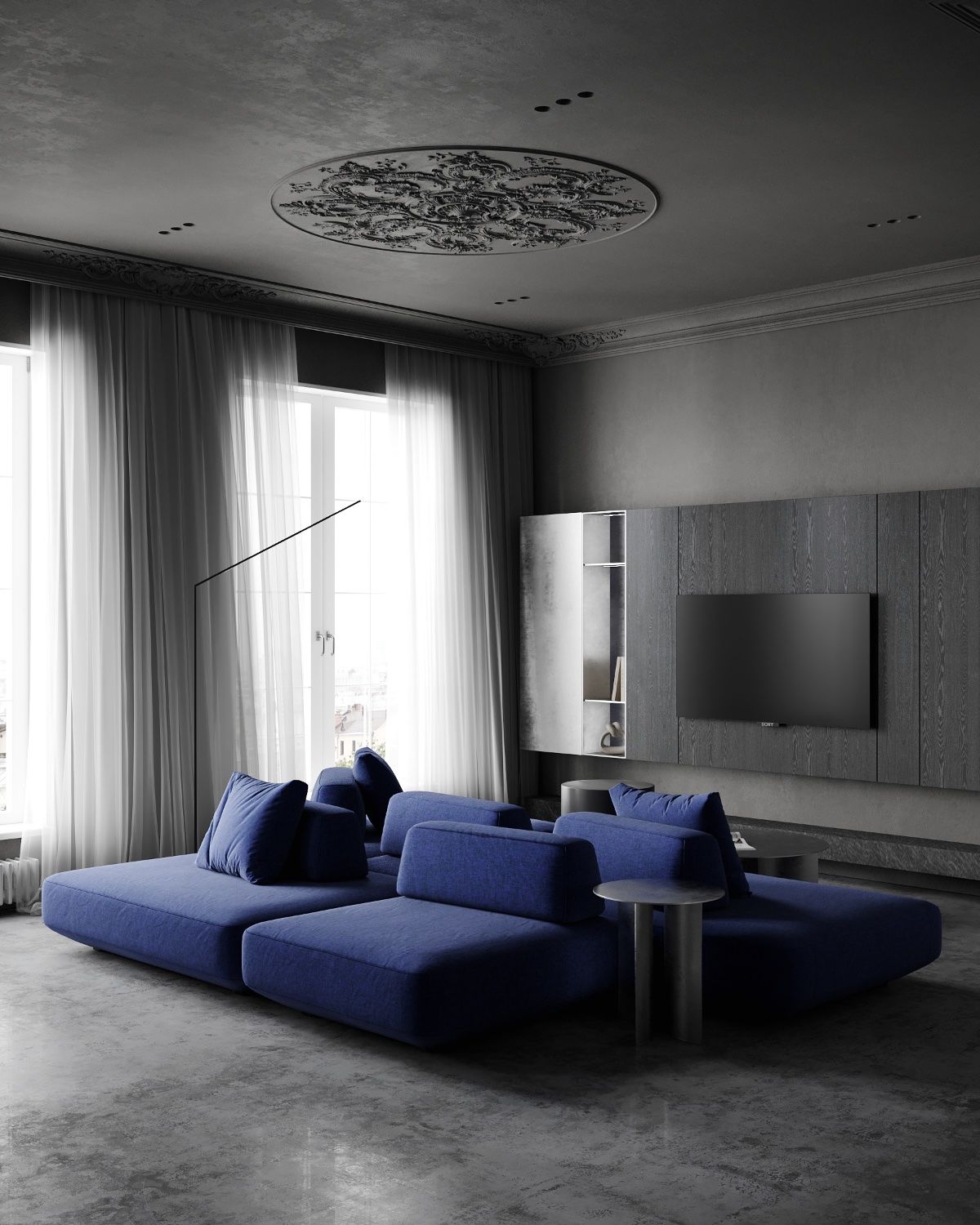 The couch is arranged to face two directions in the living room. One faces toward the kitchen diner, whilst the other looks at a TV and wall-mounted media units. The wall-hung cabinets are black wood grain to darkly meld with the moody grey backdrop. A contrasting silver shelving unit catches the sunlight by the window.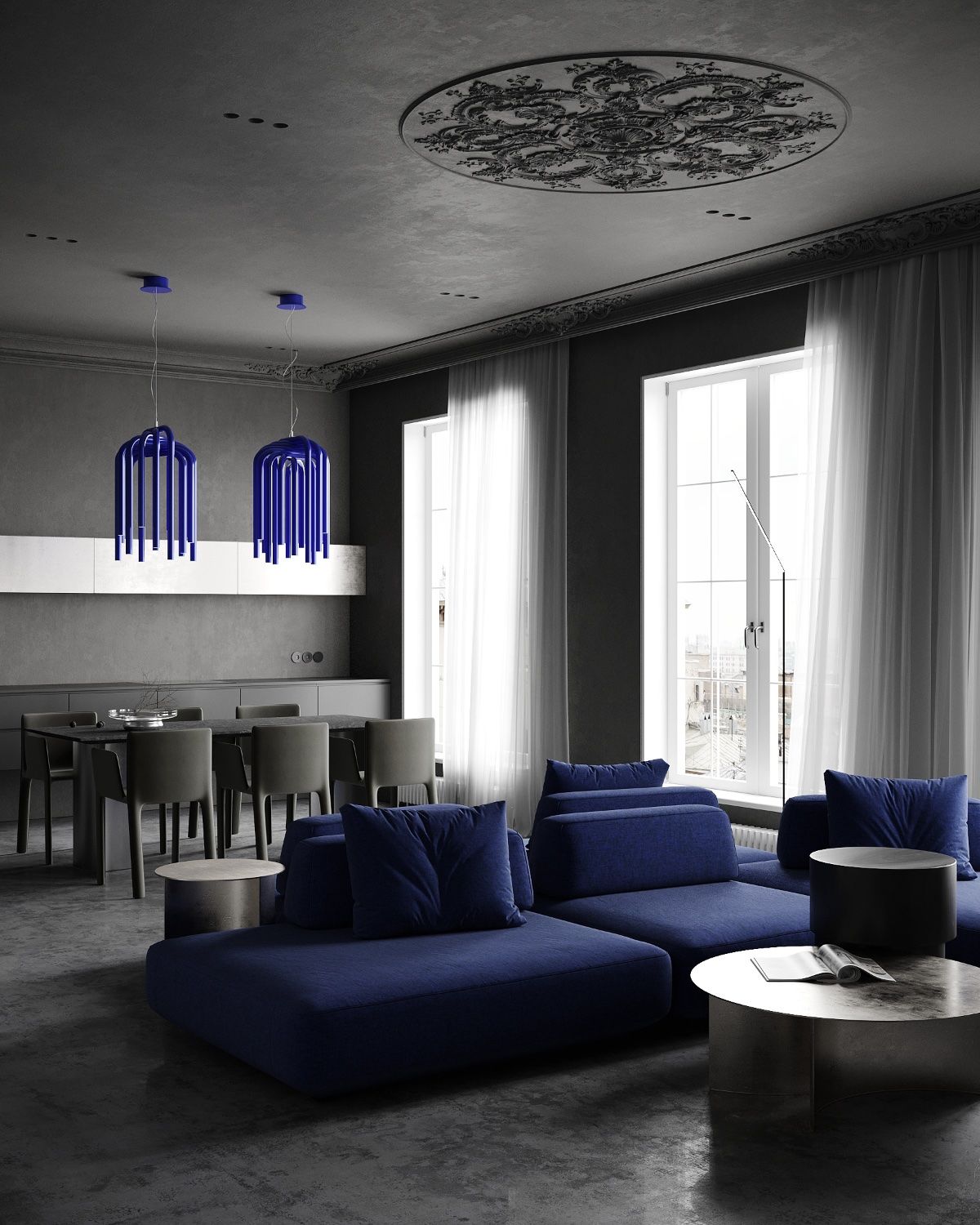 Sheer white voiles keep the windows bright. Shallow radiators keep off the chill from the glass.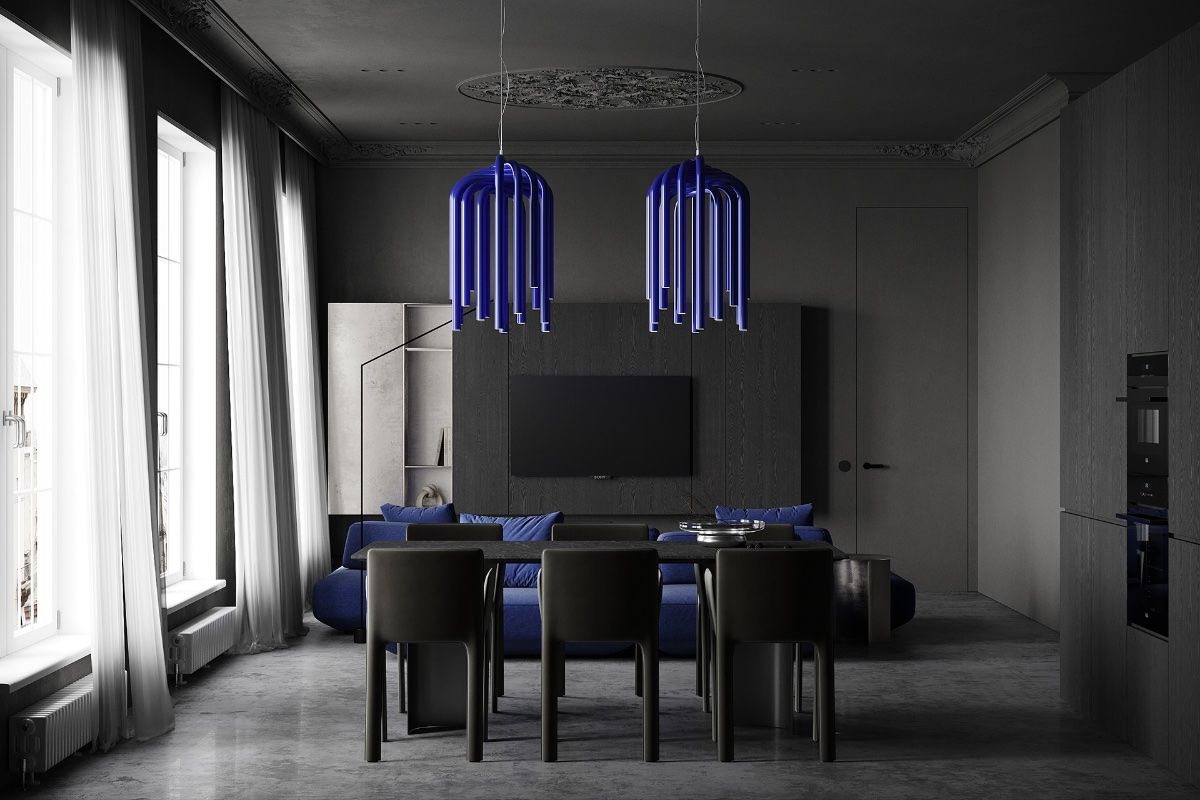 Two vivid blue dining pendant lights provide a perfect match to the sofa in the open plan living space.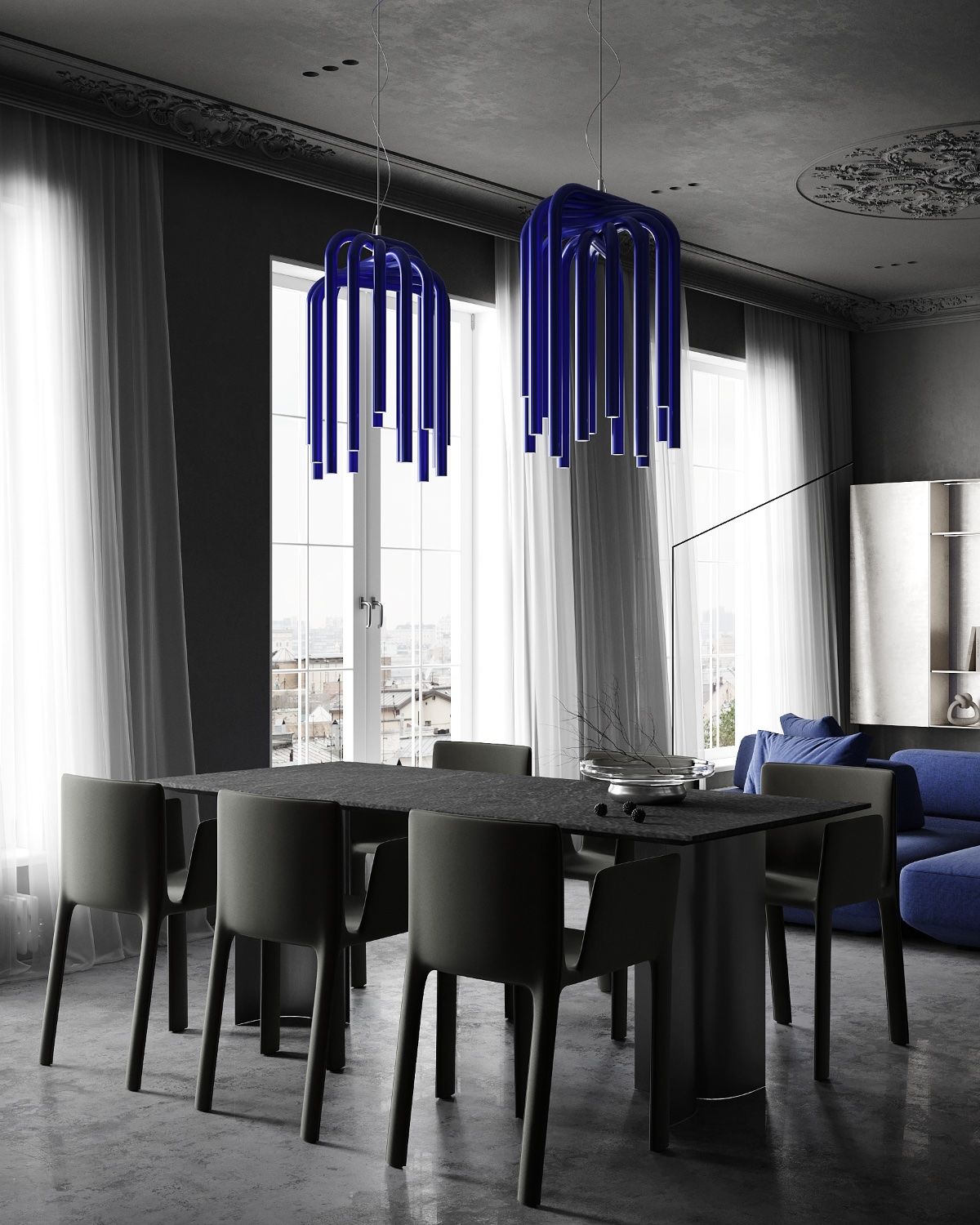 The fabulous blue light installation flares above a black dining table and six modern chairs.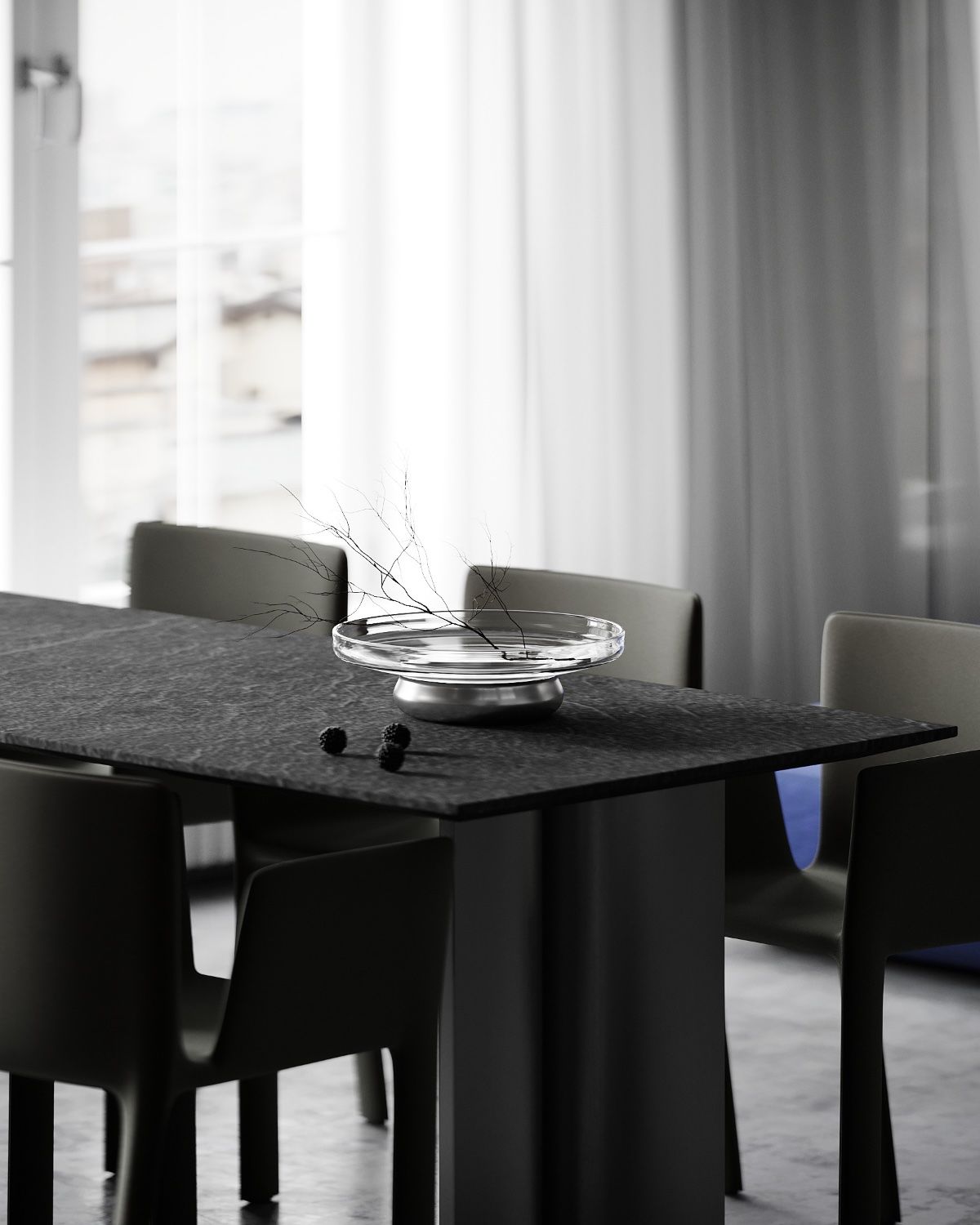 A glass fruit bowl makes a light-reflective dining table centrepiece.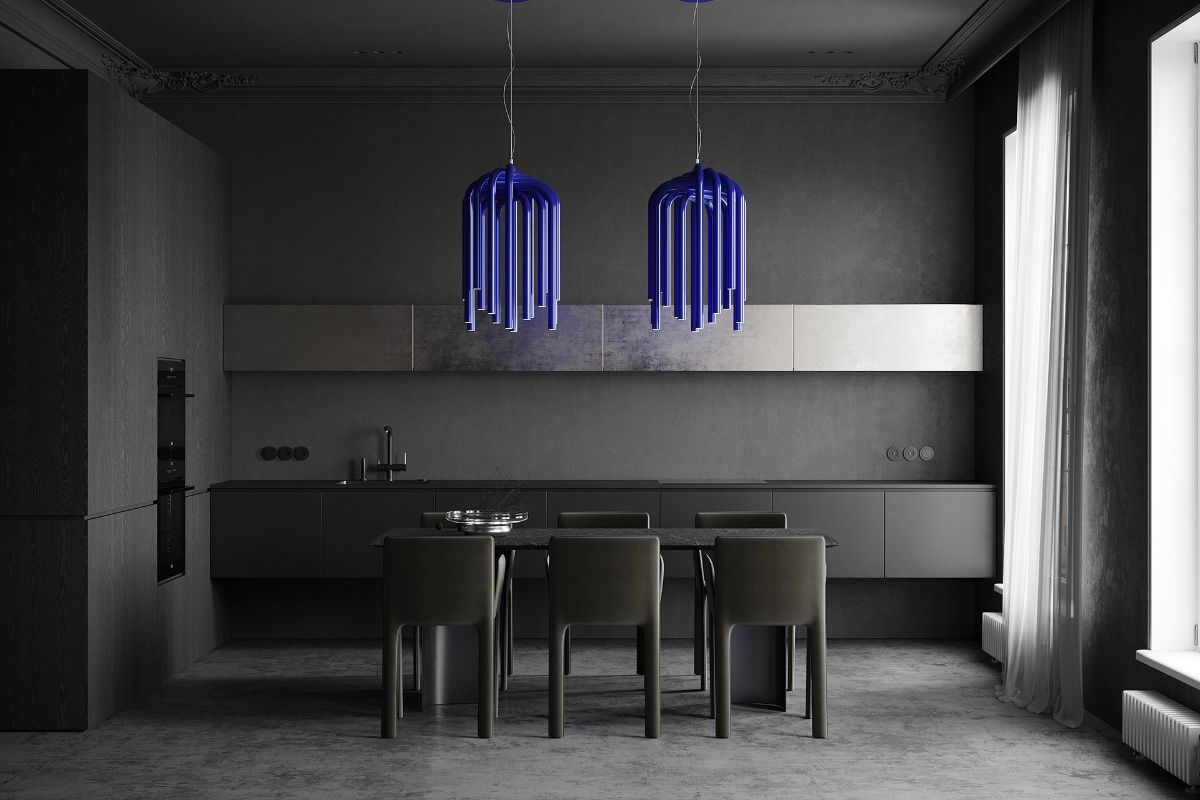 Behind the contemporary dining set, a modern kitchen works around the back of the living room in an L-shape.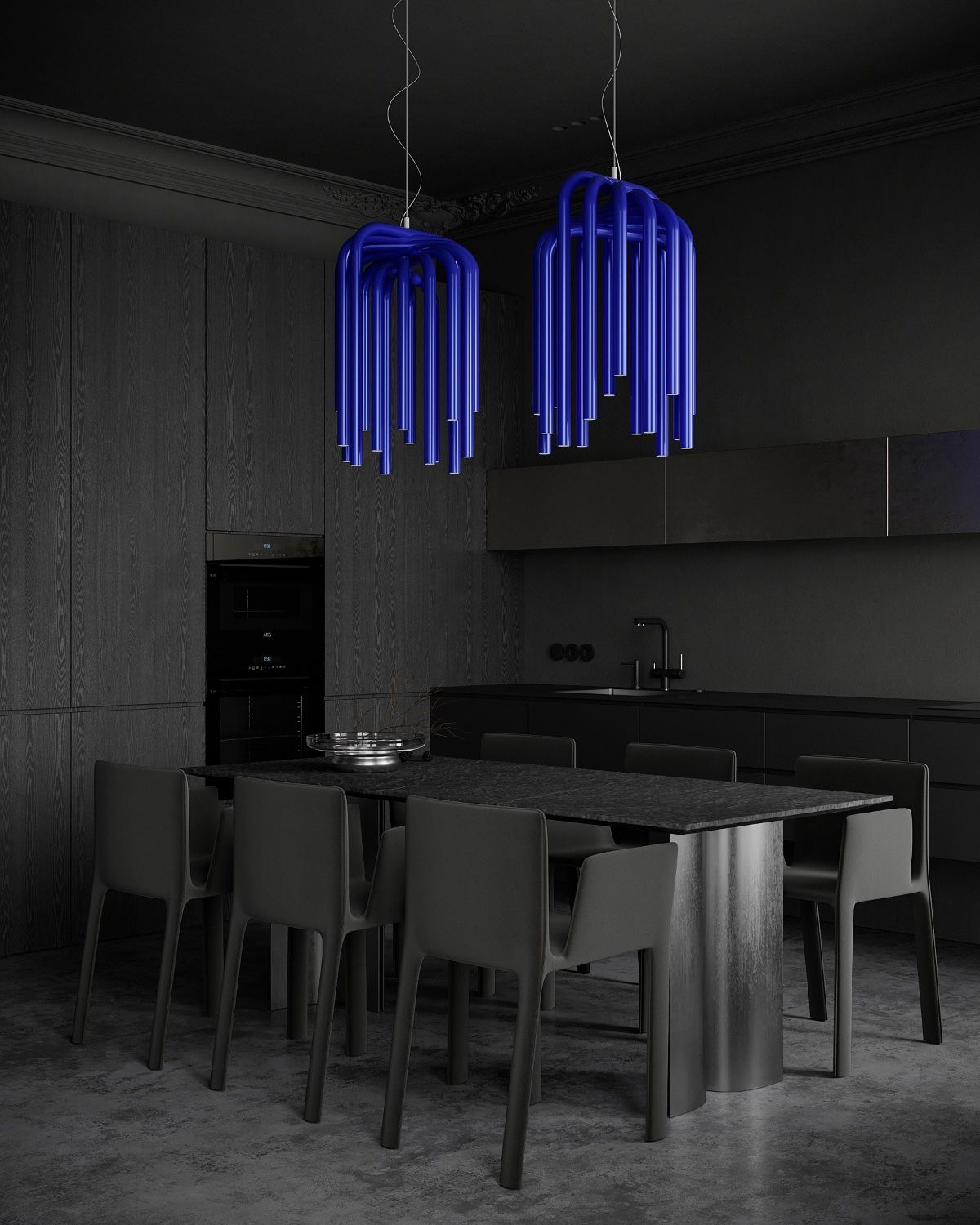 A wall of floating black base units and metallic wall units run into a solid wall of appliance housing units.

An integrated black oven fits sleekly into the wall of black wood grain.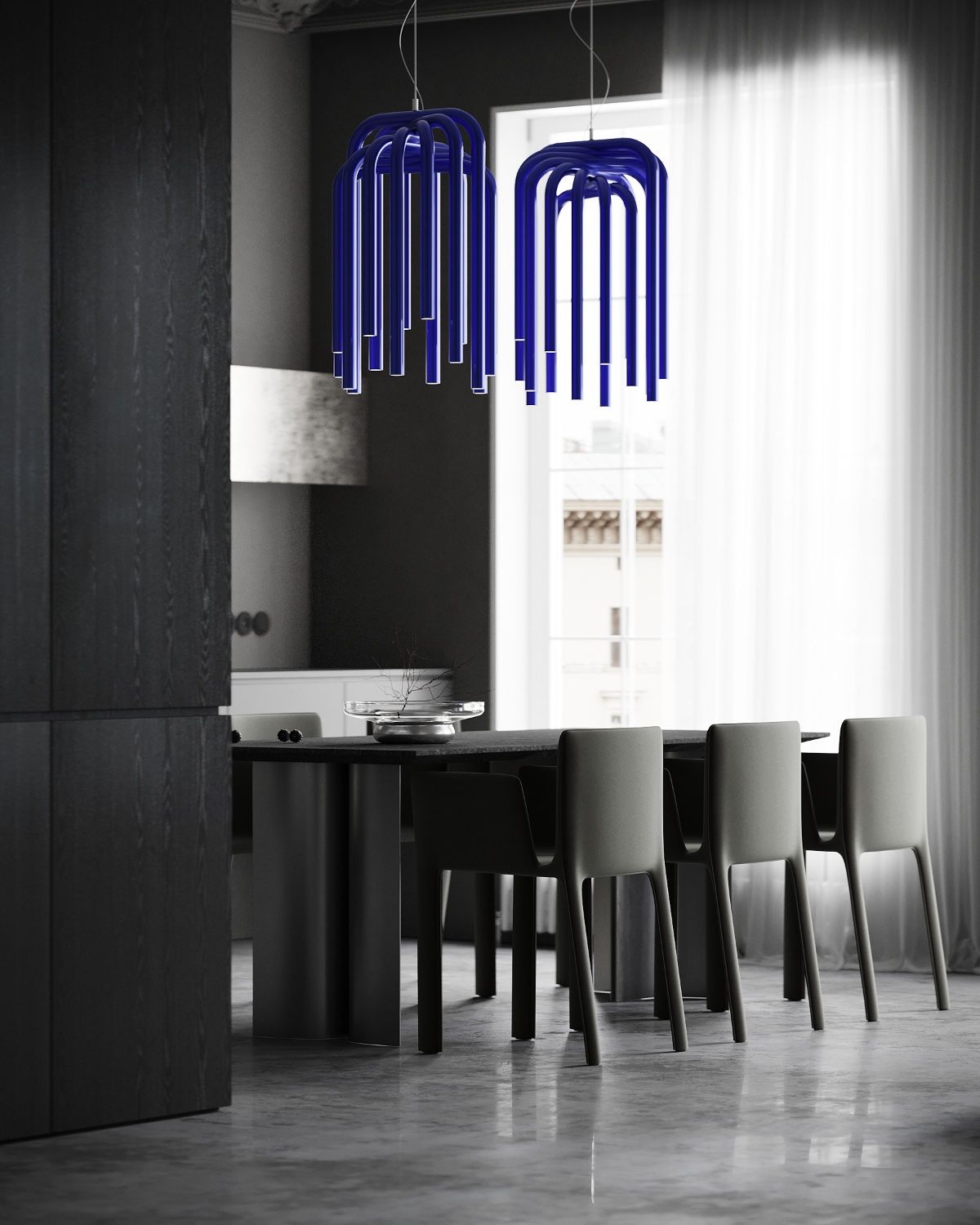 The silver wall units reflect natural light from the kitchen window in a modern linear installation.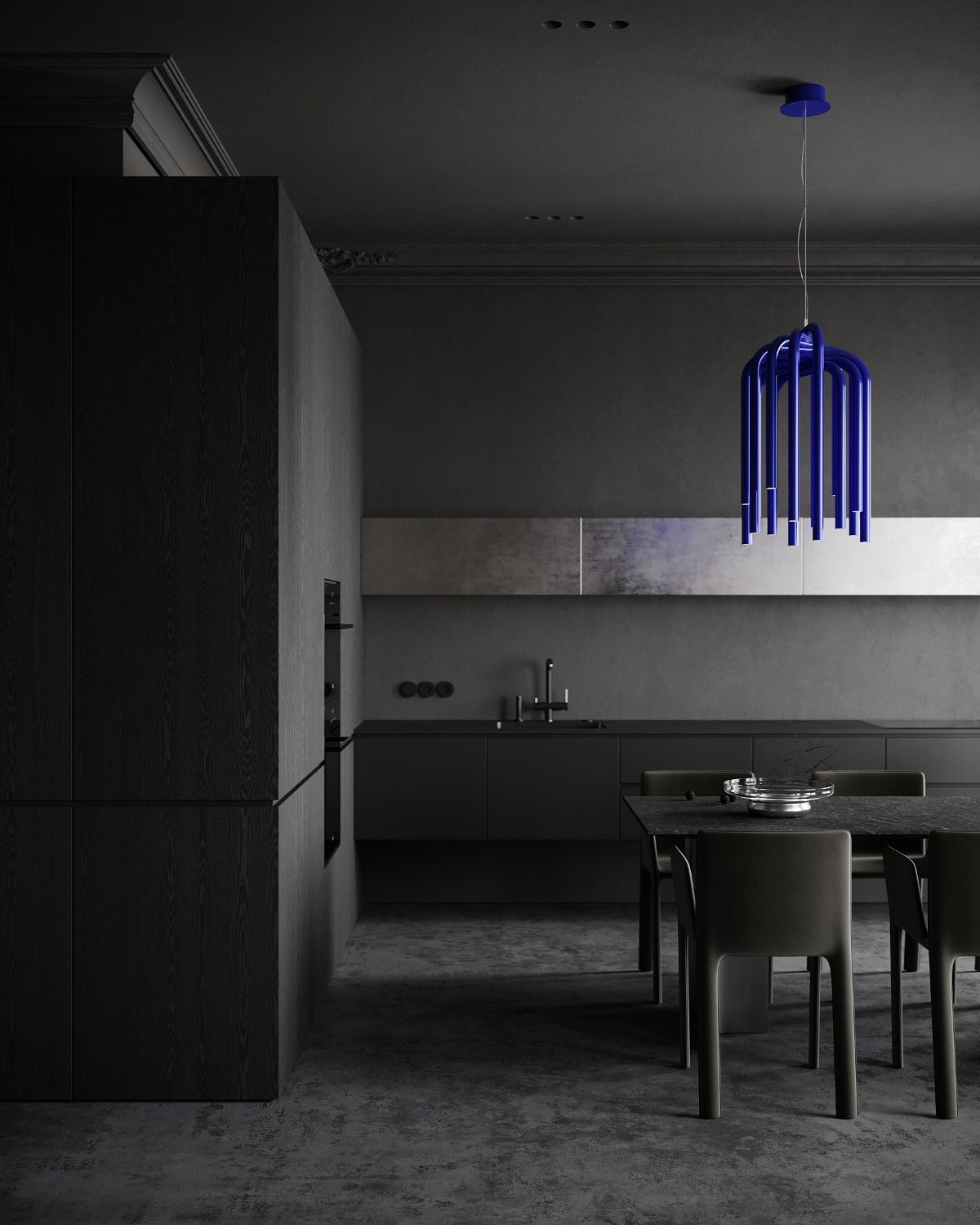 The bright blue dining room pendant lights are the first thing the eye focuses on when rounding the corner into the black and grey kitchen diner space. Their bold presence makes a startling effect that builds intrigue and wonder.