New films like Good Luck to You, Leo Grande are challenging cinematic tropes about sex workers. It's a refreshing change, writes Rafa Sales Ross.
In the 1990 classic Pretty Woman, when Edward Lewis (Richard Gere) first picks up Vivian Ward (Julia Roberts) in the luxury silver sportscar he borrowed from his lawyer, there is an implication he is somewhat oblivious to the fact that the woman is a sex worker. The businessman, a New Yorker lost amid the vast highways of Los Angeles, is initially only interested in directions. In Sophie Hyde's Good Luck to You, Leo Grande, which is released this week, there is no such confusion. When the doorbell of her hotel suite rings, Nancy Stokes (Emma Thompson) knows who's at the other side of the door: Leo Grande (Daryl McCormack), a sex worker she hired online.

A retired teacher and widow with two grown kids, Nancy finds herself with time to reflect on the years that are now behind her. Out of this process of contemplation, one thing in particular bothers the woman: she has never reached an orgasm. Sex, throughout her life, has been akin to a chore – in, out, done. Frustrated, she takes the plunge and books Leo Grande for the night, hoping to explore all the desires she was never allowed to act on with her one and only partner.


We're either villainised or sensationalised, and we are rarely allowed to exist in this space of being someone who is just working to make money to survive – Parker Westwood

From this seemingly simple premise, Good Luck to You, Leo Grande presents a shift in the portrayal of sex work on film, with the most obvious change being that it is an older woman hiring a younger man, a reversal of the usual pattern of age and gender. In addition, the woman here is solely concerned with her own pleasure. She has no expectations of having an orgasm this late in life, but she wants to be touched, to touch, to experience pleasure by allowing herself to openly admit that's what she desires.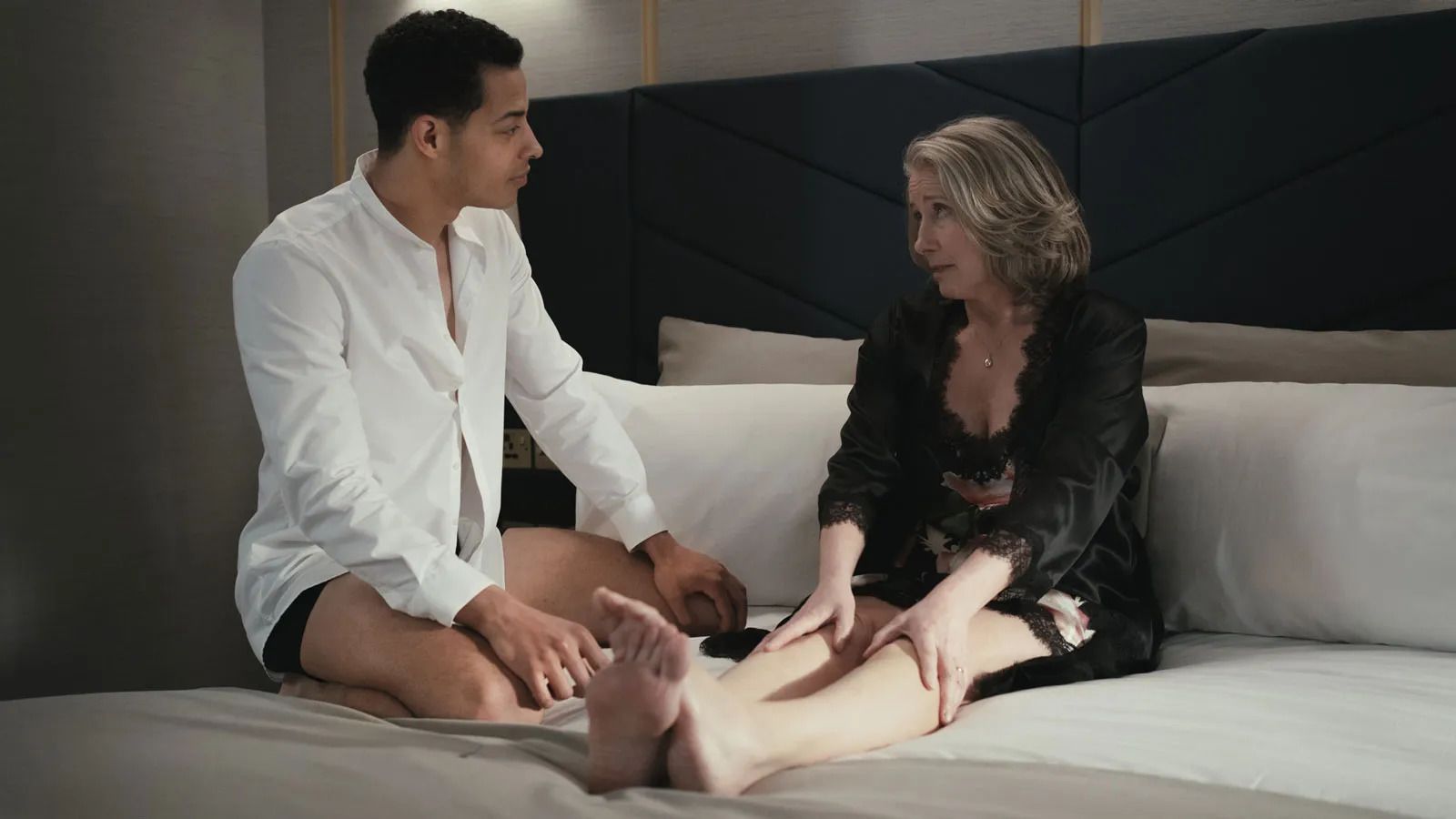 In Good Luck to You, Leo Grande, Daryl McCormack plays a sex worker hired online by widow Nancy Stokes

Leo, too, represents a diversion from the way sex workers have generally been depicted on screen. Yes, he is young, tall and handsome, but he is also void of the stereotypical masculinity that typically comes along with such attributes, as when the protagonist of Paul Schrader's American Gigolo (1980), high-end escort Julian (Richard Gere, once again), repeatedly reinforces his virility by employing mockery and unwarranted outrage to negate any suggestion of queerness or femininity. Leo showers Nancy with tenderness, even when she offers him the opposite in return. The former teacher pokes and prods at the dynamics of his job, enquiring if he ever feels degraded or what could have gone so terribly wrong for him to choose that specific career. In response to this line of questioning, Leo offers nothing but patient kindness, firmly rooted in the understanding that animosity often comes from a place of insecurity.


Challenging stereotypes

The stereotypes Nancy frames Leo with are the result of long-perpetuated stigma, and they have been reinforced by cinematic portrayals of sex work. "We're either villainised or sensationalised, and we are rarely allowed to exist in this space of being someone who is just working to make money to survive," sex worker Parker Westwood tells BBC Culture. In 2021, Westwood launched the podcast A Sex Worker's Guide to the Galaxy, with the aim to "destigmatise and humanise sex workers".

Destigmatising is key when it comes to what sex workers expect from depictions of their practice. For a long time, film has done the very opposite, feeding into patterns of preconceptions that are not only inaccurate, but arguably dangerous. Most popular accounts of sex work fall under two contrasting detrimental categories: "the disposable sex worker" or "the hooker with a heart of gold". The first encompasses the films in which sex workers are ruthlessly (and often brutally) murdered, their death handled as nothing more than a work hazard. Think Stanley Kubrick's Eyes Wide Shut (1999), where high-end escort Mandy (Julienne Davis) is introduced mid-overdose, briefly seen again masked and half-naked, then – finally – at the morgue.

Thrillers notoriously foster this trope, with films such as David Fincher's Se7en (1995) and Nicolas Winding Refn's Only God Forgives (2013) both featuring shockingly vicious murders of sex workers. True crime adaptations are another fruitful genre for the perpetuation of this violent pattern, with titles such as The Frozen Ground (2013), Lost Girls (2020) and Green River Killer (2005) dwelling – often with gratuitous violence – on the killing of sex workers and the disregard commonly shown by authorities in solving such cases.

Even the most celebrated film about a "hooker with a heart of gold" begins by reinforcing the notion of the disposable sex worker. The aforementioned Pretty Woman features a dead street worker in one of its very first scenes. "She be out on these streets day in, day out, trading her sorry self for some crack", says a man to the journalists gathering nearby, implying the young woman was to blame for her own death. As the dead body lays in a skip, tourists snap pictures, desensitised to this very specific type of violence.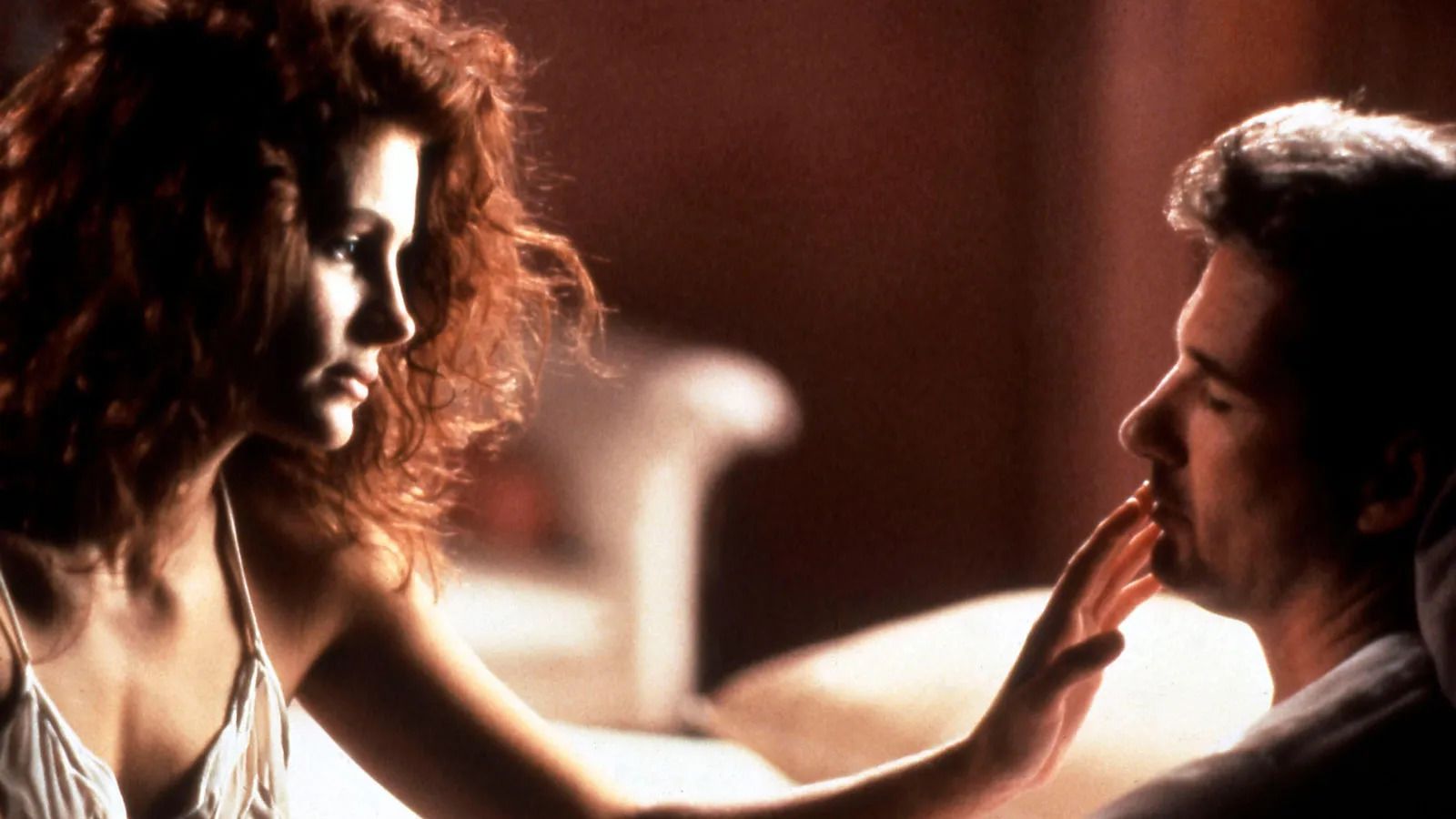 Starring Julia Roberts and Richard Gere, Pretty Woman brought conversations about sex work to the mainstream, but has been widely criticised

Pretty Woman helped bring conversations about sex work to the mainstream, but has been widely criticised in its approach to the subject. Vivian's trajectory is constructed with the single goal of having the audience root for her to ultimately abandon sex work – any other outcome would be deemed tragic. The way out, of course, is presented in the form of Edward, a rich, white, older man who is unable to resist the urge to rescue her. "You could be so much more," he tells Vivian as the two lay in bed, the faint lights failing to obscure the fact he perceives her as "lesser than".

The film also fosters the idea that this transactional relationship is a romantic one, which, in turn, romanticises the idea of sex work itself. Edward showers Vivian with gifts, hands her a limitless credit card and arranges a personal shopper to carefully curate her new image. This fairytale-esque approach to their dynamic reinforces the notion that all sex workers are patiently awaiting a knight in shining armour to whisk them away from such a sorrowful predicament. If Edward was ever truly in love, it was with his own creation.

Comedy is yet another outlet for poor sex work representation, as producer, screenwriter and former sex worker Isa Mazzei tells BBC Culture: "There are a lot of comedies out there where the plot is 'oops, we killed a sex worker' and those types of narratives are degrading and perpetuate harm. The fact they're often played off as a joke is the most insidious part of it all, it implies killing a sex worker is somehow less than killing someone with another profession."

Entire comedies are centred on the murder of sex workers, such as Peter Berg's Very Bad Things (1998) and Lucia Aniello's Rough Night (2017), while many others employ the demeaning narrative device as a passing joke, as is the case with Dirty Work (1998), where a car salesman is caught live with several dead sex workers in the trunk of the cars on display. Some films take it up a notch by adopting these harmful stereotypes in their titles, such as Dead Hooker in a Trunk (2019) and Death of a Hooker (1971), also known as Who Killed Mary What's 'Er Name?


Reframing sex work

Many recent films, however, are actively challenging these stereotypes, with one example being 2018's CAM, written and produced by Mazzei. The story, which employs horror to explore the loss of agency frequently experienced by sex workers who perform online, debates important matters such as consent and the separation between person and persona. "It was absolutely mandatory for us to include sex workers in every step of the filmmaking process. I can't speak for all sex workers, I'm just one. So it was important to include other voices and make sure that we had arrangements about how things were portrayed," says Mazzei, who is also the author of Camgirl, a candid memoir about her days of live-stream camming.

Although Mazzei emphasises the importance of employing sex workers in all steps of the creative process, she admits it is still far from easy for current or former sex workers to be open about their past within the industry. "It was a terrifying experience coming out as a sex worker in Hollywood and taking meetings with people who didn't always respect me as a writer and people who just wanted to ask salacious questions about camming", Mazzei says.

This sentiment is shared by Numa Perrier, whose directorial debut Jezebel (2019) is adapted from her time as a camgirl in the late 1990s. "There is a long-lasting stigma around any type of sex work, and that was a big part of why I was afraid to talk about my personal story at first. I have, however, quickly realised through workshopping the script that it was a bigger creative challenge to hide behind a story that was mine. From that point onwards I became bolder and bolder in expressing that part of me and the film is much better for it."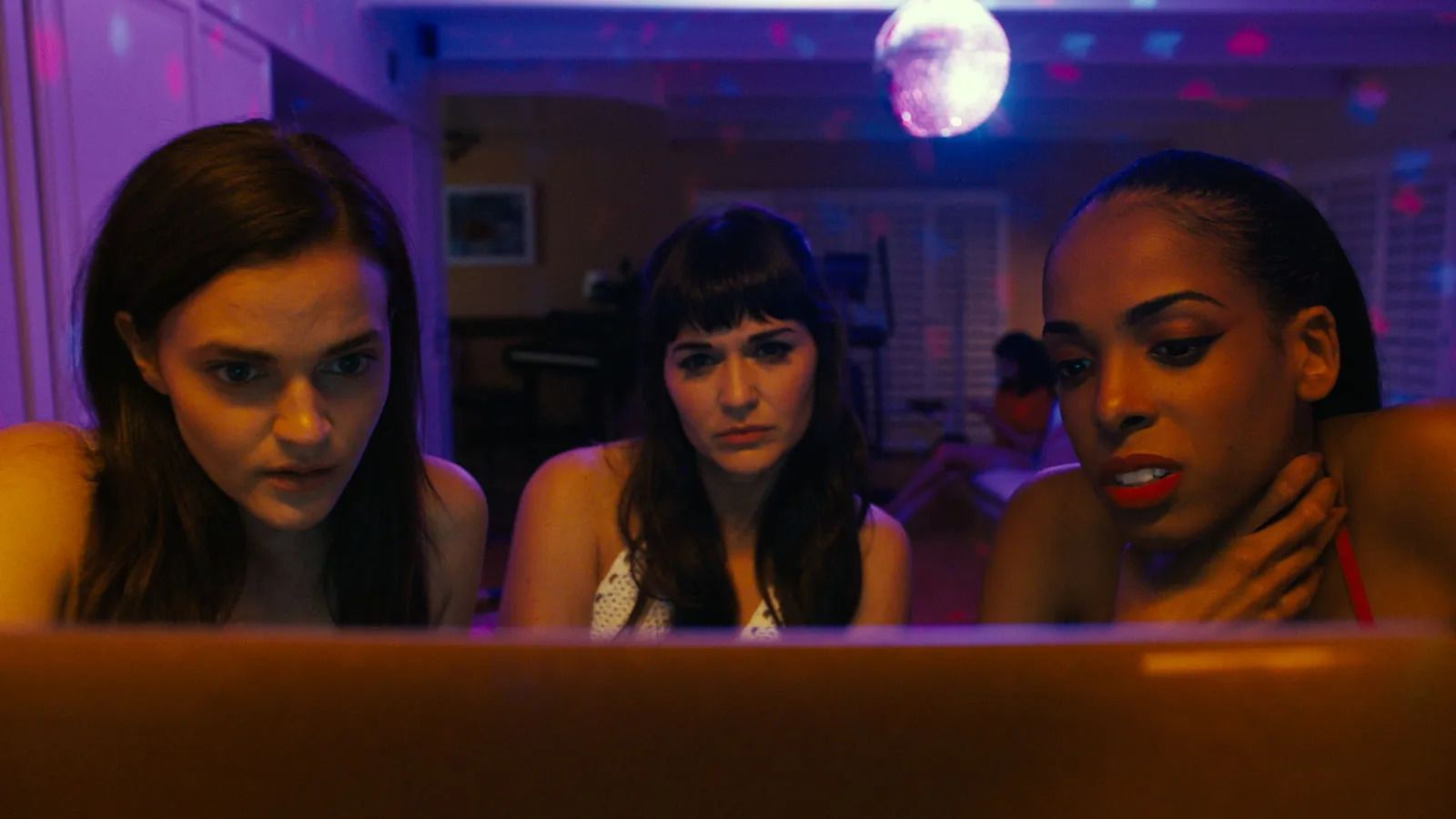 CAM (2018) uses horror to explore the loss of agency experienced by online sex workers

CAM and Jezebel greatly benefit from having sex workers reframe their own stories on screen, and prove that faithful portrayals of the subject require insight from people with lived experience. In Sean Baker's ground-breaking Tangerine (2015), former sex workers Kitana Kiki Rodriguez and Mya Taylor imbue their nuanced performances with lived knowledge, giving the film authenticity. French director Camille Vidal-Naquet spent years listening to the stories of young men working in the Bois de Boulogne – a public park in Paris notoriously known as a sex work spot – to create Sauvage (2018), a blistering tale of a young hustler determined to trail his own imperfect path.

Ninja Thyberg's recently released Pleasure, a gruelling look into the world of pornography, is yet another example of how having sex workers involved in the creative process can aid honest representation. Speaking to The New York Times, the director said she "wanted to look at porn from a perspective that doesn't see women as victims," and credits the industry professionals who worked with her on the project for the authentic feel of the film. The result is a hyper-realistic drama that employs the journey of Swedish newcomer Bella Cherry (Sofia Kappel) to scrutinise the ins and outs of the porn industry, from the predatorial behaviour of producers to the fierce competition between performers.

Thyberg's feature debut may be called Pleasure, but it is all about business. At times crushingly credible, the film places the porn industry under surgical lights, and is an uncomfortable watch. The director lingers on the little-known behind-the-scenes minutiae general audiences are likely to be unfamiliar with, but it is its approach to wider, more complex topics such as sexism, consent and sexual trauma that sets this particular story apart from its predecessors. Thyberg's sensitive eye bypasses the dangerous threat of gratuitous fetishism to build a poignant study of ambition.


There are positive stories out there… and just because they make some people feel a bit uncomfortable, it doesn't mean they don't get to be represented – Katy Brand

Both Pleasure and Good Luck to You, Leo Grande offer fresh, rarely-seen-before perspectives on the portrayal of sex work on screen. While the former approaches the topic through the visual shock of the ultra-explicit, the latter does so through carefully crafted dialogue. In fact, there were no sex scenes on the first draft of the film. "I just enjoyed the verbal side of it," writer Katy Brand tells BBC Culture. And conversation is central to the film's positive portrayal of sex work, exploring the notion of consent through verbalisation. Before every touch, every advance, the man lays out the terms of what is about to happen, harnessing eroticism out of safety.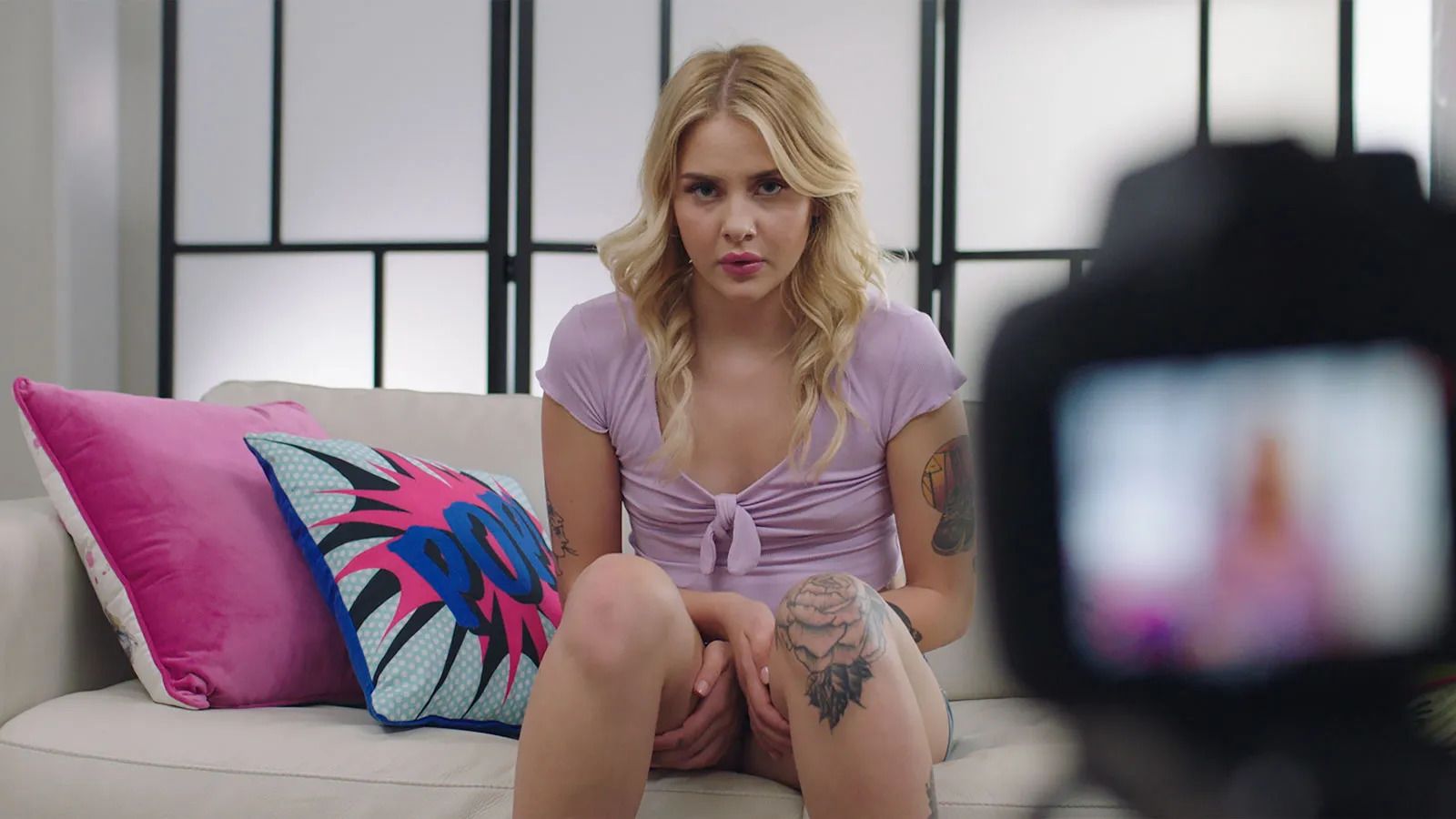 Ninja Thyberg's Pleasure (2022) is a gruelling exploration into the world of pornography

"I wanted it to be positive because there are positive stories out there. And they are real and they are true. And just because they make some people feel a bit uncomfortable, it doesn't mean they don't get to be represented," says Brand. Here, this element of discomfort is introduced through Nancy's insecurities, which lead the retired teacher to a place of toxic bias. In Leo's gentle handling of his client's vitriol, there is a clear demonstration of vocational tact, something actor Daryl McCormack was keen to explore through his performance.

"When I was speaking with sex workers, they had this ability to consistently find a balance with another person, and to me, that's a real gift. That's an intuitive thing and maybe where the vocation comes in. It's something that can't be taught," he tells BBC Culture. For a film to depict sex work as a true vocation is already a real change, but to do so through a male sex worker adds yet another layer of progressiveness.

"The world of sex work is dominated by women, queer folks, trans folks and people of colour. The power structure in place means the people with extra income available to spend on sex workers are cis white men, or seemingly cis white men, so that's where the demand is", says Westwood.

Would the film have worked so well if the genders were reversed? It is questionable whether the film could preserve its essence without its very specific, subversive gender dynamic, a fact director Sophie Hyde was acutely aware of: "A lot of the time when we see a younger man with an older woman it's through this idea of a cougar, which I don't subscribe to. One of the things I loved about making [the film] was that there were so many power dynamics at play. Somebody's paying, so there's power in this; someone is young and beautiful, so the other person feels powerless in that situation. Daryl and I have even talked about a mixed-race person coming into the room as a sex worker and the power dynamic there. These things were not necessarily the plot of the movie but they are there all the time for the characters."

It is clear that, as cinema slowly progresses towards a more faithful portrayal, there is a need for these more diverse stories, crafted with the help of sex workers. "I would like to see not only inclusion of sex workers, but also deferring to sex workers," says Mazzei, on the commitment required of the entertainment industry to achieve meaningful change. "And there's a big difference there because a lot of people will hire someone to consult on their film but then not listen to that. And that's not doing the work. Doing the work is willing to step aside and listen to what someone is telling you about their lived experience and understand that they know it better than you."

Good Luck to You, Leo Grande is released in the UK and US on 17 June.