When Nasa sent twin rovers to Mars, they landed on a barren red landscape, but a new documentary looks how these remarkable missions brought a life of their own to the Red Planet and their effect on the people working with them back Earth.
It's January 2004 and Nasa is about to land on Mars, twice. The twin Mars rovers Spirit and Opportunity are scheduled to arrive on opposite sides of the Red Planet within weeks of each other, and a lot can go wrong. The descent involves each lander plunging through the Martian atmosphere, deploying parachutes and bouncing across the rocky landscape encased in giant airbags.

In mission control at the Jet Propulsion Laboratory (JPL) in Pasadena, California, the pressure is on. Some two-thirds of previous Mars missions have ended in failure. Five years earlier, Nasa's Mars Climate Orbiter had disintegrated after engineers muddled-up imperial (English) and metric units. And, in a pre-launch test for the rover landing system, the parachutes ripped apart leaving a lander smashed to pieces on the ground.

"It absolutely could have gone wrong," says Abigail Fraeman, a JPL research scientist who worked on the missions. Their worst fears appeared to have be realised when, within just 18 Martian days – or sols – of a successful landing, Spirit went quiet. It sent back to Earth only meaningless code, rather than useful data or images. Although engineers managed to coax the rover back to life, by the time Opportunity lands on 25 January, everyone involved is on edge.

"There was a feeling of nerves and anticipation about Opportunity," says Fraeman, who was in mission control for the landing. The moment would set the path of her career. In 2004, she is a high school student in a space education programme.

"I couldn't believe I was in the room at all, I think it was one of the best nights of my life," she says. "I remember every single detail, and obviously the best part was when those first images started coming in."

Seemingly against the odds, Nasa had done it. The two rovers were safely on Mars. But, as they began to explore their surroundings, something extraordinary was happening back on Earth: The humans commanding the rovers started to treat them differently. Spirit and Opportunity were no longer six-wheeled machines with solar panels, cameras mounted on a stalk and a mechanical arm, but sentient beings. They became our avatars on an alien world.

"It sneaks up on you," says Doug Ellison, a rover engineer. "You find yourself, especially when you're doing mission operations, putting yourself inside the rover and you start moving that crazy suspension system with your arms or you start moving the mast and you end up feeling like you're a little piece of that robot."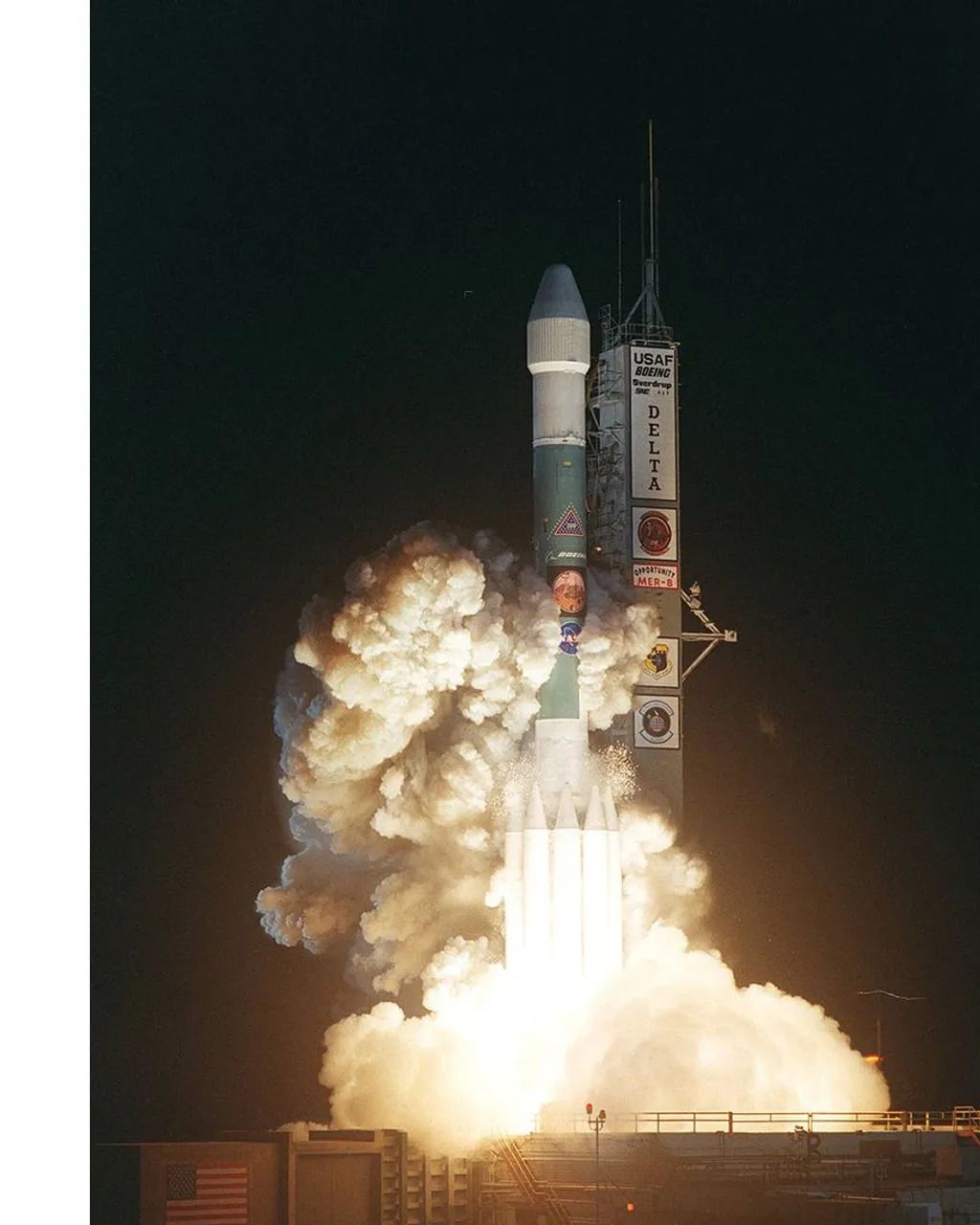 The mission was launched in July 2003 and took more than six months to reach Mars
What makes this transition even more fascinating is that it happened naturally. There was no deliberate public relations campaign to anthropomorphise the rovers. The missions came four years before Pixar's Wall-e film about a lonely robot wondering a devastated Earth (and long before the European Space Agency's endearing Once Upon a Time animations of the Rosetta mission to a comet). Spirit and Opportunity even gained pronouns. No longer "it", the engineers (most likely, it seems, in the tradition of ships) started referring to them both as "she".
"I don't think anyone consciously went, 'I can do a better job if I think about this thing as my cuddly pet robot'," says Ellison. "But you learn to sympathise with it and learn to feel like you're a part of it."
What we found really interesting and surprising was how much these human beings projected their own human emotions onto these robots – Ryan White

"They are just machines," admits Fraeman. "But it's almost as if they're an extension of ourselves – you get to walk with them on the surface and see what they see and sniff the rocks they sniff and it's such a great feeling."

The journey of the twin rovers across Mars is chronicled in a new documentary film, Good Night Oppy, released this week (23 November) on Amazon Prime (you can watch the trailer here). Using archive footage, original interviews and impressive new CGI, the movie packs an emotional punch.

When he began to talk to potential interviewees the film's director, Ryan White, realised how attached scientists and engineers had become to the rovers.

"I was shocked," he says. "Wow [we realised] these people are going to be way more emotional than we were expecting them to be.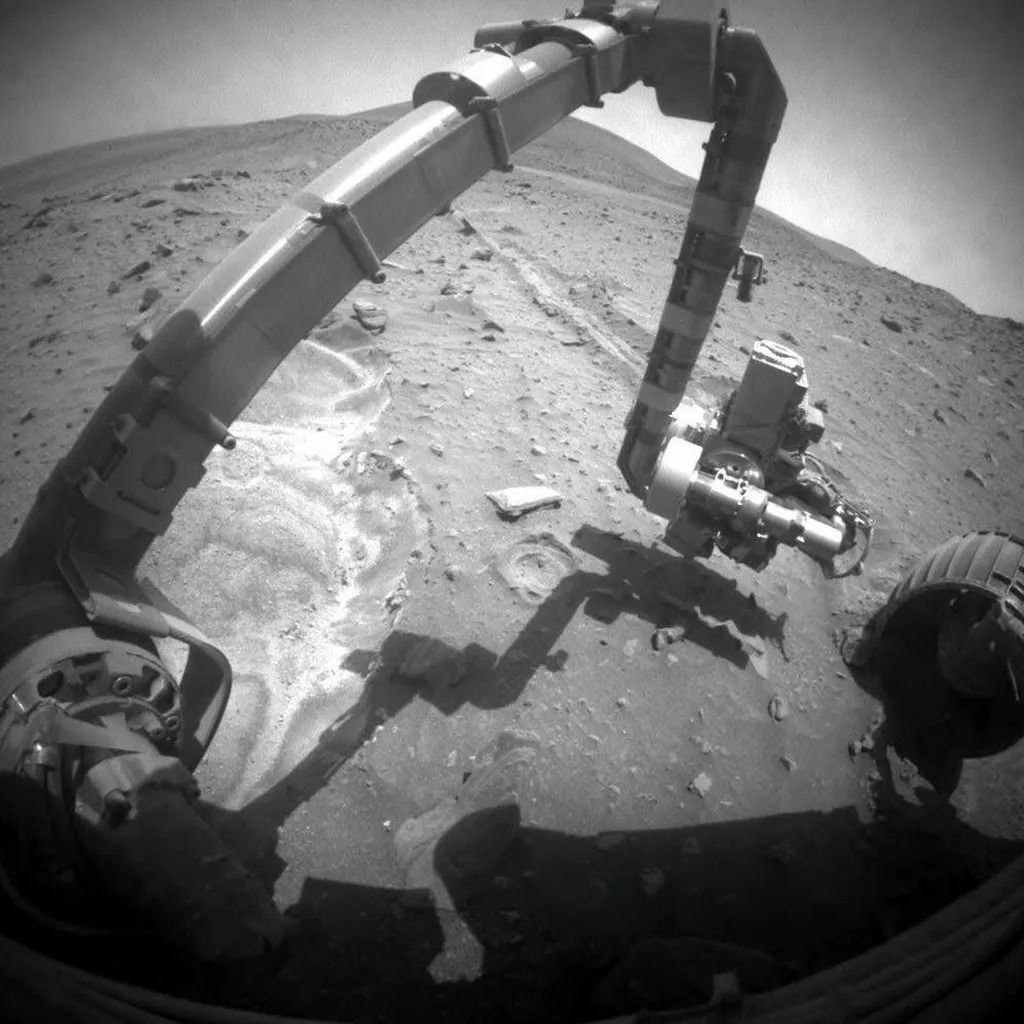 Spirit's damaged wheel (seen on the bottom left of this image) cut short her intended mission but led to an important accidental discovery

"What we found really interesting and surprising was how much these human beings projected their own human emotions onto these robots," White says. "Some of the engineers have a photo of them up on the refrigerator right next to their own children, and that's how closely they feel to these robots."

The first three months of the nominal mission came and went, but the rovers carried on. Spirit and Opportunity (or Oppy) were mechanically and electronically identical but the nervous breakdown that Spirit had experienced early on soon came to define the way it (or she) was perceived by mission controllers.

"It is so strange that identical twin robots ended up with different personalities," says Ellison. "Spirit was a tough, hardworking rover, she had to fight for every scientific discovery she ever made – the landing site was harder, the science was harder to find.


One of the primary goals of the mission was to investigate evidence that Mars once had water flowing across its surface

"Spirit was just kind of feisty," he adds, "whereas Opportunity just landed straight in front of awesome science and knocked it out of the park every day thereafter."

And the science was indeed awesome, with dozens of new discoveries generating hundreds of scientific publications. One of the primary goals of the mission was to investigate evidence that Mars once had water flowing across its surface – an element crucial for life. True to form, Oppy found that evidence almost straightaway with the discovery of the mineral hematite, which typically forms in water. The rover would go on to find further mineral evidence that Mars was once warm and wet – and had water at a neutral PH, more suitable for life – and explore sites where water once flowed.

Meanwhile, two years into its intended 90-day mission, Spirit was in trouble again. What had now become known by some engineers as "the blue-collar rover", had broken one of her front wheels. After much deliberation (and comparison with faulty supermarket trollies), mission controllers decided the only option was for Spirit to drive backwards, dragging her broken wheel behind her.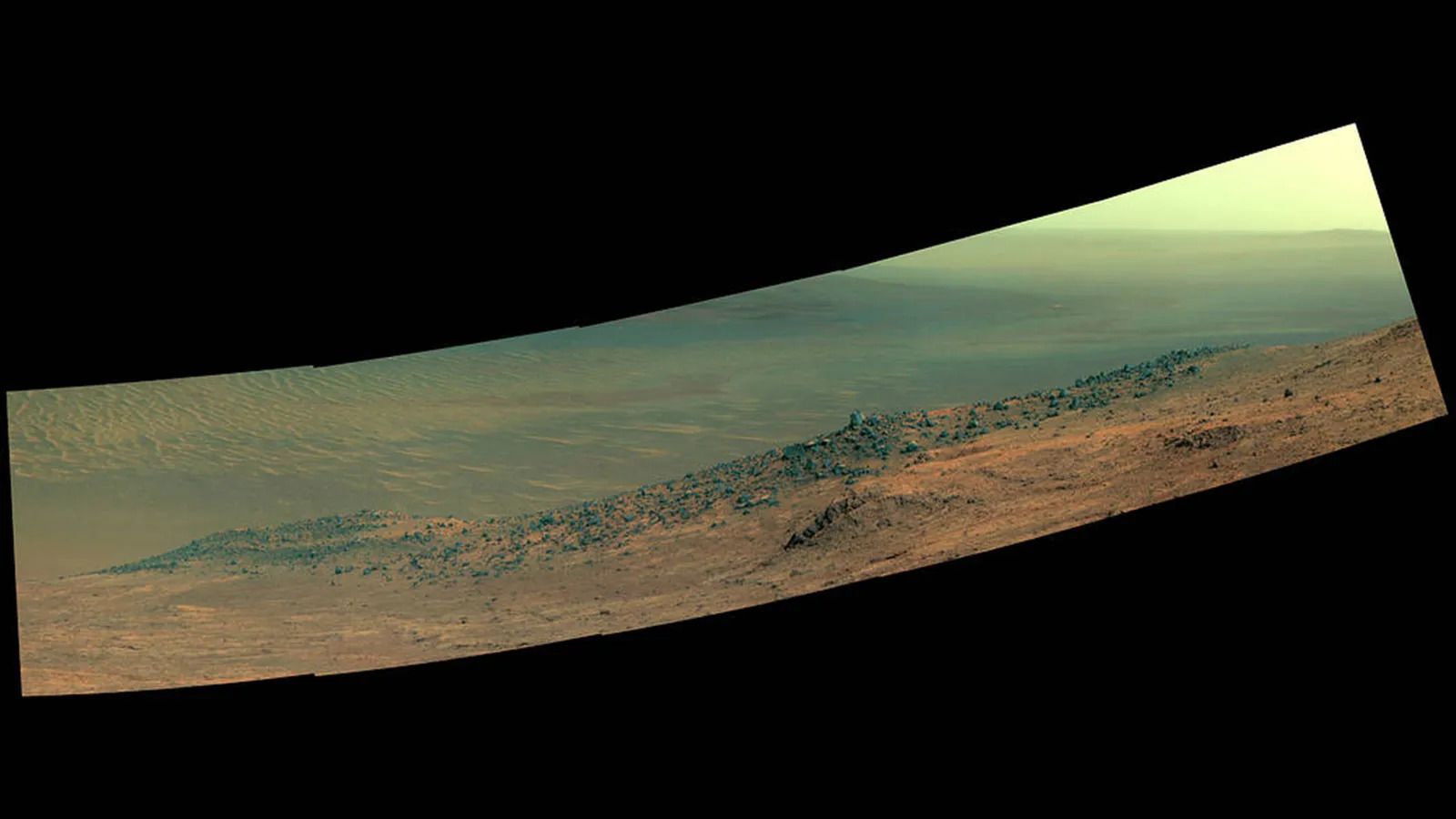 Opportunity captured this panorama of Wharton Ridge, at the western rim of Endeavour Crater

Not only did this elicit a great deal of sympathy, the injury also led to one of Spirit's greatest discoveries. As the rover limped along, her broken wheel dug a trench in the Martian soil revealing almost pure silica. On Earth, this kind of silica usually exists in hot springs or hot steam vents, a home for a rich diversity of microbial life. Now, thanks to Spirit, scientists think that could be a possibility on Mars as well.

As the mission progressed from days to weeks, months to years, it wasn't only the scientists and engineers that were empathising with the plucky rovers. Every image sent from Mars was publicly available and quickly shared around the world. At a time when social media was in its infancy, the images and exploits of two Mars rovers became the talk of breakfast television, chat shows and web forums. Spirit and Opportunity were fast becoming extraterrestrial celebrities.

"They were a hit sensation from the day they landed," says Ellison. Like Fraeman, Ellison joined the mission as a fan. Before being recruited by Nasa, he was working as a multimedia producer at a UK medical training company and posting online mosaics of images taken by the rovers that he had stitched together in his spare time.


When her flash memory failed, the engineers likened Oppy's diminished capabilities to dementia

"You build this community almost like this unofficial fan club of people who are following along on this journey every day." And every day, this global community was willing the rovers on.

By May 2009, only four of Spirit's six wheels were functioning and she was stuck. "When the Spirit Rover got stuck, we had this whole Free Spirit campaign with people sending in get well soon cards," says Ellison. But despite the goodwill, Spirit was going nowhere, her mission over.

Oppy carried on. Every day she travelled another few metres across the Martian surface. And, just like the humans she represented, Oppy was ageing. When her flash memory failed, the engineers likened Oppy's diminished capabilities to dementia and worked out new ways of keeping her mission alive.

But almost 15 years – and 28 miles (45 km) into her mission, Oppy's life was coming to end. In June 2018, after a severe Mars-wide dust storm, Oppy sent a final communication from (the aptly named) Perseverance Valley.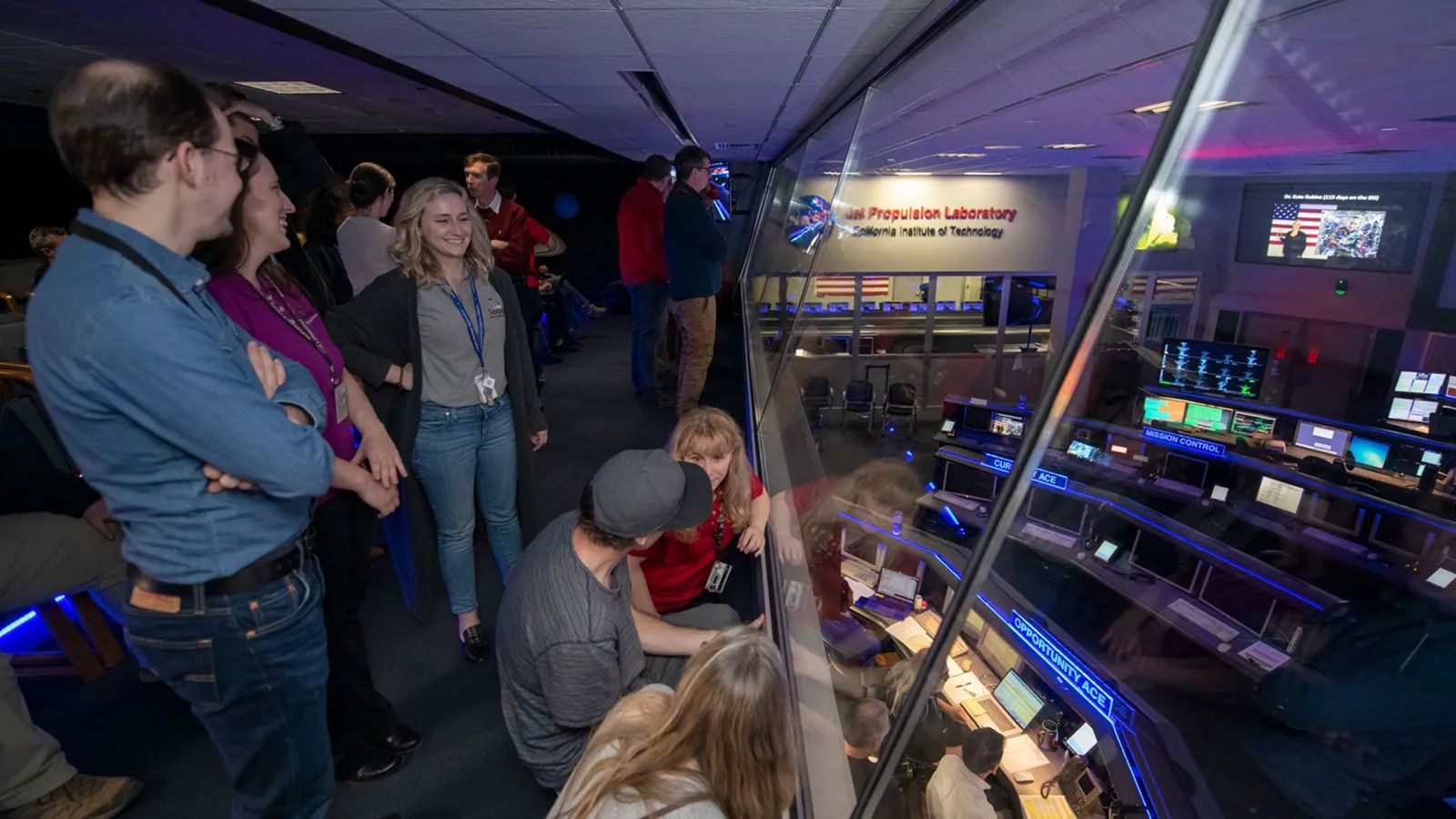 As Opportunity's systems began to fail, controllers sent the rover a farewell message in February 2019

JPL engineers made more than 1,000 attempts to coax Oppy back to life, but none worked. On 12 February 2019, ground control sent the rover one final message – beaming Billie Holiday's heart-breaking ballad I'll Be Seeing You across the expanse. The lyric, posted by a Nasa scientist on Twitter (the rovers had lived through the social media revolution) went viral.

I'll find you in the morning sun and when the night is new, I'll be looking at the Moon but I'll be seeing you.

"It sounds ridiculous, but if we could just have one more day with Opportunity, just take a couple more pictures…" says Ellison. "There was something truly special about those rovers and I still miss them even to this day."

Maybe, even within our lifetimes, astronauts will get to see the rovers again. "I sure hope so," says Fraeman. "Wouldn't it be so cool if we could have footprints in the rover's wheel tracks? I would love to walk Oppy's traverse and see it with my own eyes.

"Sometimes, you know, in my dreams, I imagine I'm doing that."