There's a new buzz phrase in government: energy independence.
The war in Ukraine has focused ministers' minds on the need to stop procuring energy from abroad and, when it comes to Russia, financing a foe in the process.

One backbench Tory MP did not mince his words, telling me "every missile dropped on Ukraine has been financed by the West buying Russian gas".

The challenge ahead for ministers is twofold: making sure we have enough energy to heat our homes, power our businesses and fuel our cars - and making sure it does not become so unaffordable that businesses collapse and households are pushed into poverty.

So what's the plan?

Well, the week after next, the prime minister and business secretary are expected to set out their "energy supply strategy".

It's likely to focus on four core areas: nuclear energy, renewable energy, making homes more energy efficient, and increasing North Sea oil and gas production.

On that last point: government sources insist this is not about burning more gas, but about sourcing more gas domestically while the UK moves to renewable energy sources.

Downing Street is adamant their net zero targets remain intact - despite opposition from a Net Zero Scrutiny group of backbench Tory MPs.

A source said cheaper energy from the sun, wind and nuclear was the "only real long-term answer to the cost of living crisis" and they "can't bung people subsidies forever because prices are high".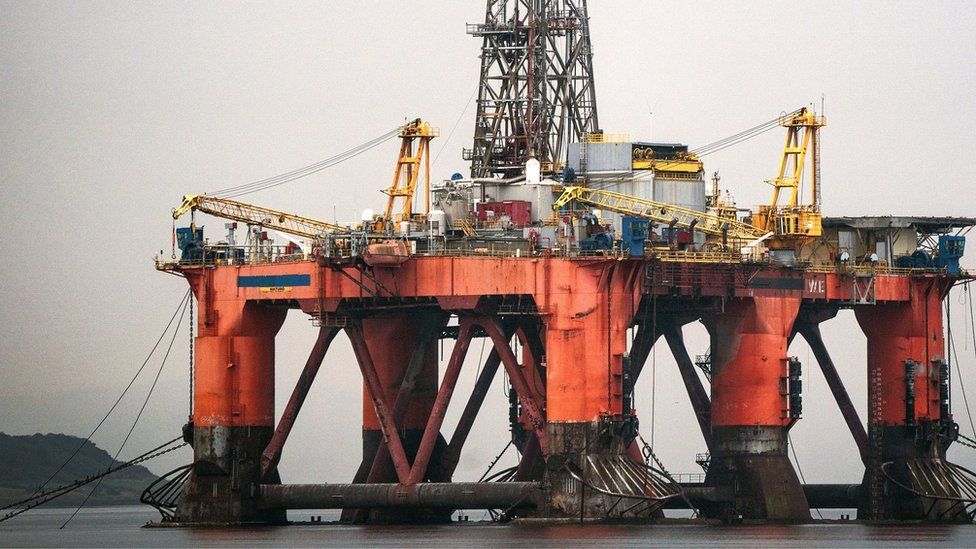 North Sea production could be stepped up in response to Russia's invasion of Ukraine

It now looks increasingly likely, for example, that planning laws could be loosened for onshore wind farms.

Ahead of the government's energy supply strategy, the prime minister is speaking to leaders of major oil producing countries around the world this coming week.

I'm also told Boris Johnson will be making announcements imminently about a new team of advisers to "kick" business into accelerating renewable energy plans.

I'm told these will include "one of the most distinguished industry experts out there" and energy finance experts who will form an "independent energy task force" - as well as a cabinet sub-committee of ministers.

Fracking calls

There is also a growing caucus of Tory MPs, including former ministers Lord Frost and Steve Baker, calling for the government to re-examine the controversial practice of fracking in the UK - drilling down into the earth to release shale gas.

A ban was placed on fracking in 2019 due to earthquake safety concerns, and the Tory manifesto said they would "not support fracking unless the science shows categorically that it can be done safely".

Many of its proponents, however, got excited this week after No 10 suggested the prime minister has agreed to look at it again to "see if it has a role to play".

Downing Street sources told me that with oil prices so high, there were things "we would have dismissed before that we can't dismiss now" - and while their end goal is new sources of energy, "in the transition period we need to pump more oil and gas of our own" and it's "in that context we should look at fracking".

Fracking has its champions in cabinet, with Brexit opportunities minister Jacob Rees-Mogg said to be "extremely keen" on the idea.

But the reality is the prime minister himself sees a lot of problems with it. Business Secretary Kwasi Kwarteng has also pretty stridently distanced himself from entertaining the idea.

Other senior government insiders feel, for all the talk of the door being left open to it, that this is partly to keep some of the more vocal backbenchers happy - with one saying they would be "staggered" if the prime minister folded on it.

Another joked, in response to various newspaper headlines, that you could say the Tory manifesto left the door open to fracking if the science changed - but that it hadn't.

Previous plans to introduce fracking have prompted protests in the north of England

While renewable energy is heralded as the solution to the cost of living crisis long-term, a more pressing political debate is how to mitigate soaring energy bills for households right now.

No 10 commissioned the business secretary and his team to come up with ideas for the upcoming energy supply strategy - including help for consumers.

The team distanced themselves from taking any particular view on this issue, but the options they set out were tweaks to the Treasury's energy bill rebate scheme - £200 loans for customers to be repaid in £40 instalments from 2023.

These included doubling the loan, delaying the start of repayments, and making the rebate more generous for poorer households.

The Treasury - who were not looped into this particular commission involving their policy - quickly shut down the idea of any changes to the rebate scheme being on the table.

Government insiders feel that, broadly, Tory MPs are content with the policy that was announced - although one described an internal "wobble" when the personal finance expert Martin Lewis publicly cast doubt on the "loan" element of the scheme.

But Tory MPs have been more vocal in calling for other government interventions on the cost of living.

Some want green levies or VAT on energy bills to be scrapped, the National Insurance rise scrapped, fuel duty cut, or further boosts to benefits like Universal Credit or the Warm Homes Discount.

While a Treasury source said the chancellor will "always review our policies and how we can help", it's unlikely these calls will be heeded at his upcoming Spring Statement on 23 March for reasons we set out here.

The National Insurance tax rise is definitely going ahead in April, and scrapping VAT or green levies on energy bills are "not a go-er", sources say.

The chancellor is not expected to tweak tax policy this month, which rules out cutting fuel duty for now, though it remains frozen.

MPs are getting noisier about pump prices though, and the door doesn't seem completely closed to further intervention should fuel prices continue to spiral.

Further boosting welfare benefits like Universal Credit and the Warm Homes Discount is also a thorny issue for the Conservatives.

One government insider stressed that the party has argued for years they need to "make work pay", another described expanding these benefits further could be a "disincentive to work".

The logic behind the energy bills rebate scheme, too, was that it applied to middle income, as well as the poorest, households - all affected by energy bill increases.

But critical Tories, including some former work and pensions secretaries, have argued unprecedented price rises since the pandemic demand a more generous approach to welfare.

Treasury sources have downplayed the suggestion that we are likely to see any major new cost of living announcements at the Spring Statement given the volatility of the current situation - and not being able to predict what gas prices will look like by October, when the energy price cap (the maximum households can pay for bills) is set to rise again.

But a Treasury source said: "We've essentially come up from a once in a lifetime crisis with the pandemic and straight into the next crisis… we will keep continuing to look at ways we can help people out."
"A year's worth of petrol price rises in six days"