New York and New Jersey are moving to legalize marijuana, and Democrats in Washington back cannabis too.
With less than a month to go until the election, cannabis executives, investors, and activists are focused on five key states.

On November 3, New Jersey, Arizona, South Dakota, and Montana are set to vote on legalizing cannabis for all adults over the age of 21. South Dakota also has a medical-cannabis measure on the ballot, and Mississippi is voting on a medical marijuana program.

To the cannabis industry, New Jersey presents by far the biggest opportunity. Companies are racing to take advantage of the New Jersey market, which has potentially millions of consumers within the state as well as easy access to New York City and Philadelphia.

Since Colorado and Washington broke ground in 2012 as the first US states to legalize recreational cannabis, nine states and Washington, DC have joined them. Medical marijuana is legal in 33 states — meaning that a majority of Americans now have some form of access to legal marijuana.

Ballot initiatives like the ones voters are considering on November 3 have played a major role in the spread of legal cannabis. Nine of the states that legalized recreational marijuana did so through referendums.

Though Canada legalized cannabis federally in 2018, the US has not followed suit, forcing states to chart their own courses. As it stands, marijuana is still considered an illegal Schedule I drug by the US federal government.

If President Donald Trump wins a second term in November, that status quo is likely to persist. If Democratic nominee Joe Biden wins and Democrats take the Senate, cannabis decriminalization or legalization would have a better chance.

To put together this ballot tracker, Business Insider tapped a variety of sources to explain the nuances of each state's ballot measures and where polling stands. We rely on analysts from investment bank Cowen led by Vivien Azer, who generated probabilities for how likely each ballot measure is to pass.

For example, an A grade assigned by a Cowen — based on polling data and other inputs — means a state is very likely to pass legalization. A B grade is likely, a C grade is less likely, and so forth.

We've also included market-size projections to give a sense of how important each state could become for businesses and investors.

Here's everything you need to know about cannabis ballot measures that could propel a new wave of legalization:
New Jersey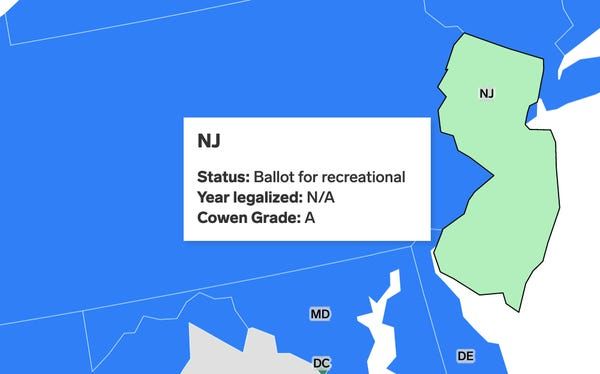 What's in the law: New Jerseyans will vote on Public Question 1 on November 3. If it passes, cannabis would be taxed and regulated for adults over the age of 21.

Gov. Phil Murphy has long called on the state to legalize cannabis, though previous efforts to do so through the legislature have fallen flat.

Polling: 65% support, 29% oppose, 6% unsure, per the law firm Brad Eichler's cannabis poll released on September 25.

Potential market size: Annual sales of up to $950 million by 2024, per industry publication Marijuana Business Daily's annual factbook.


Cowen grade: A

Which companies will benefit: Curaleaf, Acreage Holdings, and Green Thumb Industries, Cowen says.

Why it matters: New Jersey is a big market itself. But cannabis legalization could also spur its neighbors — including New York, an economic powerhouse, and Pennsylvania, a swing state — to legalize as well.

Arizona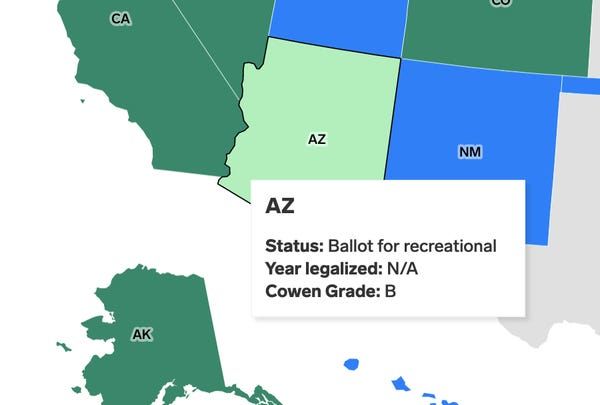 What's in the law: Arizonans will vote on Proposition 207, which if passed would set up a regulatory system for the commercial cultivation and sale of marijuana. Adults over the age of 21 will be able to possess up to one ounce of cannabis.

Polling: 46% support, 45% against, 9% undecided, per an OHPI poll of 600 likely voters released on September 29.

Potential market size: Up to $790 million in annual sales by 2024, per Marijuana Business Daily.


Cowen grade: B

Which companies will benefit: Cresco Labs and Curaleaf, Cowen says. Harvest Health & Recreation, based in Tempe, Arizona, also has significant operations throughout the state.

Why it matters: A 2016 vote to legalize marijuana was narrowly defeated in Arizona after a deep-pocketed opposition campaign. While the opposition is less organized in 2020 than in 2016, the state's Republican governor, Doug Ducey, and the Arizona Chamber of Commerce do not support the measure.

A successful vote here is a strong signal for cannabis reform advocates and companies hoping to capitalize on yet another large state market. A defeat may mean Arizona will not try again for some time.

South Dakota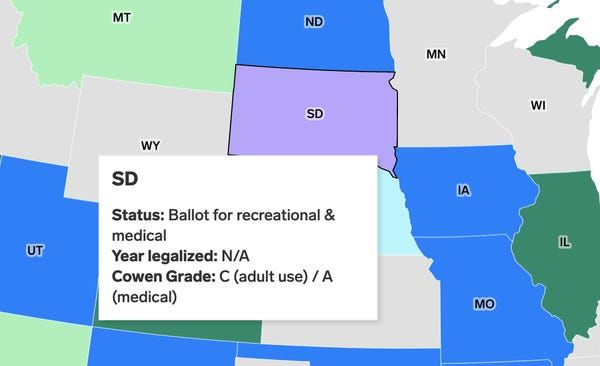 What's in the law: South Dakotans will vote on Measure 26, which would legalize medical cannabis and set up a system to let patients with qualifying conditions get the drug.

They'll also weigh in on Amendment A, which would legalize the consumption and possession of up to an ounce of cannabis for adults over the age of 21, and call on the state's legislature to create a medical cannabis program and legalize the cultivation and sale of hemp by April 1, 2022.

Polling: 70% support Measure 26, 60% support Amendment A, per a poll from Public Opinion Strategies sponsored by opponents to cannabis legalization.

Potential market size: $100 million across medical and recreational by 2025, per Cowen.


Cowen grade: C for recreational, A for medical

Which companies will benefit: While a new market is beneficial to US cannabis companies, South Dakota is likely too small of a state to be of central importance, Cowen says.

Why it matters: South Dakota is the first state that will vote on both medical and recreational cannabis at the same time. Normally, states have robust medical programs in place before putting the recreational legalization question in front of voters or the legislature.

In the unlikely scenario where the deep-red state votes to legalize both on November 3, other red-state governors could signal support for cannabis legalization as a popular move.

Montana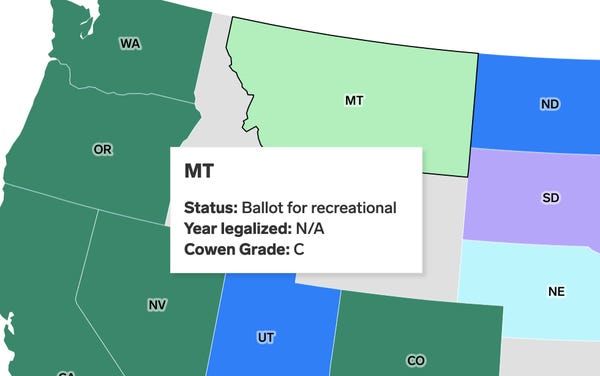 What's in the law: Montanans will vote on two separate cannabis measures on November 3. Ballot issue I-190 would allow adults over the age of 21 to purchase, possess, and consume cannabis. CI-118, if passed, would allow the state to set a minimum age for cannabis possession.

I-190 would also set up a strict residency requirement for Montana's cannabis industry, meaning local operators would benefit most.

Polling: 54% support, 37% oppose marijuana legalization, per a University of Montana poll of 498 voters conducted in February, the most recent available.

Potential market size: A University of Montana study found that legalizing cannabis could generate $260 million in sales by 2026.


Cowen grade: C

Which companies will benefit: Montana's law will favor local operators over multi-state companies.

Why it matters: Montana is a small, Western state with a libertarian streak. Though it has voted for Republicans in federal elections since 2008, cannabis legalization is not a highly controversial issue in the state. Still, analysts at Cowen say the legalization measure in its current form has a low probability of passing.

Montana only has around 1 million residents, meaning that it won't be a meaningfully large market for any multi-state operators.

Mississippi
What's in the law: Mississippians will vote on two competing medical cannabis measures on November 3. Initiative 65 would allow doctors to recommend medical cannabis to patients with qualifying conditions, including PTSD, cancers, and multiple sclerosis. The measure would allow for the cultivation and sale of medical cannabis in the state.

The competing measure, proposed by the state's legislature, Initiative 65A, is much narrower and would only allow pharmaceutical-grade marijuana products to be sold. Only terminally ill patients would be allowed to smoke marijuana. The initiative would leave it up to the state's legislature to create future rules.

Polling: 81% support doctors prescribing marijuana, and 13% oppose, according to a poll of 600 likely voters conducted in May by FM3 Research. Only 52% of voters say they specifically support Initiative 65. The two competing measures may confuse voters and lead both to fail, Cowen says.

Potential market size: Annual sales could hit $800 million by 2024, per Marijuana Business Daily.


Cowen grade: B

Which companies will benefit: Not specified

Why it matters: Mississippi could be the next deep-red state after Oklahoma to legalize medical cannabis. While it's not likely the state will push for recreational cannabis anytime soon, the move would be another clear sign that even strongly Republican states are in favor of increasing access to medical marijuana.