Despite frustrating legislative delays, farmers in Mexico are keen to start growing a crop that may be more profitable than rice, corn or sugar
The pungent aroma of cannabis and the sound of dub music fill the air at a hacienda as about 150 smokers, users, growers, activists and business people gather for Mexico's second annual Toquefest.

In anticipation of the long-delayed legalisation of cannabis – after a number of supreme court decisions decreed the right to cultivate and deemed unconstitutional the ban on recreational use – the war on weed in Mexico is winding down and the festival is just one of 20 marijuana-related events being held across the country.

Cannabis growers feel increasingly confident in going public and some farmers are switching crops to la Santa Rosa: a gram of which can be sold for more than several kilos of black beans.

"This is another revolution," says Isidro Cisneros, a grower from the town of Cuautlixco in the state of Morelos where the Mexican revolutionary Emiliano Zapata was born. "It's about land and freedom, and a plant that has been criminalised for years without good reason. Growing cannabis, peasants can live and eat well."

Cisneros – who began growing cannabis in 2022 – is part of the campaign group Plan Tetecala, which has gained the support of the state human rights commission.

One of many growers selling their products late last year at Toquefest in Puebla, two hours south-east of Mexico City, Cisneros says: "Farmers must have the liberty to plant what they want, and not only when the government or corporations say they can," he adds. "Since the revolution, no one has helped us: now is the moment for us to help ourselves."

Mexico's president, Andrés Manuel López Obrador, has indicated his support for legalisation as part of a wider push to dismantle prohibitionist policies but has been criticised for dragging his feet. Bills have been passed in both legislative chambers over the past two years but they have not agreed on the same version.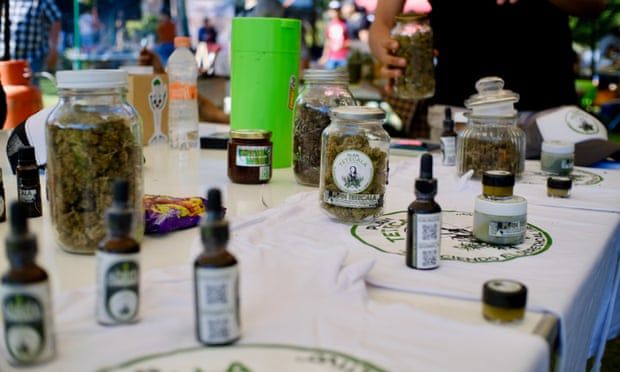 A legal market for cannabis in Mexico is estimated to be worth more than US$3bn a year.
Campaigners allege that opposition from the armed forces could be holding up legislative success. In November, hacked documents from the defence ministry revealed links between elected officials and drug cartels, and influence of the military over civilian institutions. Activists also point to the removal of equity clauses in the drafts as evidence of corporate influence that, in the US, has contributed to high taxes and bureaucracy that effectively exclude small farmers.
Despite senior government figures indicating regulation is a top priority the domestic industry is developing apace in a mostly tolerated grey market free from an influx of foreign capital that could arrive if legalisation is passed without safeguards.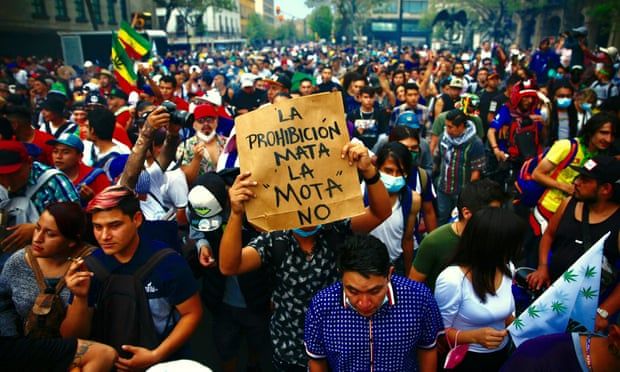 Demonstrators in Mexico City calling for the legalisation of cannabis, which many producers see as an engine for economic growth.

Communities in Michoacán, Chiapas, Oaxaca and Guerrero, among others, have said they want a share of the pie – with many landless farmers known as campesinos still earning near subsistence wages growing rice, corn and sugar.

"Communities are coming out of clandestine markets to say 'This is part of our economic development; it's a way to provide a better future for our children,'" says Zara Snapp, the co-founder of drug policy reform thinktank Instituto RIA, who spoke at Toquefest.

"There are many more farmers who would like to switch crops to cannabis, though they are not yet ready to take that risk. But there's still a legal vacuum, and folks are participating."

More than 10 million people in Mexico are estimated to have used cannabis. A legal market could be worth more than US$3bn (£2.5bn) a year, and at least 101,000 hectares (250,000 acres) – primarily in the northern states of Sinaloa, Chihuahua, and Sonora – are already used for illegal production.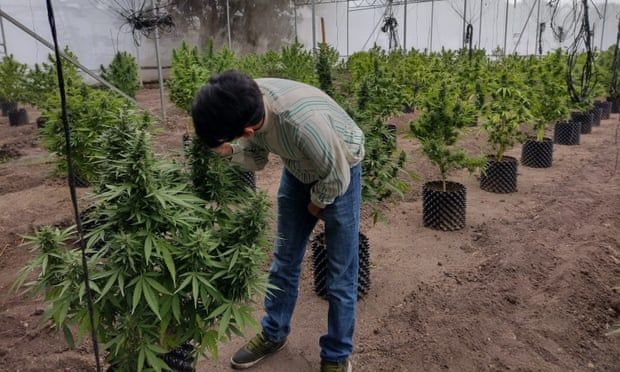 Reports suggest there are now 800 cannabis producers across the state of Oaxaca alone.

Earlier this year after protests in Oaxaca, the state's authorities decreed that people can smoke cannabis in public.

Federal authorities also granted twenty-six Indigenous communities the right to cultivate cannabis on a small scale for medical use, which was legalised in 2017.

There are now reportedly about 800 producers across the state, though many were already growing cannabis and most, if not all, will be providing cannabis for recreational and medical use.

"Cannabis is an engine for economic growth," says agronomist Daniel Ramírez López, who works with Oaxacan cannabis advocacy group Cooagro. "Indigenous people call cannabis pipiltzintzintli, giving it a sacred connection. Despite the serious bureaucratic obstacles due to a lack of initiative from the federal government, producers are organising so that they can carry out a legal economic activity that triggers development for all."

Cannabis was introduced to Mexico – to be grown as hemp – more than 500 years ago by the Spanish conquistadores. It has been widely used, including by Indigenous people, in tinctures to aid sleep and relieve pain. The anthem of the Mexican revolution, La Cucaracha (the cockroach), charts the path of a peasant army smoking cannabis as they march.

But during the US-led "war on drugs", the army bombarded communities with deadly chemicals to destroy crops. As recently as December 2020, in Oaxaca, about 3,000 sq metres of cannabis crops were set alight by the army.

"Before, we used to run to the hill because we were afraid of the military," farmer Juan Cruz López told El Proceso. "They entered houses without a search warrant, detained whoever they found and took what little one had … that no longer happens."

Campesinos under cartel control face little hope of change, but Cisneros and his comrades hope full legalisation is on its way. "We are realising that it is possible to radically change the way of thinking about this plant," he tells the crowd in Puebla. "We are in this fight and we hope we are going to win. It grew to cure us."