A new kind of tiny home, Parasitic House takes advantage of untapped skylines with a low-impact design.
As room for new developments in urban settings quickly diminishes-and with it affordable housing options for cities' denizens-so gives rise to aerial urbanism, wherein architects like Ecuador's El Sindicato Arquitectura have designed a minimal A-frame hut that smartly perches atop apartment buildings or high-rises. The minimalist, 39-square-foot unit aims to provide a solution to housing crises in increasingly pressurized urban areas.

For less than the price of a car, the 4-piece, timber and steel prefabricated structure packs a punch: Inside is a kitchenette, a lofted bed, a workspace, and a bathroom-basically the essentials for an individual or young couple who want to stay in a city, but are willing to live in an off-grid way. What's better, the home can be oriented for breathtaking views, one-upping those renting expensive terrestrial apartments below.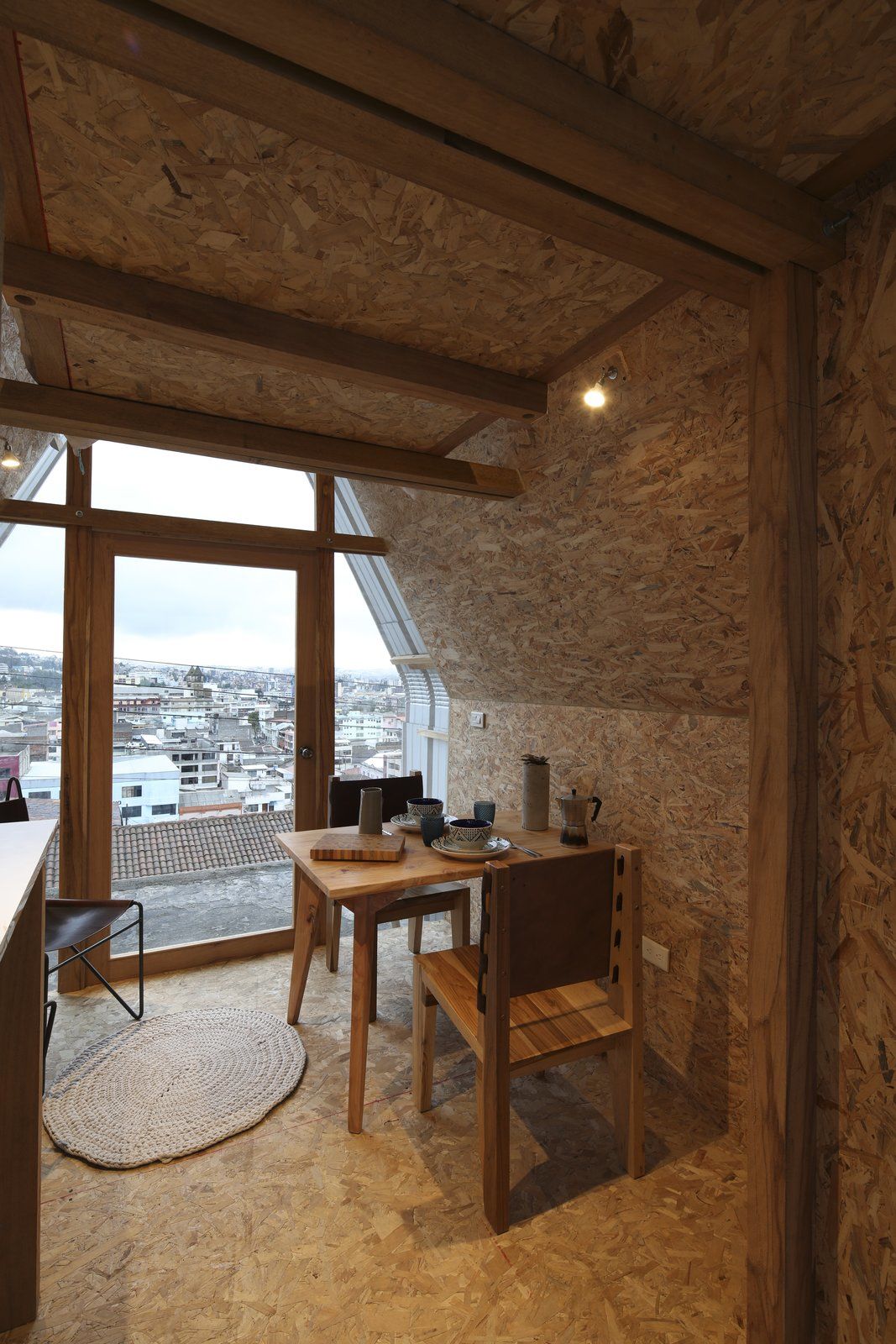 A small dining table is situated near the front door for city views during breakfast or dinner.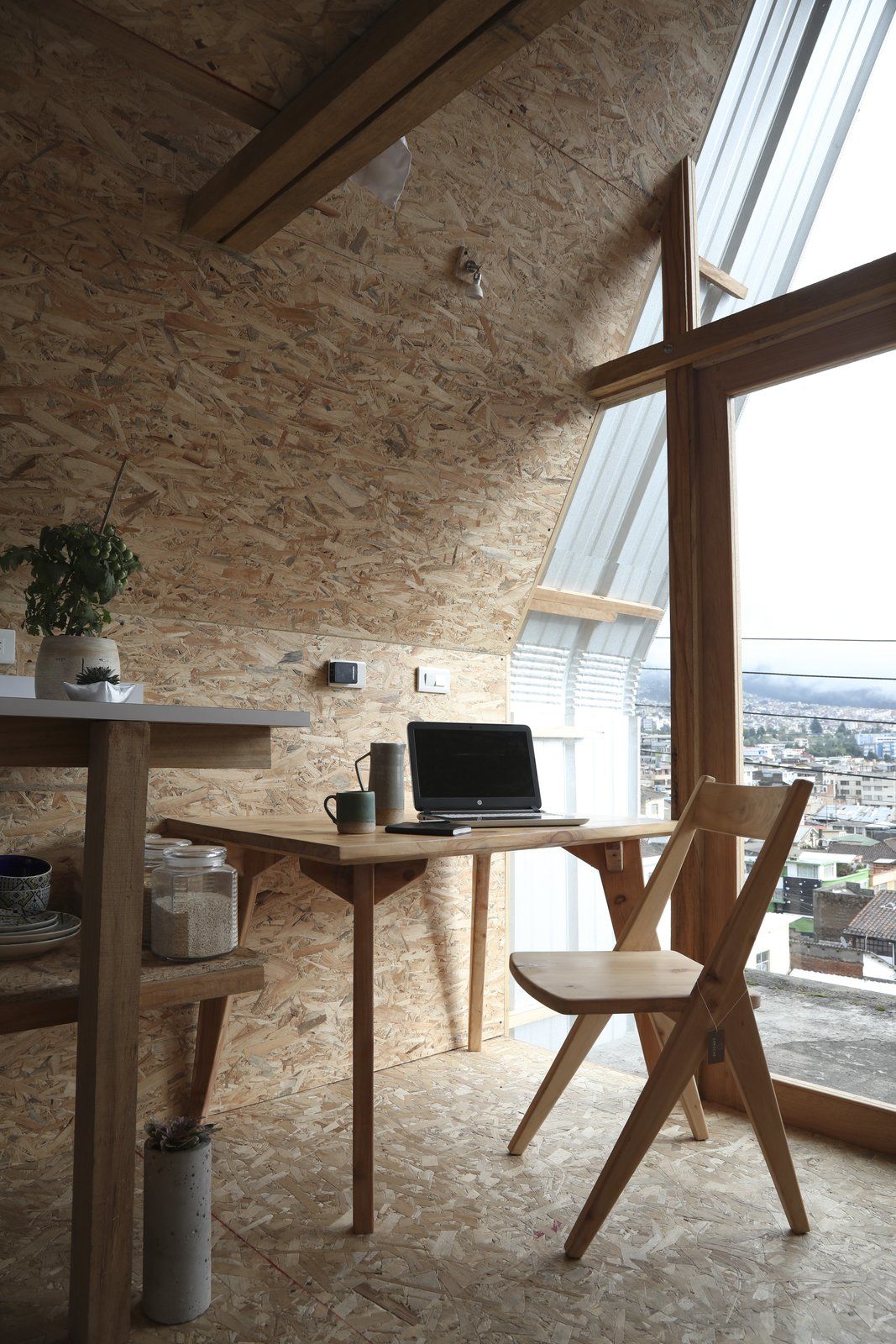 There's a dedicated workspace between the kitchen and front door for use as needed.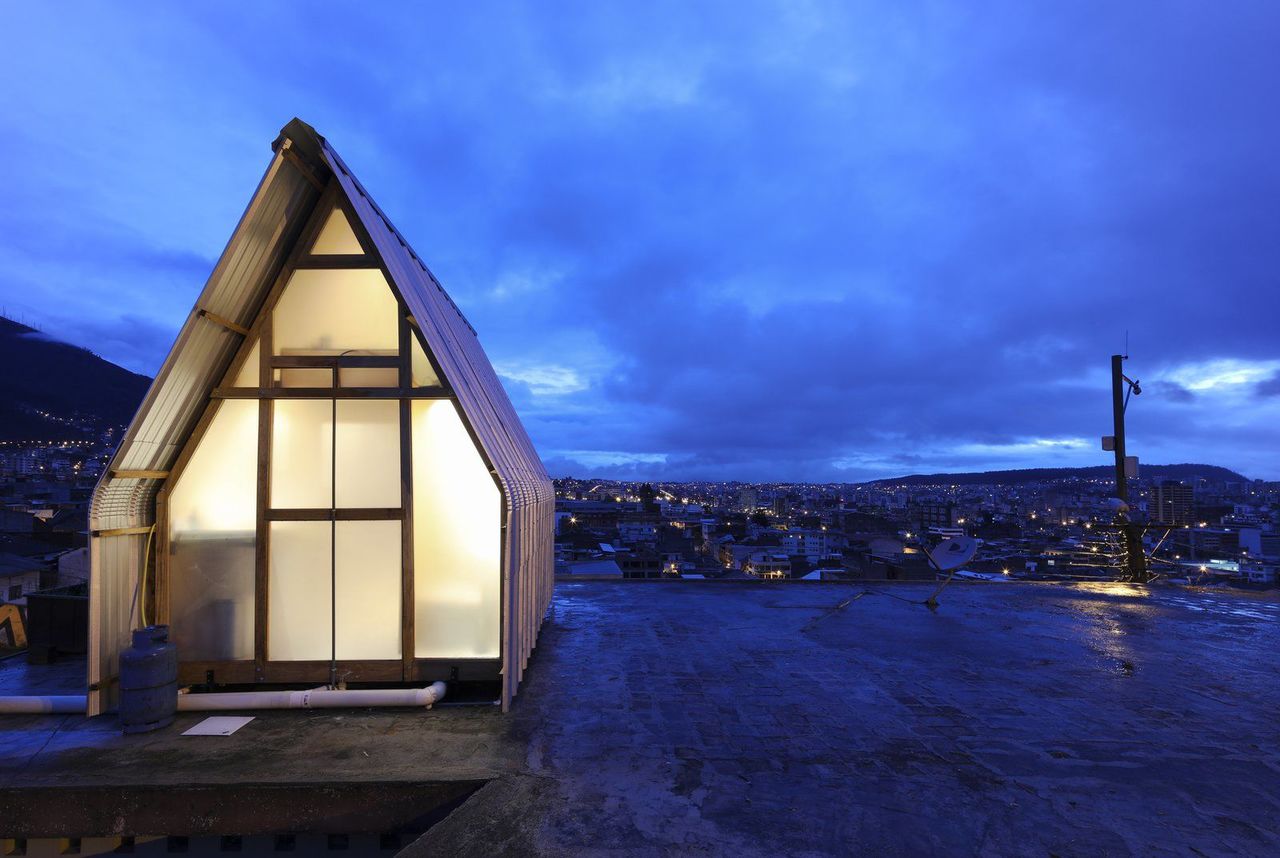 Fogged glass grants residents a city view while maintaining privacy from neighboring onlookers. Constructed from four larger pieces, timber and steel structure's walls are packed with coconut fiber insulation.

The small-footprint design makes use of in-place infrastructure by attaching to water and sewage lines provided by the building on which it sits, hence the word "parasitic." The project could be titled "Symbiotic House," since it's addressing a problem for cities rather than creating one. But the given name cuts, like it's ribbing the bureaucratic slog plaguing momentum of practical housing solutions.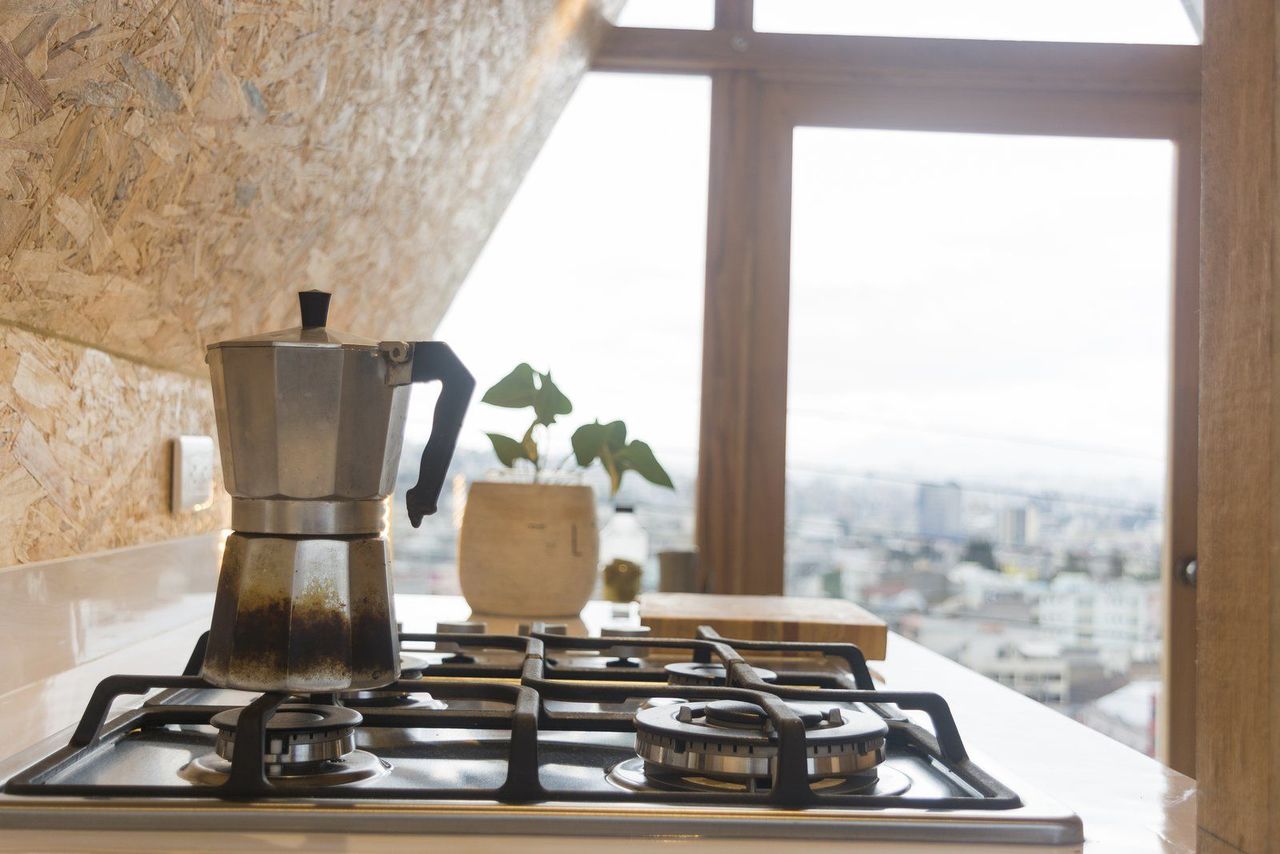 The kitchenette has a stove and an oven, and enough counter space for home cooking.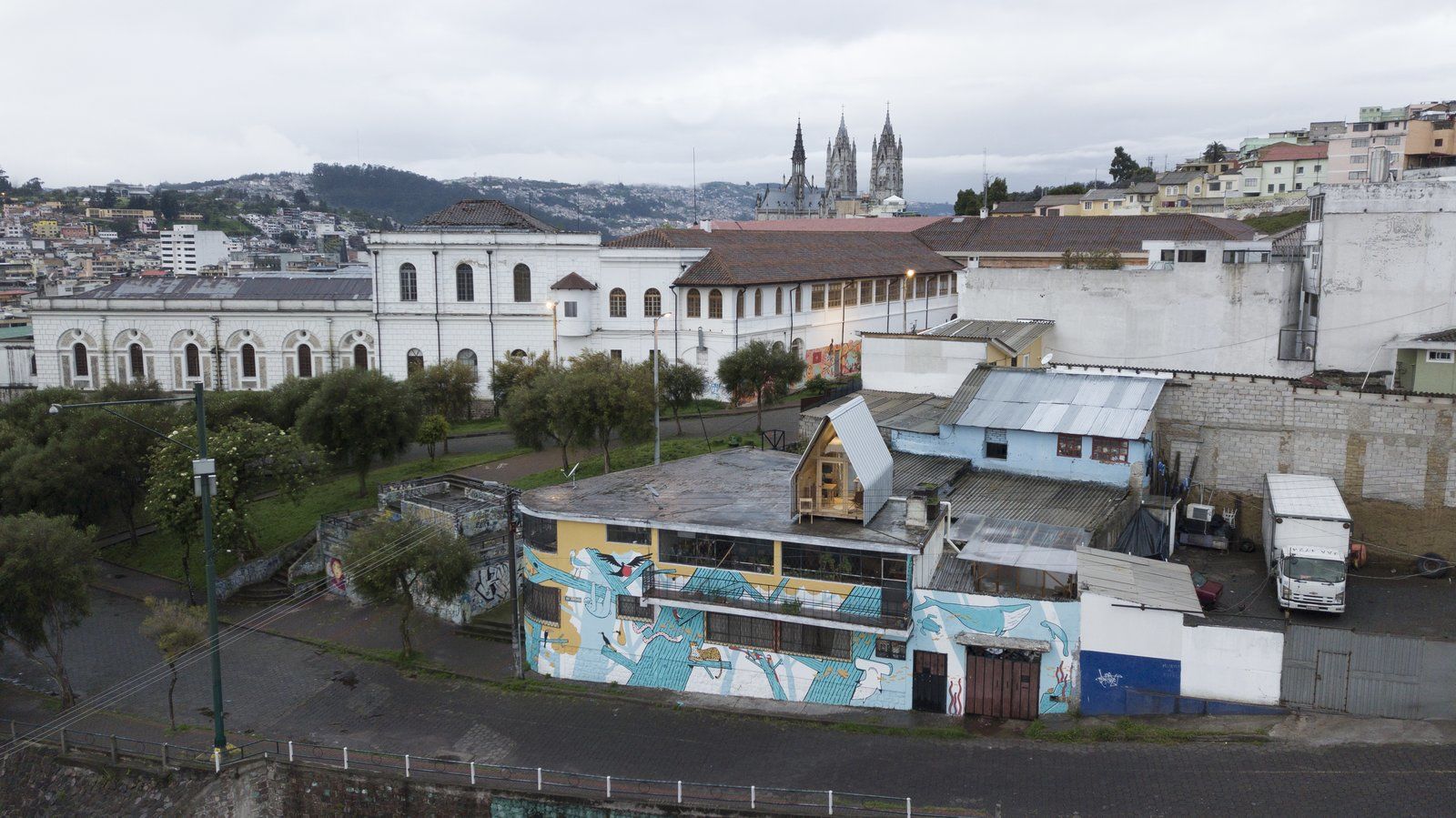 The home can be placed on any flat surface where there are connections to water and sewage. Apartment building roofs are an ideal fit, but finding complexes willing to host the structures may be a challenge, along with addressing the infrastructure necessary to access roofs for residents.

For the architects, the project's impetus was charged by a quote from former president of Uruguay José Mujica: "My definition of poor are those that need too much, because those that need too much are never satisfied." And the result is clearly that-a feather-light, no-frills concept that walks the talk of a less-is-more ethos. If the price tag for the first model is $11,000, it should only get more approachable with scale. In the near future, we may all be ditching noisy neighbors for simple living and a skyline view.