If you're planning a trip to Uruguay, here's what you'll need to know and expect if you want to visit during the global coronavirus pandemic.
The basics
Uruguay successfully kept a lid on Covid-19 cases at the start of the pandemic, but the second wave and its variants have hit hard. The small country has had one of the highest death rates per capita in the world in recent months, though numbers are now decreasing. On November 1, Uruguay reopened its borders to international visitors for the first time since March 2020.


What's on offer
Often overlooked by travelers in favor of neighboring Argentina and Brazil, Uruguay is one of South America's loveliest countries. Montevideo, the coastal capital on the River Plate, is perfect for strolling, while the wild Atlantic coast has some of South America's most impressive beaches. And then there's the wine -- Uruguay's tannat grape has been much maligned in the past but is having a resurgence of popularity. A new crop of modern vineyards around Jose Ignacio means this is swift becoming one of the fanciest wine regions in South America.


Who can go
After locking down and closing the borders early in the pandemic, Uruguay reopened its borders to tourists on November 1, with 3,016 arriving on the first day before 6 p.m. It follows the partial relaxing of restrictions on September 1, when foreigners who own homes in Uruguay were allowed entry. Visitors must be fully vaccinated and present a negative PCR test.


What are the restrictions?
Arrivals must have been fully vaccinated within the past nine months, completing the cycle more than 14 days before arrival. They must present official certification from the country from which they come.

Alternatively, they must show proof of having recovered from Covid within the previous 90 days, but more than 20 days ago.

Under-18s may also enter, but do not need proof of vaccination.

All arrivals over six years old must present a negative PCR test taken within 72 hours of departure. They must also have travel insurance to cover them for Covid-19, and must fill in a passenger locator form within 48 hours before travel.

Seven days after taking the pre-flight test, all arrivals must take another test (there is no need to self-isolate during this time). Alternatively, they can quarantine for 14 days from arrival, and skip the day seven test.

Children under six do not need to take any tests.


What's the Covid situation?
Uruguay has registered a total of just under 400,000 Covid cases as of December 2. Although that doesn't sound as much as other countries, at the start of March there had been just 60,000 cases over the whole pandemic. Deaths have rocketed, from a total of 928 at the end of March to 6,131 as of December 2. However, both infections and deaths are slowing down. Although Uruguay had one of the highest death rates per capita in the world over its winter (the northern hemisphere summer), case numbers are now stabilizing.

The rise was initially blamed by some experts on domestic tourism, which many had hoped would help save the beleaguered economy at a time when foreign visitors are not permitted -- but it appears it was the Brazilian variant doing the damage. It meant that Uruguay went from a low-risk country welcomed by most others in the world, to being banned even by Sweden and the UK, which had notoriously high death rates.

As of December 2, nearly 77% of the population is fully vaccinated.

Meanwhile, the country has purchased 500,000 Pfizer vaccines for tourists who want a third dose while on holiday.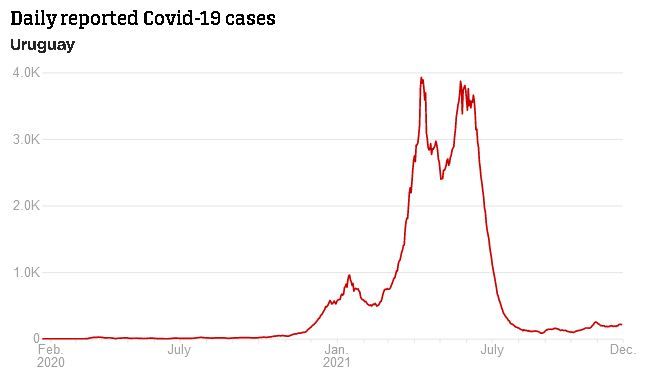 What can visitors expect?
Although there's no official lockdown -- President Luis Lacalle Pou has opted for what he calls "responsible liberty" -- Uruguay has mandated the use of masks and social distancing. Many bars and restaurants remain shut until further notice, although some are offering delivery. Police patrol markets to ensure that the rules are being followed, and those under 65 are asked not to shop between 8 a.m. and 10:30 a.m. so that older people can do so safely.

The mayor of Maldonado, home to some of the country's best beaches, has told local media that he is discouraging tourism, and that if he could block the roads from Montevideo to his area, he would. Two natural parks in the area have been closed, though others remain open.

Towns such as Colonia, a popular tourist destination which saw 80% of arrivals from abroad, are trying to repitch themselves to the domestic market.


Our recent coverage
Uruguay is home to one of the world's most exciting up-and-coming wine scenes. Read about one of the country's most exciting vineyards.

Uruguay featured in our film of South America's finest scenery, and Sofitel's conversion of Montevideo's grand old casino in Carrasco made it in our list of the best South American hotels. Uruguay is also rated for its ethical tourism.