A judge has frozen UK bank accounts operated by a British businessman amid allegations they are linked to one of Russia's most controversial oligarchs.
Accounts linked to Graham Bonham-Carter, second cousin of actress Helena, and part of the extended famous family, were put on hold on Friday.

National Crime Agency investigators believe the accounts were being used to help Oleg Deripaska avoid sanctions.

It is alleged Mr Bonham-Carter manages property on behalf of the oligarch.

Granting the order, Westminster Magistrates Court has given the National Crime Agency six months to investigate the accounts, in one of the first public court moves against an oligarch since the Ukraine crisis began.

Mr Bonham-Carter's lawyers have been contacted for comment. There is no suggestion anyone else in the Bonham-Carter family is being investigated by the NCA.

Who is Oleg Deripaska?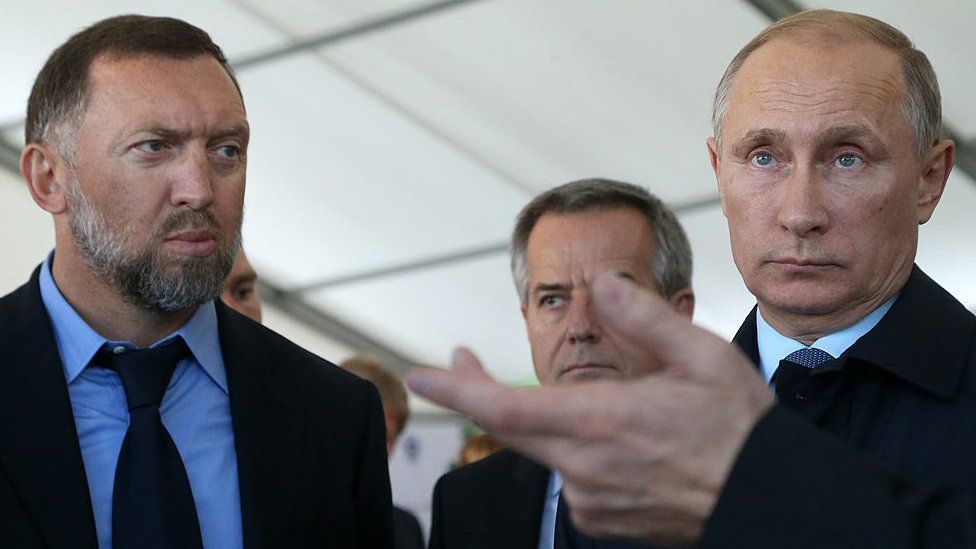 Mr Deripaska (left) pictured with President Putin in 2014

Oleg Deripaska is one of the richest men associated with President Putin - having made billions from his stake in Russia's aluminium industries.

He's been subjected to US sanctions since 2018 - but is not under any sanctions in the UK.

He first became widely known in the UK in 2008, when it emerged he had been involved in talks over a donation to the Conservative Party via George Osborne. The donation was never made - but the story triggered a huge row at the time about links between British politicians and Russia's elites.

Mr Bonham-Carter is described, on his Linkedin profile, as the director of a company that runs private homes and estates.

Andrew Chadwick, a National Crime Agency investigator, told Westminster Magistrates Court that it wanted to freeze five bank accounts associated with Mr Bonham-Carter, of Surrey, to allow Mr Chadwick to investigate suspected links to Oleg Deripaska.

"The application is in respect of account-freezing orders for several bank accounts, held by Graham Bonham-Carter, of Surrey," said Mr Chadwick.

"My investigation is that he is heavily linked with a well-known Russian oligarch, who is linked to various crimes and criminality and is currently subject to sanctions in the United States.

"My submission is that funds in accounts held by Mr Bonham-Carter may be for the use of, or from, criminal activity."

"Oleg Deripaska is a Russian national subject to sanctions since 2019," said Mr Chadwick.

The officer told the court the US Treasury alleges Mr Deripaska has been involved in money laundering, threatening rivals, wiretapping a government official, extortion, racketeering, ordering a murder and having links to Russian organised crime. Mr Deripaska has called the US allegations and sanctions absurd.

UK and US property links

The court heard that Mr Bonham-Carter had no criminal record and was not under investigation for taking part in organised crime.

He was said to be linked to Mr Deripaska through five properties - two in the United States and three in the UK, all of which are suspected to be ultimately held for the oligarch's benefit.

In London, Mr Chadwick said two properties, worth a combined £50m, were owned by a company based in the British Virgin Islands. That company benefited Mr Deripaska and the 'care-of' mailing address had been to Mr Bonham-Carter.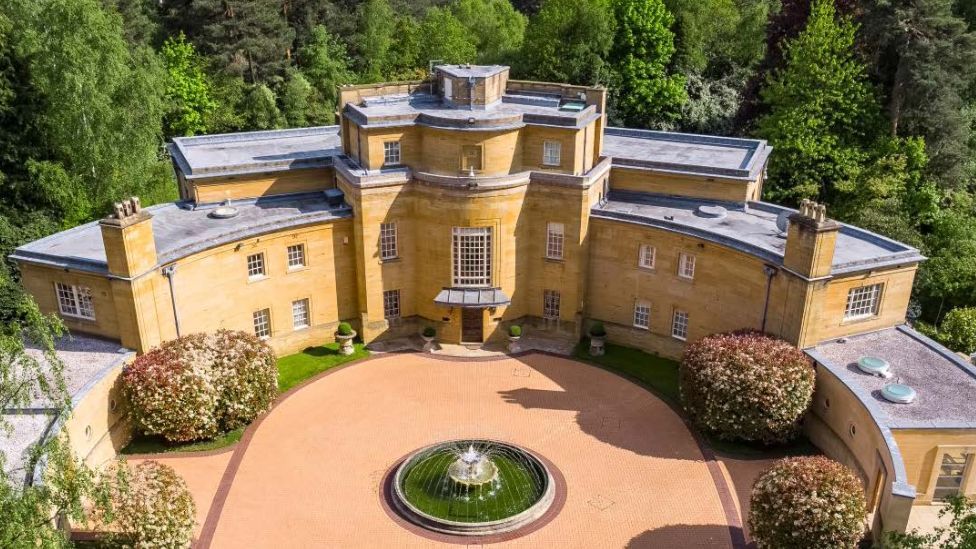 Hamstone House, near Weybridge in Surrey, is on the market for £18m

The third UK property is Hamstone House, a mansion near Weybridge, Surrey, currently on the market for £18m.

Mr Chadwick said that it was owned by Edenfield Investments and, according to public research, Mr Bonham-Carter's name had appeared on Land Registry documentation for the property when it was purchased. One of the aforementioned London properties had also been the forwarding address for mail to Hamstone House.

The two US properties, in New York and Washington, are owned by a company headed by Mr Bonham-Carter.

"Based on that information [about Mr Deripaska's apparent property] I have reasonable grounds to suspect that the accounts are being held for unlawful conduct," said Mr Chadwick.

"Mr Bonham-Carter has well-documented strong links to Mr Deripaska.

"The suspicion is that property held in the name of Mr Bonham-Carter, or companies that he is linked to, in fact belongs to Mr Deripaska - and the reason for the structure is to mask the true ultimate beneficial owner and to evade the sanctions."

District Judge Tan Ikran approved the National Crime Agency's freezing order for the next six months - allowing the agency time to investigate.

The accounts hold just over £100,000, but the NCA has established that nearly £800,000 has additionally flowed through them since November 2020.

Mr Bonham-Carter will have the chance to make representations to the court at a date to be fixed.