The UNHCR says the scheme to send some migrants to claim asylum in Rwanda is shifting responsibility. Leak shows that some of the money UK pay to Rwanda will be paid back to few British officials.
The UK's proposal to send some migrants who arrive in Britain on small boats to Rwanda is a breach of international law, the UN's refugee agency has said.

The UNHCR called it a "troubling development" and said the UK was seeking to "shift responsibility".

The pilot scheme would see people sent to the east African country to claim asylum there.

Boris Johnson has said he believed the scheme was "fully compliant" with international law.

But he acknowledged he expected it to be subject to legal challenge in the courts and from a "formidable army of politically-motivated lawyers".

Home Secretary Priti Patel, who signed a £120m deal in the Rwandan capital of Kigali on Thursday, also said her department expected legal action but believed any claims could be successfully contested.

Ms Patel issued a so-called "ministerial direction" to introduce the policy, it has emerged. These are issued when civil servants have concerns about a proposed policy, but not necessarily because they are opposed to it, and can be issued based on a variety of reasons such as value for money, propriety or feasibility.

A Home Office source said the asylum system cost the taxpayer more than £1.5bn a year and officials were clear that deterring illegal entry would create significant savings, although the effect of such a deterrent could not be quantified with certainty.

"It would be wrong to let a lack of precise modelling delay a policy aimed at reducing illegal migration," they said.

The government has said the first people could be flown to Rwanda within weeks as part of the scheme - which would initially mainly focus on single men who crossed the Channel in boats or lorries.

Gillian Triggs, an assistant secretary-general at the UNHCR, said the agency strongly condemned "outsourcing" the responsibility of considering refugee status to another country.

Speaking to BBC Radio 4's World At One programme, the former president of the Australian Human Rights Commission said such policies - as used in Australia - could be effective as a deterrent but there were "much more legally effective ways of achieving the same outcome".

Australia has used offshore detention centres since 2001, with thousands of asylum seekers being transferred out of the country since then.

It has been frequently criticised by the UN and rights groups over substandard conditions at its centres and its own projections show it will spend $811.8m (£460m) on offshore processing in 2021-22.

Ms Triggs pointed out Israel had attempted to send Eritrean and Sudanese refugees to Rwanda, but they "simply left the country and started the process all over again".

"In other words, it is not actually a long-term deterrent," she added.

More than 160 charities and campaign groups have urged the government to scrap the plan, while the major opposition parties have also hit out at it.

Launching the scheme on Thursday, the prime minister said it would "save countless lives" and break the business model of "vile people smugglers".

Mr Johnson said the agreement with Rwanda would provide "safe and legal routes for asylum", adding the British taxpayer could not "write a blank cheque" to cover the costs of anyone who might want to come to live in the UK.

'Just another risk to factor in'
By Jessica Parker, at a camp in Dunkirk, northern France

No-one we initially spoke to yesterday seemed to know about the Rwanda announcement - but it wasn't long before word spread.

Soon a group of men was asking us lots of questions: "When will this happen? Why? If I come from Afghanistan will it still apply to me?"

Shafi, who told me he had fled Afghanistan, said: "[Rwanda] is a lot worse place than Afghanistan, there is no future for us in Rwanda."

But I didn't meet anyone who said the government's plans would prevent them from trying to cross the Channel, including Shafi, who said he had no choice.

Many of these men have already faced huge risks to get this far and are willing to risk their lives crossing the Channel on a small boat.

The risk of being sent to Rwanda, at this stage, seemed like just another thing to factor in down the line.

Many lawyers have warned the plan would face legal hurdles, with many likely to come under the international principle of non-refoulement - which guarantees no-one can be returned to a country where they would face irreparable harm.

Ms Patel said the British public had been "crying out for change for years" and it was "incredibly unfair to the British public to see organisations in their own country effectively just putting blockages after blockages in the way".

The announcement came as part of a broader strategy to reduce the number of people entering the UK by crossing the Channel in small boats.

The Royal Navy has taken operational command of the Channel from UK Border Force in an effort to detect every boat headed to the UK.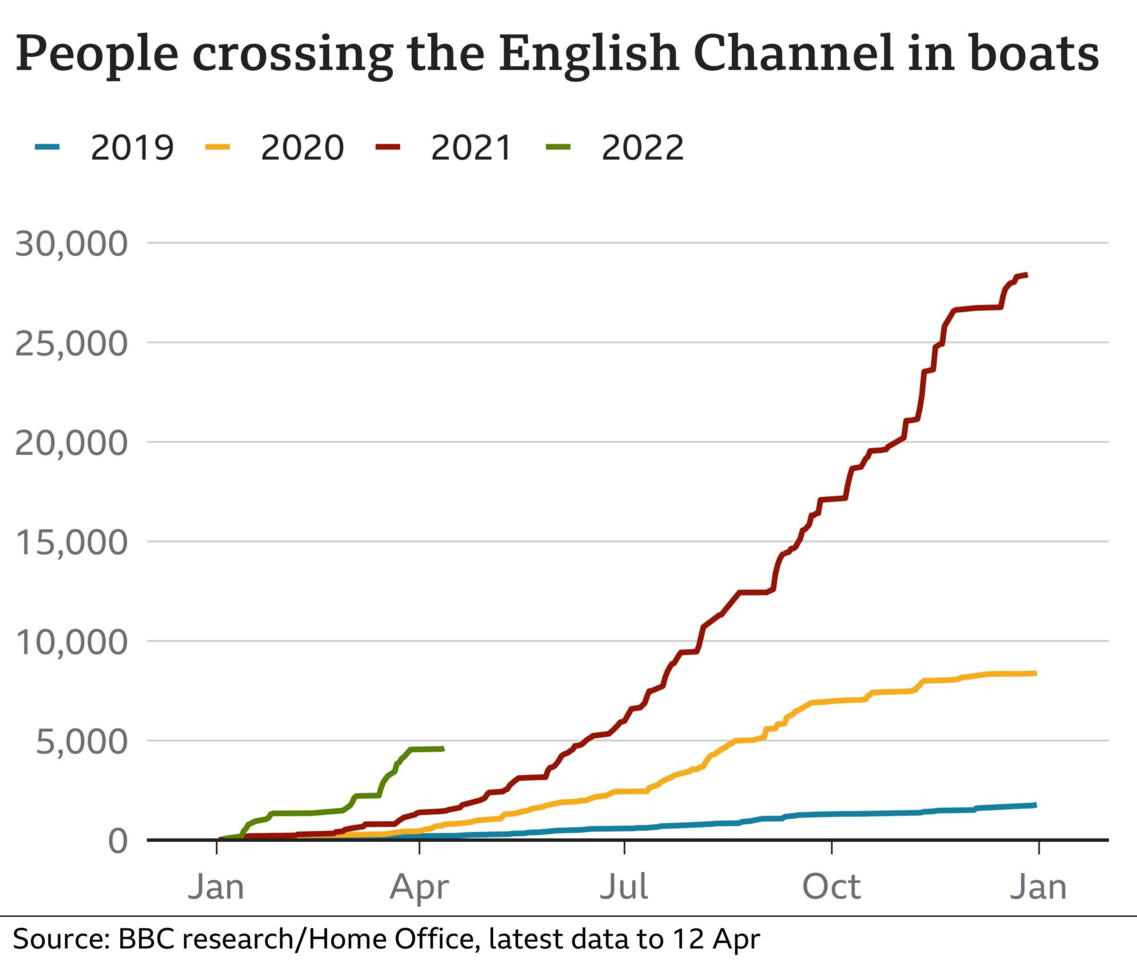 Some 562 people on 14 boats made the journey on the day the new scheme was announced, according to the Ministry of Defence. No-one making the crossing was believed to have arrived on UK soil "on their own terms", it added.

Last year, 28,526 people made the crossing, up from 8,404 in 2020.

Two further crossings were recorded on Friday morning despite thick fog, the BBC's Simon Jones said.

Concerns have also been raised about Rwanda's human rights record, although Mr Johnson described Rwanda as one of the safest countries in the world.

Last year, the UK government expressed concern at the United Nations over "continued restrictions to civil and political rights and media freedom" in Rwanda.

But justice and migration minister Tom Pursglove said Rwanda was a progressive country that wanted to provide sanctuary and had made "huge strides forward" in the past three decades.