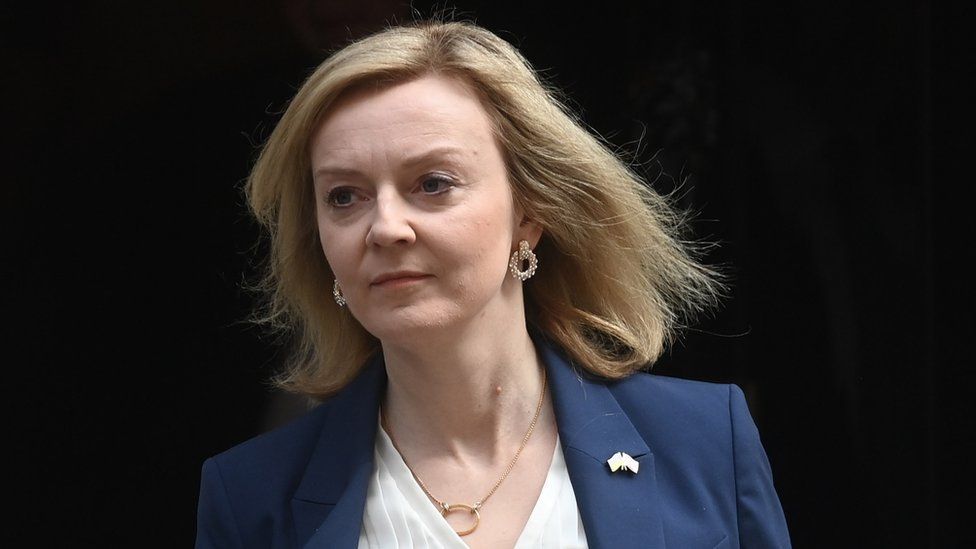 UK's Liz Truss says Russia sanctions should end only after withdrawal
Sanctions on Russia are a "hard lever" that should only be removed following a "full ceasefire and withdrawal" from Ukraine, the foreign secretary says.
Liz Truss told the Sunday Telegraph that Moscow would also have to commit to "no further aggression" or face the prospect of them being reimposed.

The West had to remain "tough to get peace", she said.

The UK, US, and EU have so far imposed sanctions on over 1,000 Russian individuals and businesses.

This week saw Moscow announce it would be refocusing its military operations in Ukraine to the country's east.

The move was interpreted by many as a sign that the Kremlin was looking to scale back an invasion that has so far made significantly less progress than was widely expected.

Ms Truss said that a negotiations unit had been set up to assist Ukraine once the Russians were "serious" about negotiations, but added: "I don't believe they are serious at present."

"That's why... we need to double down on sanctions," she said.

The foreign secretary has previously said she believes the peace talks are a "smokescreen" designed to distract from Russia's actions and allow its armed forces time to regroup.

It comes after the government announced it had detained indefinitely two jets owned by Russian oligarch Eugene Shvidler, who had been sanctioned over his ties with Chelsea owner Roman Abramovich.

The jets, estimated to be worth $60m (£45m), were seized at Farnborough and Biggin Hill airports following a three-week investigation.

Ms Truss said she believed more should have been done to deter Mr Putin following his annexation of Crimea in 2014.
"So there needs to be hard levers," she said. "Of course, sanctions are a hard lever."

"Those sanctions should only come off with a full ceasefire and withdrawal, but also commitments that there will be no further aggression."

She added that "snapback sanctions" could be used in the event of more aggression in the future.

As well as sanctions on individuals, recent weeks have seen dozens of countries impose bans on the export of luxury goods to Russia and close their airspace to Russian airlines.

Some Russian banks have also been banned from using Swift, the system used to manage international payments, and efforts are underway to explore how Europe can reduce its dependency on Russian oil and gas.

Ms Truss's comments echo those of US Secretary of State Anthony Blinken, who said this month that the sanctions on Russia were "not designed to be permanent".

Mr Blinken said the sanctions could "go away" in the event of an "irreversible" withdrawal of Russian forces from Ukraine.

However, speaking in Poland on Saturday, President Biden said that, while sanctions were weakening Russia, the West needed to "steel ourselves for the long fight ahead".

Asked about ongoing disagreements with the EU about the implementation of the Northern Ireland Protocol, which sets out the post-Brexit trading arrangements between Northern Ireland and the EU, Ms Truss said that countries would always have "differences that we need to resolve".

"But those types of differences between friends and allies are different from the scale and the sheer belligerence and aggression and lying of Russia," she said.

She added that, given the scale of their differences with Russia, it was vital that Western countries "stick together."