The UK government has imposed sanctions on hundreds of Russian parliamentarians as part of its response to the war in Ukraine.
Some 386 MPs who voted to recognise two rebel-held areas of eastern Ukraine as independent last month have been hit by asset freezes and UK travel bans.

The UK said their recognition of Luhansk and Donetsk gave Russia a "pretext" for its subsequent invasion.

Labour welcomed the move but said it should have happened "weeks ago".

It follows a similar move by the European Union, which announced sanctions against hundreds of Russian MPs last month.

'Tighten the screw'

The UK signalled it would impose sanctions of its own last month, but said more time was needed to pass new legislation before it could happen.

The latest announcement means 400 of the 450 members of the Duma - the lower house of the Russian parliament - are now subject to British sanctions. They also prevent them from conducting business in the UK.

Downing Street declined to say whether any of the sanctioned politicians had any assets in the UK.

Ministers are yet to also target members of the Federation Council, the Russian parliament's upper house, who voted for recognition. The Foreign Office signalled its intention to do so last month.

Meanwhile, No 10 said details of a UK ban on exporting luxury goods to Russia would be announced in the coming days.

The product ban is part of a series of additional trade sanctions announced by the G7 group of wealthy Western nations on Friday.

Foreign Secretary Liz Truss said the UK was targeting "those complicit in Putin's illegal invasion of Ukraine and those who support this barbaric war".

"We will not let up the pressure and will continue to tighten the screw on the Russian economy through sanctions," she added.

The move against Russian MPs follows sanctions on Russian banks, companies and oligarchs in response to Russia's invasion of Ukraine last month.

On Thursday the UK announced sanctions on a further seven Russian oligarchs, including Chelsea FC owner Roman Abramovich.

The UK government says it means 18 Russian oligarchs, worth a combined £30bn, have been sanctioned since the Russian invasion began.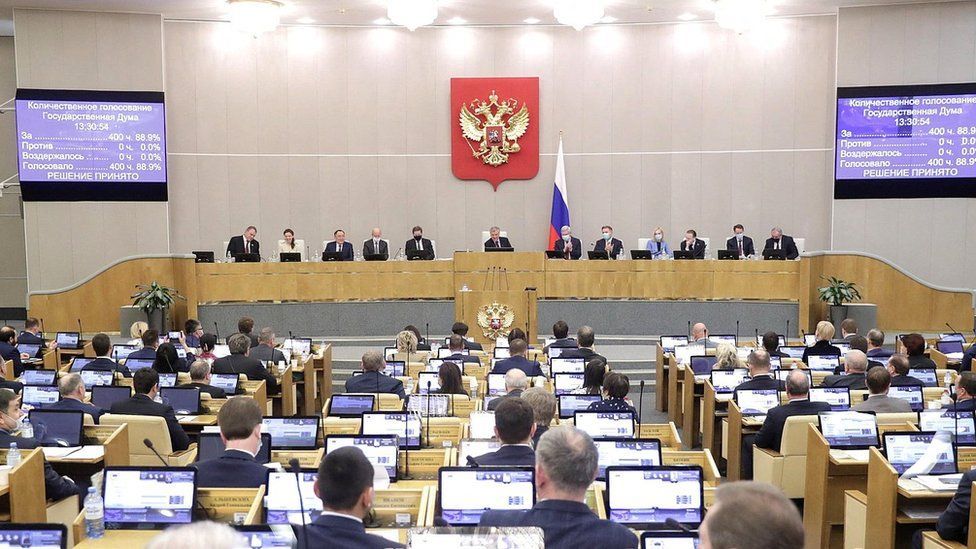 Russia's Duma approved "friendship treaties" with Luhansk and Donetsk at a vote on 22 February

Ministers have been coming under mounting pressure from opposition parties to increase both the speed and scale of sanctions in recent weeks.

Labour's shadow foreign secretary David Lammy said the latest sanctions against Duma members were welcome, but "should have happened weeks ago".

Liberal Democrat foreign affairs spokesperson Layla Moran also backed the move, but said the UK had been "moving at a snail's pace".

The government has also faced criticism over its response to the refugee crisis, amid accusations the process to apply for visas is slow and bureaucratic.

The United Nations said more than 2.5 million people have now fled Ukraine, but as of Thursday morning the UK had issued 1,305 visas, Home Office Minister Baroness Williams of Trafford said on Friday.

The government has announced plans to allow Ukrainians with family in the UK to apply for visas online, without having to visit a visa centre in-person.

Details of a second scheme allowing individuals and businesses to sponsor refugee visas are set to be confirmed on Monday, having originally been announced on 1 March.