The gloves are off, the pretences dropped, diplomacy is dead - at least for now. Ukraine is under full-scale Russian invasion and is fighting for its very survival.
So what happens next?

The biggest prize for Russia is Kyiv, the capital city and seat of President Zelensky's government - a city where fighting has already been taking place.

President Putin has clearly spent months closeted in isolation, studying his defence chiefs' plans to take over his West-leaning Slavic neighbour and bring it back into Moscow's orbit.

The invasion plan broadly consists of a three-pronged line of attack, from the north, east and south, using artillery and missile strikes to soften resistance before following up with infantry and tanks. Putin would ideally like to see the Zelensky government quickly capitulate and surrender, to be replaced by a Moscow-leaning puppet government.

The aim would be to prevent a protracted urban campaign of national resistance from building momentum.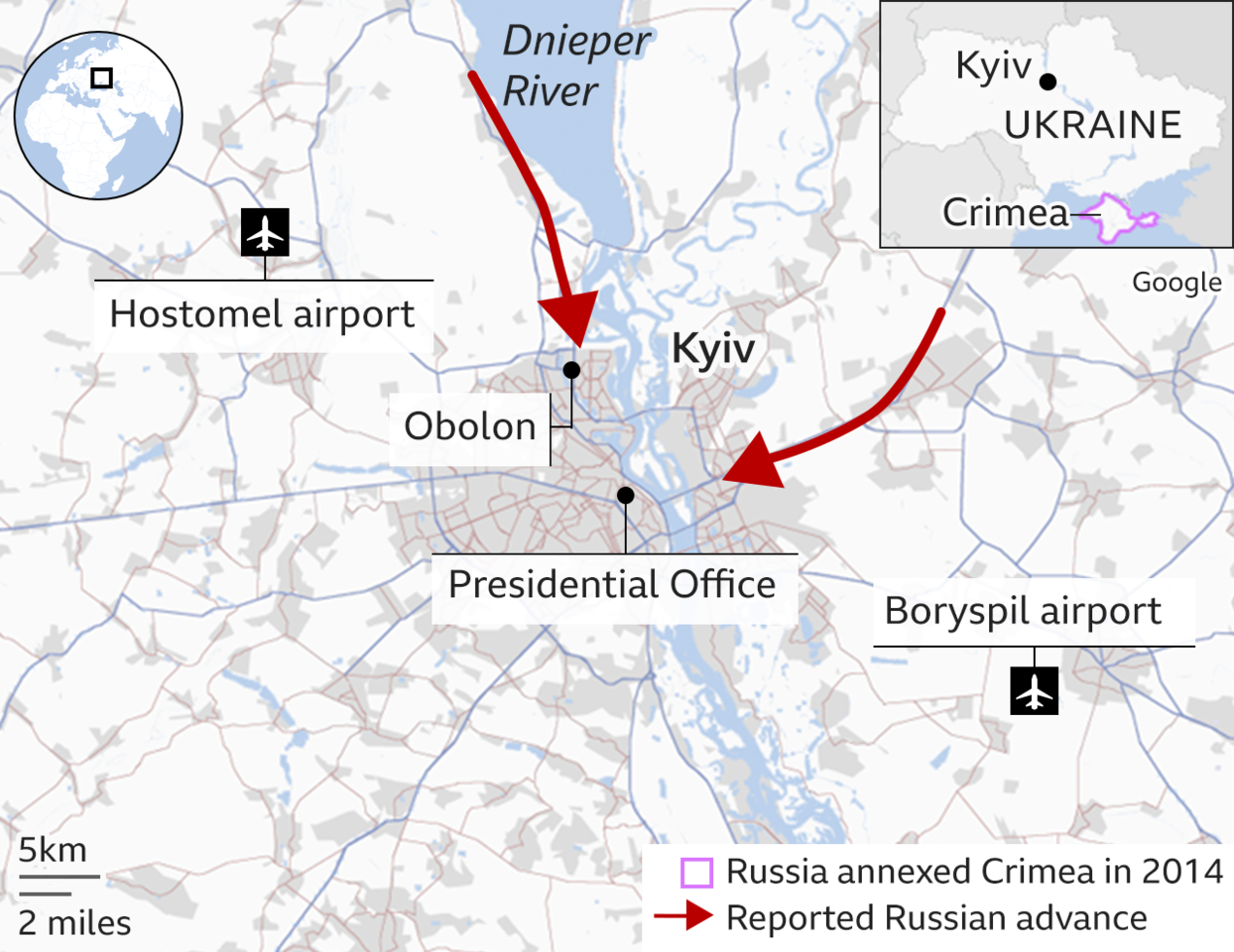 "In the short term," says Brig Ben Barry from the International Institute for Strategic Studies, "a successful Russian seizure of Kyiv would be a military and political success with strategic impact.

"But it might not destroy the Ukrainian government - provided it has made plans to set up a new government HQ, most likely in the western part of the country."

Russia's invasion plan has not gone entirely to plan - Britain's Defence Intelligence says hundreds of Russian troops have been killed and resistance is stiff - but it is progressing. Russia's forces outnumber Ukraine's by more than three-to-one, and there are questions about the quality of Ukraine's military leadership and how long its forces can hold out.

The resistance

Resistance has already begun, with a nationwide call-up of men of fighting age and 18,000 automatic weapons being handed out to the citizens of Kyiv, in addition to the uniformed army and reserves who are already putting up stiff resistance.

Eastern European countries, who fear they may be next in Putin's sights, are watching nervously for any Russian manoeuvres close to their borders. Kusti Salm, the permanent secretary at Estonia's Ministry of Defence, is one of those pushing for more military assistance to Ukraine.

"We need to give them weapons like Javelin anti-tank missiles, anti-aircraft missiles, ammunition and protective equipment. Every Nato nation should be helping them," he says.

The longer it takes Russia to subdue this nation of over 40 million people, the more problems it is likely to encounter.

But President Putin, who has all but squashed any opposition in his own country, will have taken note of how his autocratic neighbour in Belarus effectively crushed the protests there over the last two years. Police rounded up protesters and threw them in jail. Many were so badly beaten and abused in detention that this acted as a major deterrent to further protest.

"Russia," says Brig Barry, "will use extremely harsh repression, digitally enhanced by a Russian version of the surveillance apparatus China has used in Xinjiang. There would also be Russian threats to retaliate against any states that assisted an insurgency".

Where is Nato?

Nato is deliberately not in Ukraine. Despite desperate pleas from Kyiv for the West to come to its aid, Nato has categorically ruled out sending troops to Ukraine.

Why? Because Ukraine is not a member of that alliance and Nato, bluntly, does not want to go to war with Russia.

If Russia's invasion turns into a long-term occupation of Ukraine then it is conceivable that Western nations may well support a Ukrainian insurgency, just as the US supported the Afghan mujahideen in the 1980s. This is not without risk, as Putin is likely to retaliate in some form.

In the meantime, Nato has focussed on shoring up its eastern borders. The irony here is that while Moscow has been demanding Nato move its forces further westwards, Putin's invasion of Ukraine has achieved the exact opposite.

"This is a massive wake-up call for Europe," says Tobias Ellwood, MP and chairman of the UK Parliament's Defence Committee. "Three decades of peace is sadly not the norm. In dealing with a tyrant we need to escalate our planning."

Could it get any worse?

For Ukrainians, this is about as bad as it gets.

After eight years of fighting a Russian-backed breakaway insurgency in the east of their country they are now watching it being shelled, bombed and rocketed by their giant nuclear-armed neighbour.

Ukrainians, who voted overwhelmingly for independence from Moscow in 1991 - and gave up their own nuclear weapons - are facing the prospect of the clock being turned back three decades if Russia is able to subjugate the whole country.

The wider question troubling world leaders is: what does President Putin have in mind to do next after Ukraine?

Nato defence chiefs have re-examined his lengthy speech of July 2021 and concluded they urgently need to reinforce Nato's eastern borders lest Putin is tempted to make a move on countries like Poland, Lithuania, Latvia and Estonia.

Would Putin do that?

"I do think he has a plan," says Tobias Ellwood. "It's to send in non-uniformed troops to stir up trouble, part of 'sub-threshold warfare'. I'm worried it will spill over into the Balkans."

Nato is certainly taking no chances and has put over 100 warplanes on full alert. Britain was one of the first countries to send reinforcements - to a grateful Estonia, where Kusti Salm is nevertheless realistic about what they can achieve.

"No one thinks the UK-led Battle Group [in Estonia] by itself would deter the second most powerful nuclear country in the world," he says. "This is a tripwire that would trigger the might of all Nato, including the US, UK and France."

That scenario, of a Russian military incursion into a Nato country, almost unthinkable until recently, is when Nato and Russia could indeed be at war with each other.

But it hasn't happened - yet - and Western leaders are hoping that by joint, concerted action now, coupled with stringent economic sanctions, the message of deterrence will register crystal clear in Moscow.
Watch Ros Atkins on… Nato's role in the Ukraine crisis
Watch: Missile strikes, tanks and buildings destroyed in Kyiv