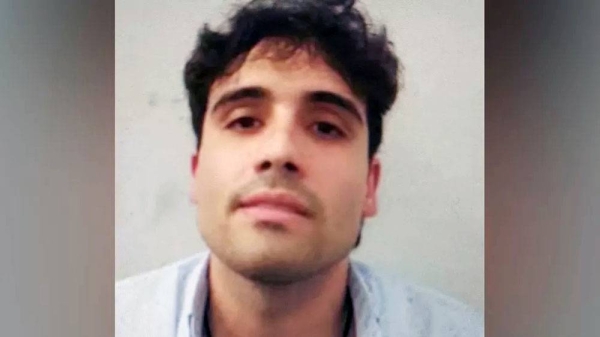 US asks Mexico to extradite El Chapo's son Ovidio
The United States has asked Mexico to extradite a son of the infamous drug lord Joaquín "El Chapo" Guzmán, Mexican officials said.
Ovidio Guzmán was arrested on 5 Jan. 5 in Sinaloa state, in northern Mexico.

The 32-year-old is suspected of leading, along with his brother, the powerful Sinaloa drug cartel that his father founded.

Ovidio Guzmán is also accused of having ordered the murder of a singer who had refused to perform at his wedding.

Their father was tried in a US court and is serving a life sentence in a maximum-security jail in Colorado after having been found guilty of leading the Sinaloa cartel.

Ovidio is one of four children El Chapo had during his relationship with Griselda López in the 1980s and 90s. The oldest of them, Edgar, was killed in a cartel shootout in 2008.

El Chapo also has other children from his previous marriage and from his subsequent relationship with Emma Coronel, who is also in jail in the US.

Ovidio's older brother, called Joaquín after his father, is still on the run. Both brothers have been indicted by a US court on charges of conspiracy to distribute cocaine, methamphetamine and marijuana.

Sources in the Mexican government told local media that the US had officially requested that Ovidio Guzmán be extradited to stand trial in the US.

After a six-month surveillance operation, law enforcement officials swooped down on the house outside the city of Culiacán where Ovidio Guzmán, also known as "El Ratón" (The Mouse), was hiding.

Twenty-nine people died in the firefight that ensued and members of his cartel burned buses and cars to block access roads to prevent police reinforcements from reaching the city.

Ovidio Guzmán was flown to Mexico City in a helicopter for fear that if he was transported by road his hitmen would try to attack the convoy. It was not the first time the alleged cartel leader's arrest led to violence.

In June 2020, the security forces briefly detained Ovidio Guzmán but were ordered by Mexican President Andrés Manuel López Obrador to release him "so as not to put the population at risk" as Sinaloa gunmen torched buses and engaged in gun battles with police and soldiers.

He had been in hiding for the following 18 months before his re-arrest in January 2023.