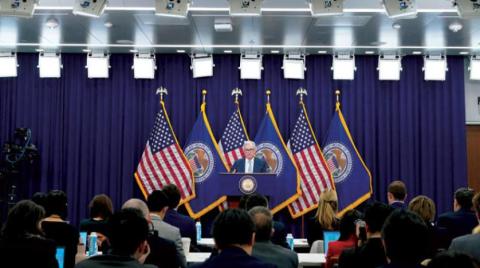 US Federal Reserve Raises Interest Rate, Highest since 2007
The US Federal Reserve reinforced its inflation fight Wednesday by raising its key interest rate for the seventh time this year and signaling more hikes to come.
The central bank boosted its benchmark rate a half-point to a range of 4.25% to 4.5% and projected it would continue rising to above 5% in 2023, a level not seen since a steep economic downturn in 2007.

It released the new statement after a policy meeting at which officials scaled back from the three-quarters-of-a-percentage-point rate increases delivered at the last four gatherings.

The bank stated that inflation will slow to 3.1 percent, only in 2023, while it significantly reduced growth expectations for the year from 1.2 to 0.5 percent, avoiding economic contraction.

While the impact of monetary policy takes time to show on various sectors, positive signs appeared recently with the decline in the US consumer price index in November.

The Fed's projections came according to the recent hike, with high unemployment and almost a halt in economic growth.

US central bankers see the policy rate, now in the 4.25%-4.5% range after Wednesday's 50-basis-point increase, rising to 5.1% by the end of next year, according to the median estimate in the Fed's quarterly summary of economic projections published at the end of its two-day meeting.

Only two of 19 Fed officials saw the benchmark overnight interest rate staying below 5 percent next year, a signal they still feel the need to lean into their battle against inflation that has been running at 40-year highs.

"The [Federal Open Market] Committee (FOMC) is highly attentive to inflation risks … Ongoing increases in the target range will be appropriate in order to attain a stance of monetary policy that is sufficiently restrictive to return inflation to 2 percent over time," the Fed said in a statement nearly identical to the one it issued at its November meeting.

The median projected unemployment rate is seen rising to 4.6 percent over the next year from the current 3.7 percent, an increase that exceeds the level historically associated with a recession.

Gross domestic product (GDP) is seen growing by just 0.5 percent next year, the same as estimated for 2022, before rising to 1.6 percent in 2024 and 1.8 percent in 2025, a level considered to be the economy's long-run potential.

Fed Chair Jerome Powell said in his news conference following the FOMC meeting that the speed of coming rate rises is less critical now than earlier in the year when the central bank was "front-loading" rate hikes to catch up with accelerating prices.

"It's not as important how fast we go," he said, noting the bigger question facing policymakers is finding an "appropriately restrictive" endpoint and determining how long to stay there.

"Our focus right now is really on moving our policy stance to one that is restrictive enough to ensure a return of inflation to our 2% goal over time, it's not on rate cuts," Powell said.