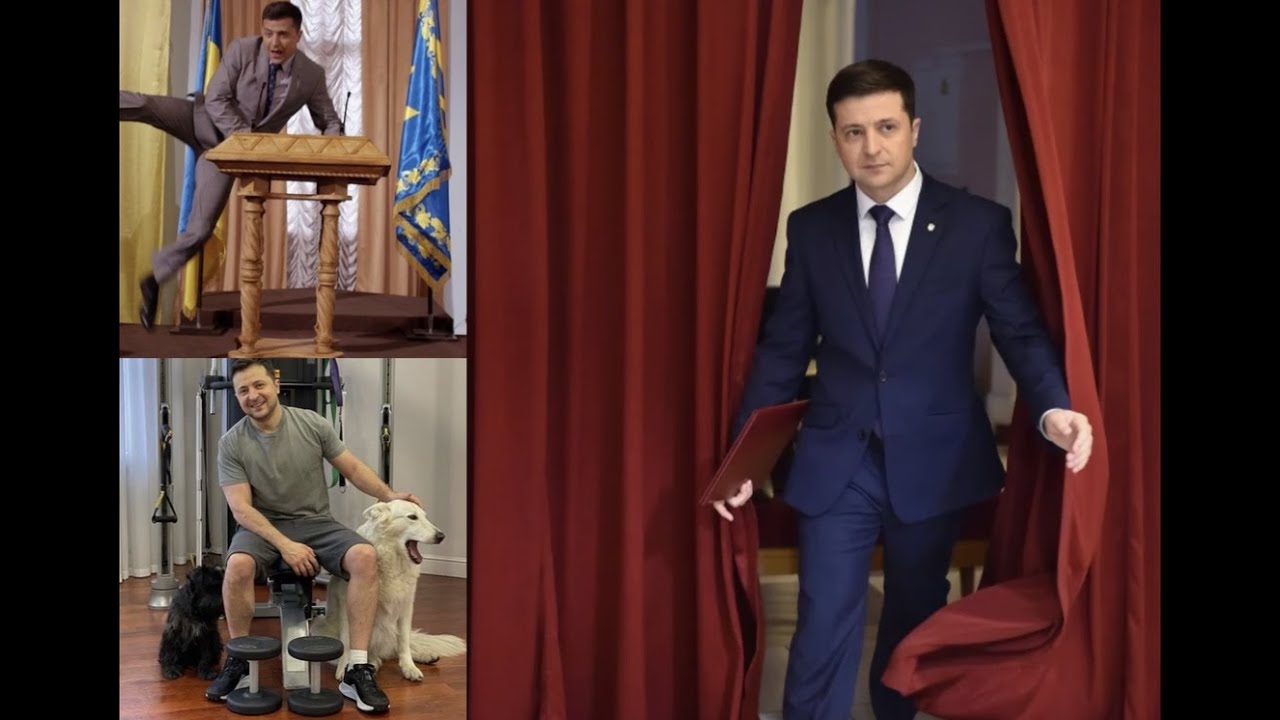 Volodymyr Zelenskyy (Zelensky) path, from comic, to symbol of courage
When Zelenskiy was elected in April 2019, at the age of 41, the Russian commentator Sergey Parkhomenko said: "He is weak, he does not have a religion, he does not have a nationality." It was meant as a criticism, even though all these reasons were precisely why people had voted for Zelenskiy.
He is not intimidating. He does not come from a political background. He is a Russian speaker from the centre of the country. But, most of all, to Ukrainians, he was recognisable and he was funny.

That nice guy off that TV show Servant of the People. You know, the one where the geeky history teacher becomes the president overnight. The Paddington voice guy.

Beyond Ukraine, until last week, he was simply referred to as "a comedian who became president".

Initial coverage of his landslide victory – in which he won 73.2% of the vote – was derisory. What were the Ukrainians thinking? Who is this guy anyway? He is hardly Ronald Reagan. What a joke.

But the word "comedian" is misleading. It suggests someone who is not serious, and a solo performer.

Zelenskiy is neither of these things. He has never been a standup. The tradition of "monologue comedy" is fairly new in post-Soviet countries. Also, as is now obvious from the viral videos of Zelenskiy's pre-presidential life, his career may have been in entertainment, but he took it extremely seriously.

He is a workaholic, he has always meant business and he is a team player. These are the qualities – forged in the sequined furnace of post-Soviet showbiz life – that give him the edge.

It is the "team player". Zelenskiy, however, has always been part of something bigger than himself.

He started out in 1995, as a teenager, as an improviser.

Zelenskiy was a keen competitive improviser and became part of Ukraine's Kvartal 95 team of about 10 players, touring the then recently dissolved USSR, winning KVN competitions and honing their Russian-language sketches.

It was only much later that they started to do more sketches in Ukrainian. Zelenskiy's story represents the fluidity and divides between Russian and Ukrainian cultural audiences. He is and isn't "one of ours".

Zelenskiy won Ukraine's Dancing With the Stars in 2006, performing with his professional partner, Alena Shoptenko. She is still one of the 196 people he follows on Instagram. (He has 13.4 million followers.)

His performances were energetic and all-in, and he was super-fit. This was – and is – clearly important to him. Until he became president, he would regularly post videos on social media from the gym, or swimming, or jogging in New York.

But the journey from lewd comedy to president would not have happened without one telly success: Servant of the People. The Kvartal 95 team owns this show, which ran for three seasons between 2015 and 2019, with Zelenskiy as creator, producer and star. The last of the 51 episodes aired on 28 March 2019; Zelenskiy won the election on 21 April 2019. A year earlier, Kvartal 95 had registered Servant of the People as the name of a new political party.

In the series, Zelenskiy plays Vasyl Petrovych Holoborodko, a hapless history teacher who is accidentally propelled to the presidency when a video of him berating the government goes viral. The rant that propelled Holoborodko to victory has become a set piece of Russian-language comedy, rather like Ricky Gervais' robot dance in The Office, but peppered with bleeps (every other word is a swear word). The language content of Servant of the People is interesting. It is in Russian and Holoborodko is a Russian-speaking Ukrainian. But some characters speak Ukrainian.

The famous rant, though, is in Russian – and it is a masterclass in how swearing is its own language (a belief strongly held by Russian speakers). Beneath the bleeps, you can make out "okhuyenniye" and "pokhuy" ("fucking") "suka" (literally "bitch", usually used as "for fuck's sake"), "pederasty" (literally "pederasts", meaning "bastards") and "pizdets" (cunt). The rant ends: "I wish every teacher lived like the president. And the president – that cunt – lived like a teacher. I'm telling you that as the teacher of history that I am. Even though you don't give a fuck. Pederasty!"

Millions have seen this clip since 2015 and associate Zelenskiy with it – in a good way. There is an ironic parallel with the real-life viral videos coming out of Ukraine at the moment, which are peppered with the exact same words. As Ido Vock wrote in the New Statesman, a Russian friend said to him this week: "Why are we fighting people who swear like us?" Zelenskiy and Holoborodko represent an ordinary bloke who is at the end of his tether and can really, properly swear.

The trump card evident now, though, is Zelenskiy's status as a team player. In his speech to the Russian people last week, he asked them to question official propaganda. Why would he support a war that targets cities he knows and loves? "To shoot who? To bomb what? … Lugansk? The home of my best friend's mother? The place where his father is buried?"

The best friend he is talking about is Yevgeni Koshevoy, known as "Lysy" (Baldy – you can see him dancing in the Beyoncé video), whose family are indeed from Lugansk. The pair have worked together for 18 years and shared the stage in the spring of 2014 when the Kvartal 95 troupe performed to soldiers on the frontline when the war began in Donbas.

Now this is the show of his life: a war against Putin. Weather he win or lose the war, he win his place in the history.

The show must go on.