The film about the original exposé of Harvey Weinstein is one of many recent works to address systemic male sexual violence – but how effective are they, asks Hanna Flint.
It's been five years since the flames of the #MeToo reckoning were fanned by the New York Times exposé of disgraced movie mogul Harvey Weinstein for sexual assault, so it was inevitable that Hollywood would commit this story to its own cinematic record. She Said, directed by Maria Schrader and written by Rebecca Lenkiewicz, is a powerful adaptation of She Said: Breaking the Sexual Harassment Story That Helped Ignite a Movement, the 2019 book by Times journalists Jodi Kantor and Megan Twohey that recounts how they broke the explosive story, with Zoe Kazan and Carey Mulligan playing the intrepid reporters.

Since its premiere at the 60th New York Film Festival in October, the drama has been praised for its precise approach to journalistic storytelling, which is reminiscent of 2016 Oscar-winner Spotlight: rather than sensationalising the efforts of Kantor and Twohey or the testimonies of the survivors who spoke out against Weinstein, it provides the grounded, granular detail of what goes into such a difficult investigation, without undercutting the emotional ordeal for the women involved.

Rowena Chiu was one of those "unfamous women trying to do their jobs who were abused by Harvey", as she alleged in her own New York Times op-ed. She was hired to assist the Miramax producer in London on his European productions, and says that Weinstein attempted to rape her at the Venice Film Festival only two months after starting the job – at which point her own manager, Zelda Perkins, confronted Weinstein. Chiu says she was eventually coerced by Weinstein into signing a non-disclosure agreement in return for a £125,000 settlement.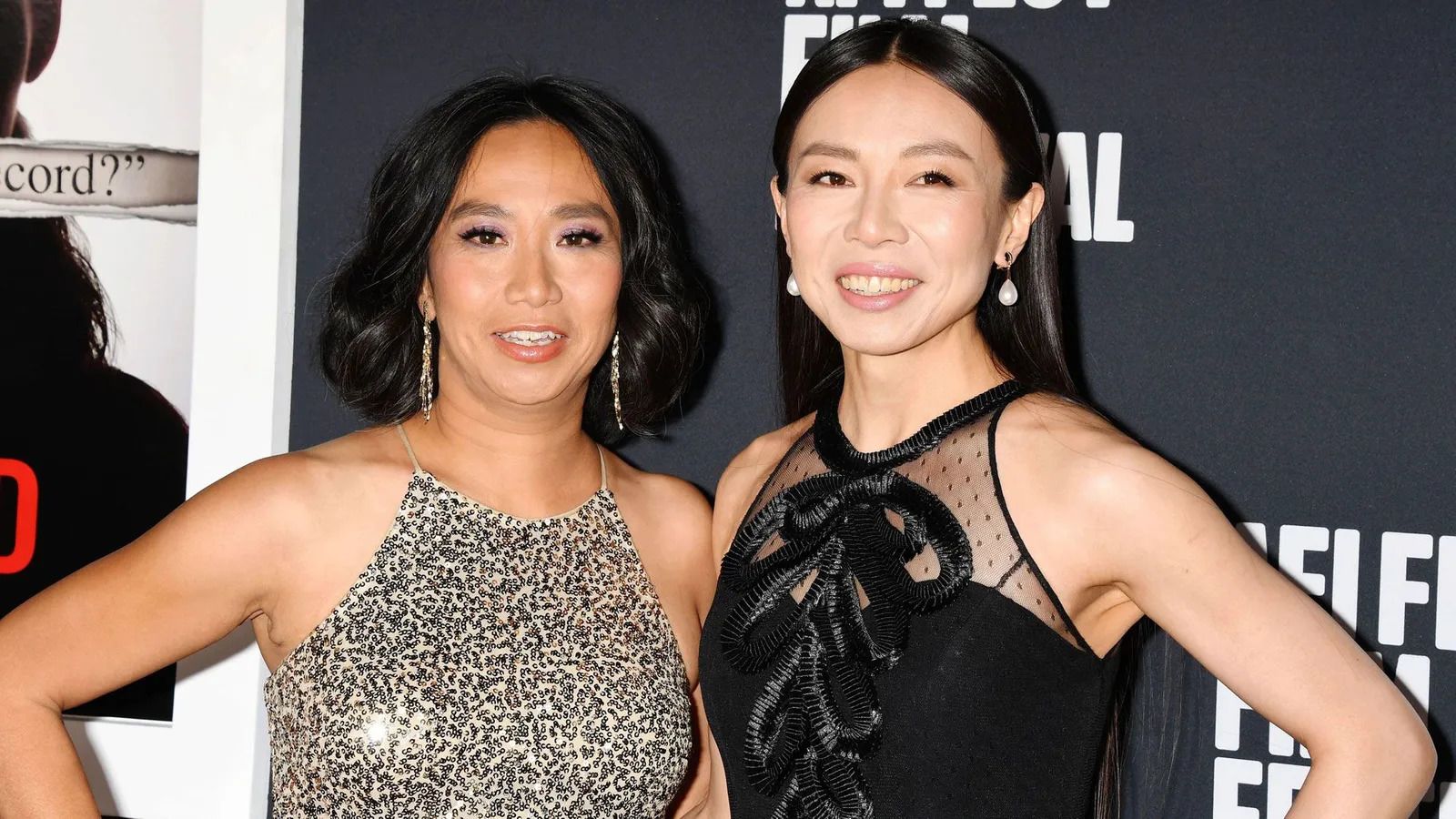 Rowena Chiu is one of the women whose experiences with Weinstein feature in She Said; here she is pictured with actress Angela Yeoh, who plays her
Chiu's traumatic experiences are depicted in the film – and as Chiu tells BBC Culture, she had to make a big decision about whether she wanted to feature in the movie before she had even gone public with her story; her allegations had appeared in the original reporting in 2017, but at that point, she had chosen to remain anonymous. Kantor and Twohey's book did end up naming her, but nine months before it was published, when she had not yet agreed to have her name published, she recalls attending "a very clandestine meeting", where she joined fellow Weinstein survivor Laura Madden and Perkins for a "surreal" conversation in a Hollywood office "to discuss the hypothetical movie" as well. "Because the article was already out, and had made such an impact on the world, publishers were excited in advance of Jodi and Megan's book, and film rights were almost sold before the book was written – that's rare, I think, to have things happen in that order."
Chiu was reticent about explicitly featuring in both the book and film in the first instance because of how her story might be portrayed. "Authors and journalists and podcast hosts, everyone else that would want to have a piece of it, are mediators who have their own agenda of selling books or selling papers, or reaching an audience," she says. "However benevolent and benign that motive might be, that is never going to quite align with the survivors' motivations. Often, survivor stories aren't particularly palatable for audiences, perhaps because they are too raw," she adds.
I saw my best friend cry at the movie and relate to it in an emotional way that he might not have when I was testifying to Parliament or going on BBC Newsnight – Rowena Chiu

"They're difficult, they're confronting and because Hollywood creates fictional accounts of real-life events, it can be challenging for the survivor to see his or her real story be fictionalised in that way. The emotional impact is so powerful that audiences start to react to the fictionalised account in a greater way than they do to your real-life account."

However when Chiu saw She Said at the London premiere, she recognised the real value of the film in the reaction of her best friend, who she had told in 1998 about her attack and attended with her. "Even though he knew all the events that had happened to me throughout the years, including my [subsequent] suicide attempts in Hong Kong – he was actually a person that I called [in the scene you see in the] the hotel room, where Ashley Chiu is portraying my suicidal self – I saw him cry at the movie and relate to it in an emotional way that he might not have when I was testifying to Parliament or going on BBC Newsnight," she says. "In that moment I felt proud that the movie is going to reach places in people's hearts that all the other accounts don't."


Different styles of interrogation

She Said is not the only narrative film in recent years to engage with the culture of systemic male abuse that has been exposed in the five years since the first Weinstein revelations. 2019's Bombshell (written and directed by two men: Charles Randolph and Jay Roach, respectively) takes a more buzzy approach to telling the story of the efforts made by a group of female Fox News journalists to expose the alleged toxic workplace behaviour and sexual harassment of Fox News head Roger Ailes (a story that broke before Weinstein). TV drama The Loudest Voice also dealt with Ailes's alleged misconduct, this time centring Russell Crowe as Ailes in the story over his victims. Meanwhile series as varied as The Morning Show, BoJack Horseman, Jane the Virgin and Grey's Anatomy have interrogated systemic abuses and harassment towards women in the workplace, as perpetrated by powerful men, from a breakfast show host and a sitcom actor to a university professor and a doctor.

Then there was 2020's Promising Young Woman, which interrogated the behaviour of men as a group: the feature debut of Emerald Fennell, it starred Mulligan as an avenging angel giving payback to the male species for the rape and suicide of her best friend, and was a poppy yet darkly humorous comment on the normalised habits of so-called "nice guys" preying on drunk women. The film certainly sparked a conversation. Focus Features partnered with RAINN, the US's largest anti-sexual violence organisation, to stream the film in colleges and its worldwide release launched a thousand think-pieces on the various merits and mistakes in Fennell's take on rape culture, trauma and the societal propensity for protecting predators. Like Bombshell, it earned significant awards season notice and was nominated for best picture, best director, best actress (Mulligan), and best film editing at the 2021 Academy Awards, winning for best original screenplay.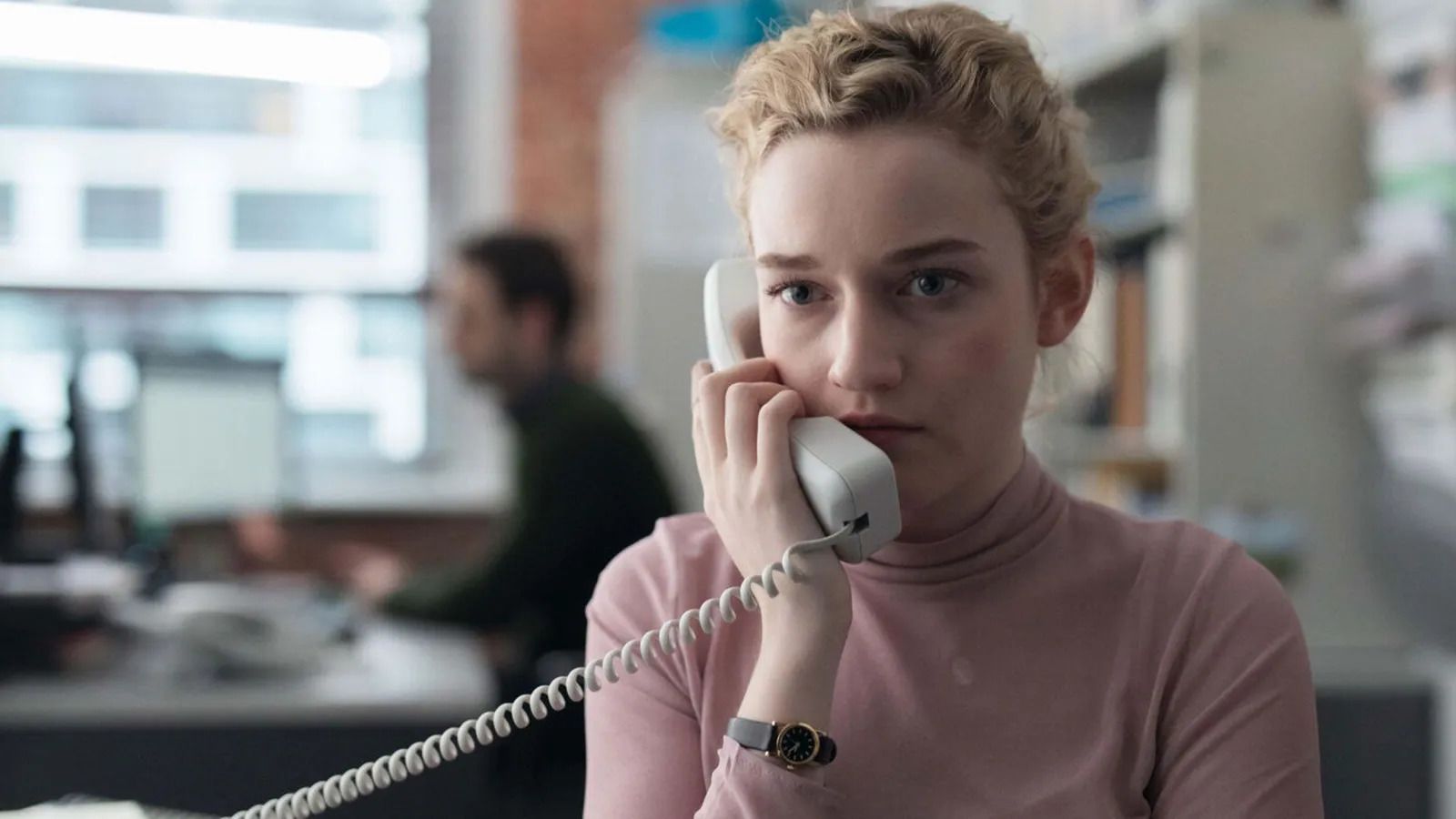 The Assistant offers a powerfully understated depiction of a culture of abuse within the entertainment industry

There is one film, however, that deserves more recognition than it ever officially received for its striking approach to the painful subject matter: Kitty Green's The Assistant, which showed a day in the life of Jane, the eponymous female employee of a Weinstein-like producer, played by Julia Garner. For Nikki Baughan, deputy reviews editor for Screen International, it was a film all the stronger because of its understatement. "It is so powerful because we never see this man, we only hear his voice through a door, on a phone, but we completely understand his hideous behaviour, and the insidious effect it has on those around him, by Jane's reactions.


The thing with trying to represent #MeToo in the film industry is, like, how do you make it not too on the nose? – Winnie M Li

"She gets physically smaller in the frame as the film goes on, increasingly quiet and downcast, isolated in this toxic environment in which she has zero autonomy," she adds. "It's a film that says so much about toxic masculinity, gender abuse and the trauma of speaking out, without ever feeling the need to soapbox or lecture. It makes you feel like you're walking in Jane's shoes."

Winnie M Li, film producer-turned-author, sexual assault survivor and activist, similarly praises The Assistant because she felt it "nailed" what other #MeToo films dealing with abuse in the the entertainment industry struggled with. "The thing with trying to represent #MeToo in the film industry is, like, how do you make it not too on the nose?" says Li, whose recent novel Complicit has earned acclaim for its depiction of power imbalances and cover-ups in the film world through the recollections of a former female producer for an indie film company.

"Bombshell was too on the nose and glossy. The reason [The Assistant] worked is because it was such a narrow perspective and, in some ways, was marginal to what was happening – but that was the point in terms of the impact that all of that had on her as a young woman working in the industry. She was abused by a boss who was yelling at her but she wasn't sexually abused, she kind of witnessed it – I think that was quite a powerful glimpse of the reality and the mundanity of being an assistant."

As much as She Said positions Kantor and Twohey as the protagonists of this film, it dedicates significant screen time to the experiences of Perkins, Madden and Chiu through flashbacks to their time working with Weinstein in the 1990s, and scenes of them providing their testimonies in 2017, when they are played by Samantha Morton, Jennifer Ehle and Angela Yeoh respectively. Yeoh, who was a journalist herself before breaking into acting, consulted with Chiu in preparing for the role. "I'm used to reaching out to people and asking if they'll speak to me, and I was lucky to be able to get hold of Rowena," says Yeoh. "As a storyteller, [and] as someone who's experienced abuse, I was curious about how to shine a light on the subject, because I feel it's still deeply misunderstood.

"How do you choose those words? Without pretending that it can encapsulate the whole experience, within the legal and creative constraints of the film, [I wanted] those words and whatever I conveyed as an actor to be as truthful as possible."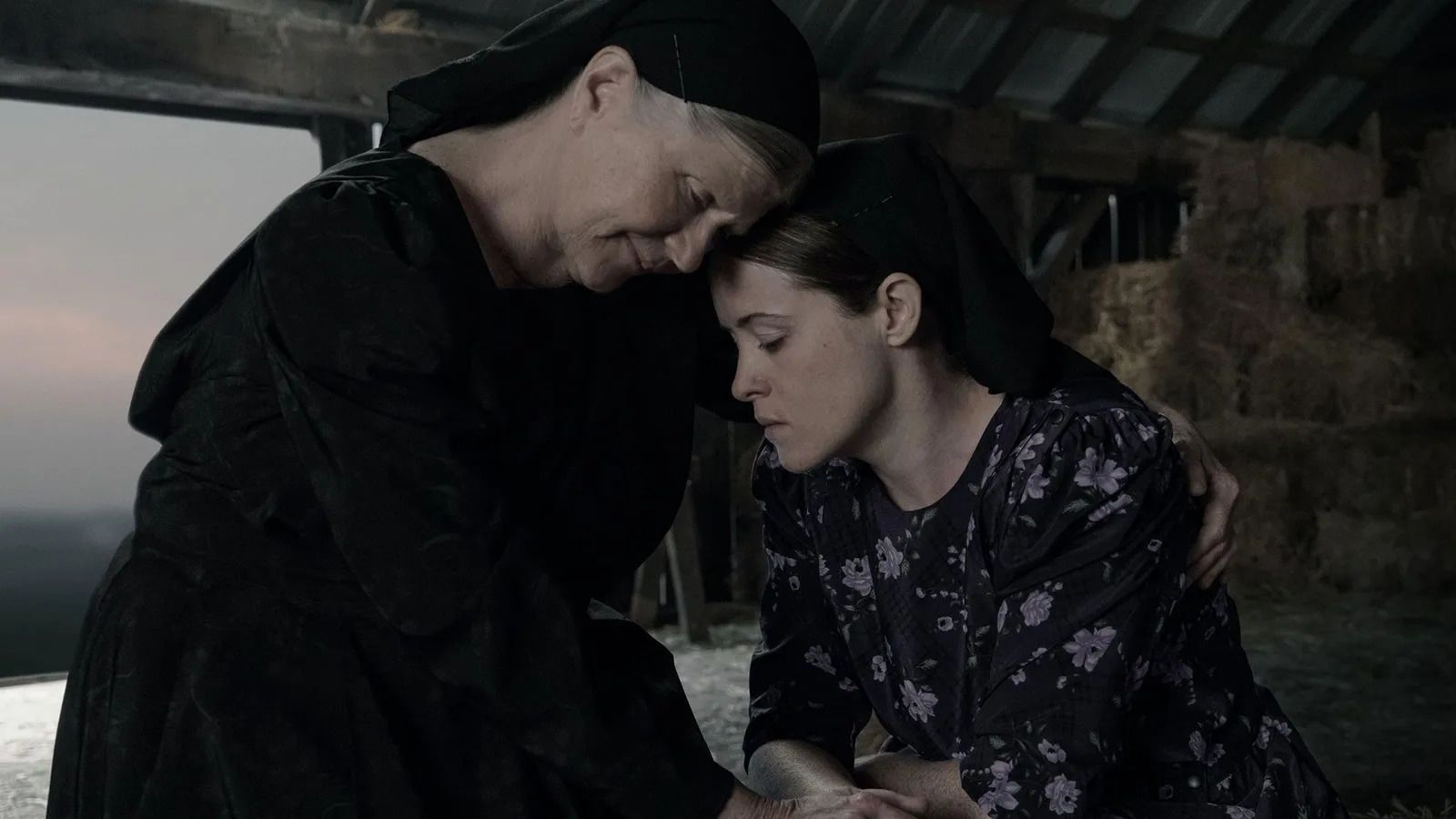 Women Talking is another high-profile new film exploring male sexual violence from the perspective of victims

She Said is a film that demands you actively listen to the words, conversations and testimonies of female survivors. It's also about the power of women confiding in each other instead of staying silent, which is the subject of another film that has been making waves this autumn, Sarah Polley's Women Talking. Based on the 2018 novel of the same name by Canadian writer Miriam Toews, and set in 2010, the film centres on a closed-off, fictional colony of the Protestant Mennonite sect, where a group of women must grapple with their faith and the reality that their menfolk have been drugging and raping them for years. Rage, fury, frustration, sorrow, humour, solidarity and empathy lace the varying perspectives of characters played by Claire Foy, Jessie Buckley, Rooney Mara and Judith Ivey, who are tasked with debating and deciding what they must do to live in a community without fear. Polley, like Schrader, never shows us the violent assaults – purposely keeping the abusers in the periphery so there is never any doubt about the importance of women being at the centre of their own stories of survival.


She Said bears a pretty heavy burden in terms of representing a diversity story in a movement that has largely centred on white narratives – Rowena Chiu

These films have another thing in common; both are produced by Plan B, the production company set up by Brad Pitt, who has a history with Weinstein. In 2019, he recounted to CNN how he had confronted the producer in 1995 after learning of his alleged harrassment of his then-girlfriend Gwyneth Paltrow – something originally revealed by Paltrow to the New York Times in the first 2017 exposé. Someone close to Pitt tells BBC Culture that he was the only person to stand up to Weinstein about his behaviour towards women at the time; he subsequently did not work on a Miramax production again. However the actor would then go on to star in the Weinstein-distributed Inglourious Basterds and, his ex-wife Angelina Jolie alleges, sought Weinstein out to be a producer on his 2012 film Killing Them Softly, although this did not come to pass and The Weinstein Company later distributed it only. Jolie claims she protested Pitt working with Weinstein because, she alleges, the movie mogul assaulted her in 1998 while making Playing by Heart. "I was asked to do The Aviator, but I said no because [Weinstein] was involved," the actress told the Guardian in 2021. "I never associated or worked with him again. It was hard for me when Brad did…We fought about it. Of course it hurt." But another source disputes that Pitt approached Weinstein to be a producer for Killing Them Softly and says that the film was sold by CAA sale agents to The Weinstein Company without Pitt interacting with Weinstein about it.

Pitt's producing credit has been a point of conversation around She Said and Women Talking, feeding into wider questions of whether there is hypocrisy in films about abuse being made in the very Hollywood system that legitimised Weinstein, but Chiu says she would rather not dwell on this discussion. "Being involved in the #MeToo movement is a very complex and triggering thing in itself so I've tried to focus on the positive aspects. Even though I've given up my privacy, and it's difficult to talk about traumatic things in public in this way, it is helping other women. So when it comes to the movie, I think about Dede Gardner [Plan B president and producer], Maria, Rebecca, Carey and Zoe, and all these other amazing female contributors, including Angela and Ashley. It's a real testament to women pulling together and making incredible art in support of a movement which itself was about women pulling together."


The stories that are missing

Yet, while there have been many more fictionalised accounts of sexual harassment and abuse of power in the past five years, most of them have focused predominantly on white women. This is the case with She Said, Women Talking and another big autumn movie Tár, starring Cate Blanchett, which centres on a celebrated conductor-composer who displays predatory behaviour towards young female musicians. "So many of the representations of #MeToo narratives in the entertainment industry still feature primarily young, white (and of course, attractive) female protagonists," says Li, whose lead character in Complicit is a Chinese-American woman and who is Taiwanese-American herself. "We know women of colour are just as likely – if not, more likely – to suffer from sexual harassment, discrimination and silencing at work. And yet we still don't see those realities being reflected on screen. Which is ironic, since #MeToo has contributed to a larger industry conversation about equality and inclusivity on both sides of the camera."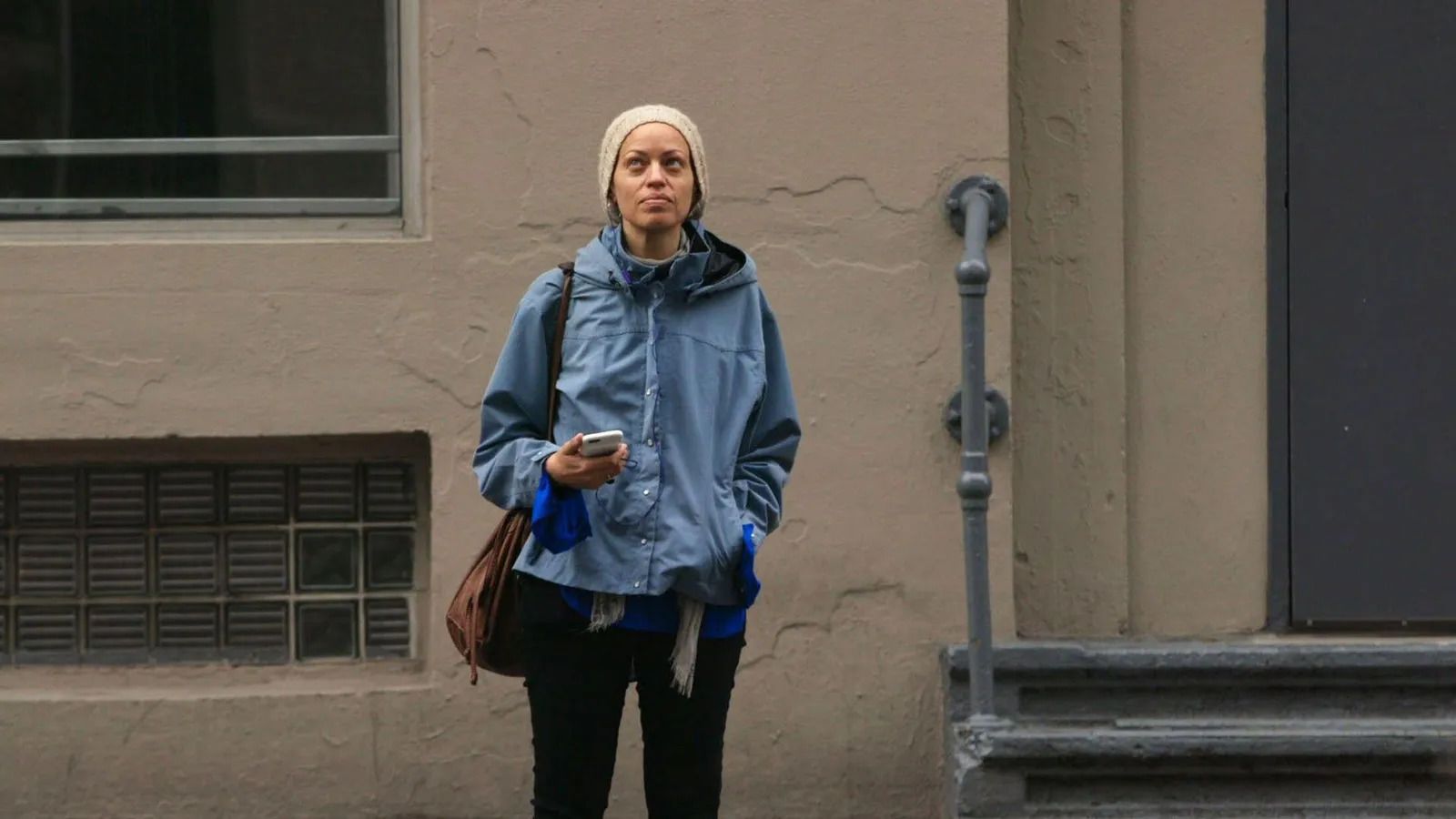 Documentaries such as On the Record have so far led the way in giving voice to black female victims of abuse

Michaela Coel's 2020 HBO/BBC series I May Destroy You – a semi-autobiographical account of a woman trying to solve the puzzle of her rape while navigating a publishing industry not designed for people of her race or class to feel supported – was a striking exception. Among other things, it provided complex representation of both a black female and queer experience of assault to which people from any background could viscerally relate. Li calls it the "gold standard" of these types of stories, where the victim doesn't have to be perfect. "Arabella makes all these bad decisions, which I've always felt is more representative of being in a traumatic state," the author says. "If you've been through that kind of trauma, you're going to have that struggle to want to tell your own story on your own terms. I felt it was much more authentic."

Documentaries like On the Record, Surviving R Kelly and Athlete A have shared the stories of black women abused in the entertainment industry and US gymnastics, but, when it comes to fictionalised feature films and TV shows, far more room could be made for intersectional stories of survival beyond the white norm in order to empower women of all backgrounds to speak up for themselves and others. "The East Asia and Southeast Asian communities tend to be very hesitant to speak out about sexual assault so She Said bears a pretty heavy burden in terms of representing a diversity story in a movement that has largely centred on white narratives," says Chiu.

"There's still a lot more space to understand the complexity and nuance of power dynamics, abuse, how abuse can happen and what the experience of abuse is like, in all its diversity across the spectrum," adds Yeoh. "Also, what the healing journey is to come out of that because everyone's different."

Despite the Oscar buzz, She Said was released in the US and its opening box office did not light up – it grossed $2.25 million (£1.86 million) from 2,022 theatres. Its slow start could be simply a reminder that a lot of critical favourites fail to stimulate audience interest before award season. Or it might be a sign of fatigue over #MeToo storylines. Li certainly believes there is a backlash in terms of how people are reacting to the movement now. "Some people are rolling their eyes but the irony is that the #MeToo fight, ultimately, is about gender inequality, and that's been going on for all of human history, since the beginning of the film industry, and only recently have big names been called out," she says.

"It's an incredibly short-sighted backlash for people who are, like, 'it's no longer hip and trendy to be doing #MeToo narratives,'" says Li. "Because it still speaks to a lived reality that many women and people of other gender experiences have to go through."

The story didn't end when Kantor and Twohey clicked publish in 2017; rather, it had only just begun, and while the past five years have empowered women to speak up and speak out about the systemic patriarchal abuses we face, it's not always been easy, or welcomed. But cinema will continue to be a vital forum to confront and examine the myriad ways in which a post-#MeToo/Weinstein society succeeds or fails in protecting women. "It's important that we keep having this conversation," says Baughan, "[that] we keep the focus on victims of abuse and allow them to have a voice."