The princes weren't always at war. Maddy Mussen looks back at their most revealing quotes about each other
Let January 2023 be known as the month we witnessed the modern day Cain and Abel. Two of our most beloved royals, Prince Harry and Prince William, are facing all out war, and it is rocking this country to its polite, awkward British core.

To be fair, they are the most famous (living) brothers in arguably the whole world. I don't see the tabloids caring nearly this much if the Skarsgård glan hit the rocks — and we've had enough Gallagher feuding to fill our boots for a lifetime. So Harry and William's prolonged fall-out continues to captivate us all.

Especially because for most of our living memories Harry and William have been the best of friends. The princes have always come as a pair, and you don't have to cast your mind back too far to remember the days when they were pictured together in matching school uniforms, socks pulled up to their knees, beaming at the papparazzi (who at that point were not viewed as negatively as they are now) alongside their mum.

But it's been more than a rough couple of months for the brothers at this point. The cracks within their relationship appeared in tandem with Harry and Meghan's struggles with the press back in 2018, which only put the relationship between the two men further under the microscope. And now, in a series of promotional outings for his new book, Spare, out January 10, Harry seems keen to dispel any doubt about his and William's relationship: it is fraught, it is broken, but he (apparently) is still up for giving it another crack, if William can give it a go too.

This running public declaration of the princes' feelings towards each other used to be much less common, most likely because the pair actually talked to one another rather than communicating via the press. Here are the princes in their own words...

Their relationship with Diana, 2007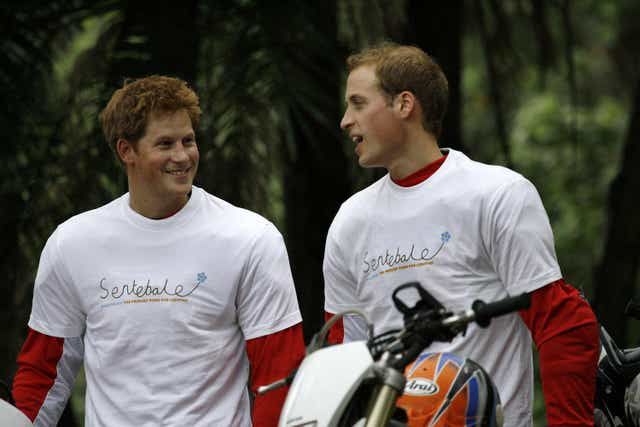 Harry and William laughing together ahead of a charity bike ride in 2008

For the 10 year anniversary of his mother's death, Prince Harry made a speech where he spoke of his close bond with William, and the fact they were united by their mother's love. "William and I can separate life into two parts. There were those years when we were blessed with the physical presence beside us of both our mother and father," he said.

"And then there are the 10 years since our mother's death. When she was alive we completely took for granted her unrivaled love of life, laughter, fun and folly. She was our guardian, friend and protector.

"She never once allowed her unfaltering love for us to go unspoken or undemonstrated. She will always be remembered for her amazing public work, but behind the media glare, to us, just two loving children, she was quite simply the best mother in the world."

A bit of brotherly mockery, 2009

Siblings will be siblings and if there isn't a bit of light ribbing every now and then, are they even related? Harry and William once joked in an interview about the other's looks and hair after the interviewer asked about the pair's differences. "He's definitely got more brains than me," Harry says, "we established that in school, but I think I'm much better 'hands on'," to which William rolls his eyes, mocking his brother. Harry then adds, "And baldness," but William shoots back, "It's pretty rich coming from a ginger, so..." and the pair chuckle.

It was a rare moment of seeing how the two actually interract behind the scenes, but proved their bond was that of typical boisterous brothers.

A 'likeminded' pair, 2018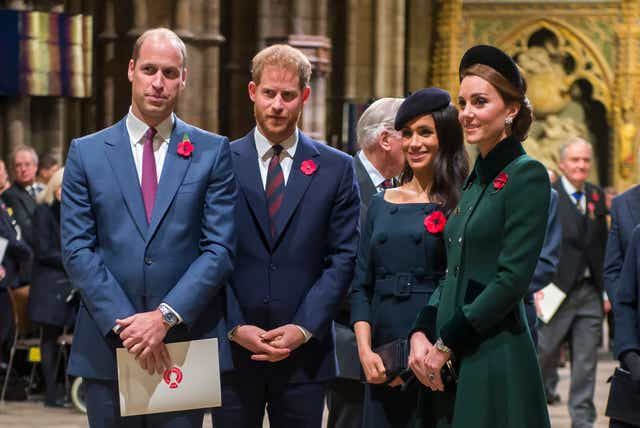 William, Harry, Meghan and Kate together for a Remembrance Day service in 2018

Before everything broke down, Harry and William seemed to reach peak closeness around 2018 when William acted as Harry's best man at this wedding to Meghan (though we now know things were fraught behind the scenes), something Harry had done for William's own nuptials back in 2011. You'd struggle to hear him say anything of the sort now, but back then William was interviewed for the Best Man Project and shared how he and Harry were "likeminded" people.

"My brother and I's relationship is closer than it has been because of the situations we've been through," William said. "Losing our mother at a young age has kind of helped us sort of travel through that difficult patch together. When you're like minded, you go through similar things. It's a bond and it's something that, you know, you've tackled it together and come out the other side better for it."

William, Kate, Harry and Meghan on 'royal arguments', 2018
In a very awkward panel discussion with all four of the then 'Fab Four', the group was asked about family arguments, which led to an uncomfortable round of awkward laughter. Eventually, though, Harry referred to the royal arguments as "healthy disagreements", and gave a carefully manoeuvered answer. "I think it's really good that we've got four different personalities," he said. "You know, we've all got that same passion to want to make a difference. But, different opinions. And I think those opinions work really, really well. Working as family does have its challenges — of course it does… but look, you know, we're stuck together for the rest of our lives."

Deftly handled by Harry, but the atmosphere? Palpable.

Harry says they are on 'different paths', 2019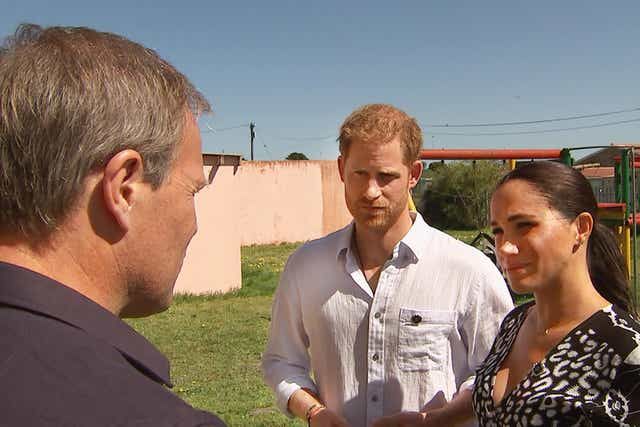 The couple speak openly with interviewer Tom Bradbury
During an interview as part of the ITV special coverage of Meghan and Harry's African tour — the same special which would blow up the internet after Meghan revealed was not very much not okay — when Harry was asked about his relationship with his brother.

He said: "We are brothers. We will always be brothers. We are certainly on different paths at the moment but I will always be there for him as I know he will always be there for me.

"We don't see each other as much as we used to because we are so busy but I love him dearly. The majority of the stuff is created out of nothing but as brothers, you know, you have good days, you have bad days."

William as Harry's 'archnemesis', 2023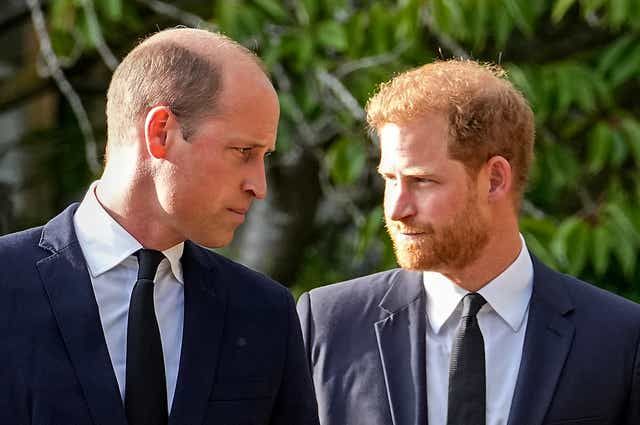 The upcoming release of Spare has already unleashed plenty of bombshells, including the allegation by Harry that he and William got into a physical altercation during which William pushed Harry to the ground. But one quote from the book speaks volumes about Harry and William's relationship: where he refers to his brother, the future king, as his "beloved brother and arch-nemesis." Harry was asked to expand on this sentiment during an interview on Good Morning America. He responded: "There has always been this competition between us, weirdly. I think it really plays into or always played by the 'heir/spare'."

Ultimately, the older the two have become, the more this dynamic has defined their relationship — and after the release of Spare, it remains to be seen if there is much of a relationship to reconcile at all.