Designer Gretchen Krebs of Medium Plenty offers her expert take on five concept kitchens styled by Bosch and outfitted with the brand's sleek appliances.
Situation room. Family headquarters. Science project laboratory. We depend on the kitchen for so much beyond just cooking up food-which is something designer Gretchen Krebs of the Bay Area interiors firm Medium Plenty understands well. "The kitchens we love to design are both multifunctional and beautiful, and often include flexible space for working and entertaining, such as corner banquettes, bars, or chef's counters," says Krebs, whose craft-led work has earned her Bay Area–based design firm a portfolio of notable new builds and remodels across the country.

Here, Krebs turns her professional eye to five Bosch-designed concept spaces, which have different looks but one thing in common: They balance form and function to elevate kitchen work from an everyday chore to a gourmet experience.


Go Industrial

Scale and texture were kept in mind when planning this spacious, relaxed kitchen in a loft space. White cabinetry and subway tiles provide a clean, crisp backdrop for the polished, stainless-steel appliances. Wood details provide contrast to the metallic accents, lend some warmth to the space, and tie it all together.
Gretchen Krebs: "Our approach to creating a comfortable kitchen in a raw space is to include natural materials like wood and decorative lighting fixtures that cast a soft light. This adds warm contrast to exposed ducts or cool, concrete flooring, for example."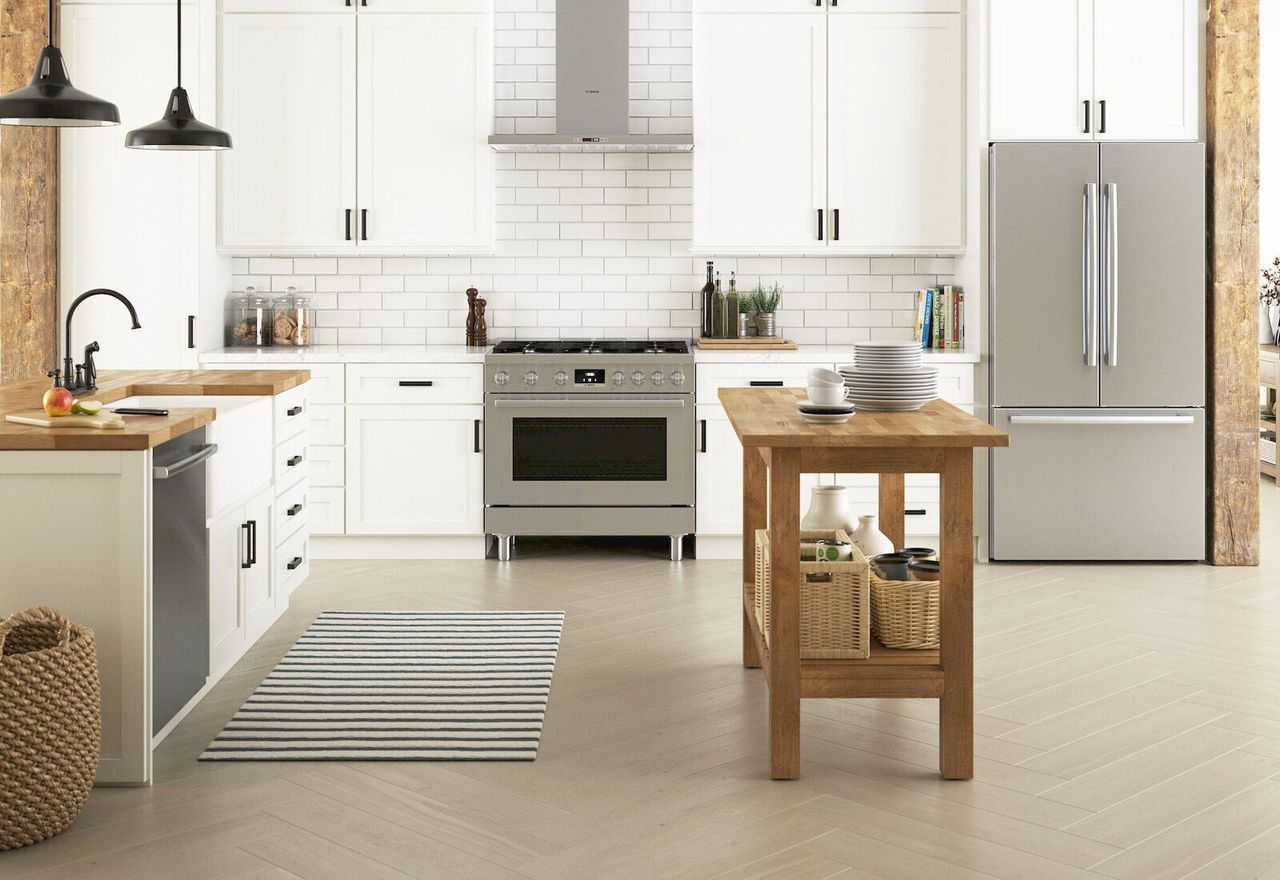 This kitchen's professional vibe is enhanced by Bosch's classic 800 Series Industrial-Style gas range, which features continuous grate design-for easy maneuvering of heavy pots and pans-and a soft-close oven door. The stainless-steel 800 Series refrigerator has generous pulls, and its bottom freezer is extra roomy. The minimalist, Energy Star–rated 800 Series dishwasher blends in nicely and is among the quietest models on the market.


Be Colorful

Color blocking is about making a bold, graphic statement. Here, cobalt-hued laminate cabinets stand out against a pale-colored marble backsplash, adding a playful sense of vibrancy to the space. The abundance of svelte stainless steel in this kitchen heightens the overall effect.
GK: "Using a strong color for the cabinets or a rich, textural stone or tile for a backsplash are great ways to make a focused impact."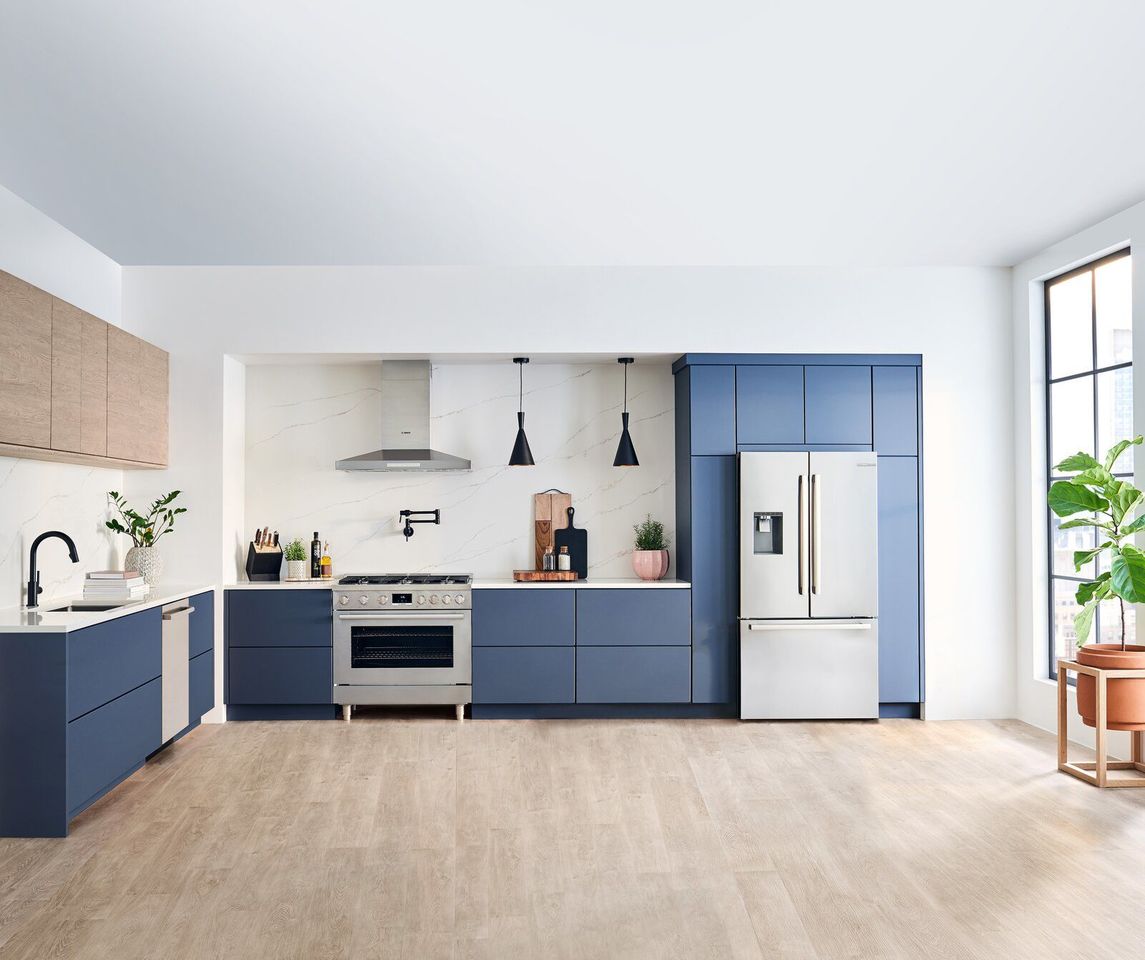 The heavy-duty knobs on the Bosch 800 Series Industrial-Style gas range are eye-catching, and they feel great in the hand; the oven's pedestal feet give it furniture-like presence. The stainless-steel 500 Series wall hood looks sophisticated, and it illuminates the workspace with a soft LED glow. The stainless-steel 500 Series refrigerator is streamlined with tucked-away feet.


Keep It Soothing

This kitchen maximizes the contrast between wood accents, dark-hued cabinetry, and slate-colored stone flooring to create a serene, seamless-looking space that's ideal for intimate gatherings. The use of simple lighting and functional objects as decor keeps the look organic and subdued.

GK: "Balancing function and beauty can be challenging, but our recipe typically involves a combination of closed storage that hides clutter and designated areas to highlight decorative objects. We also believe in intentional spaces for working and entertaining, and layered lighting is essential for creating different moods."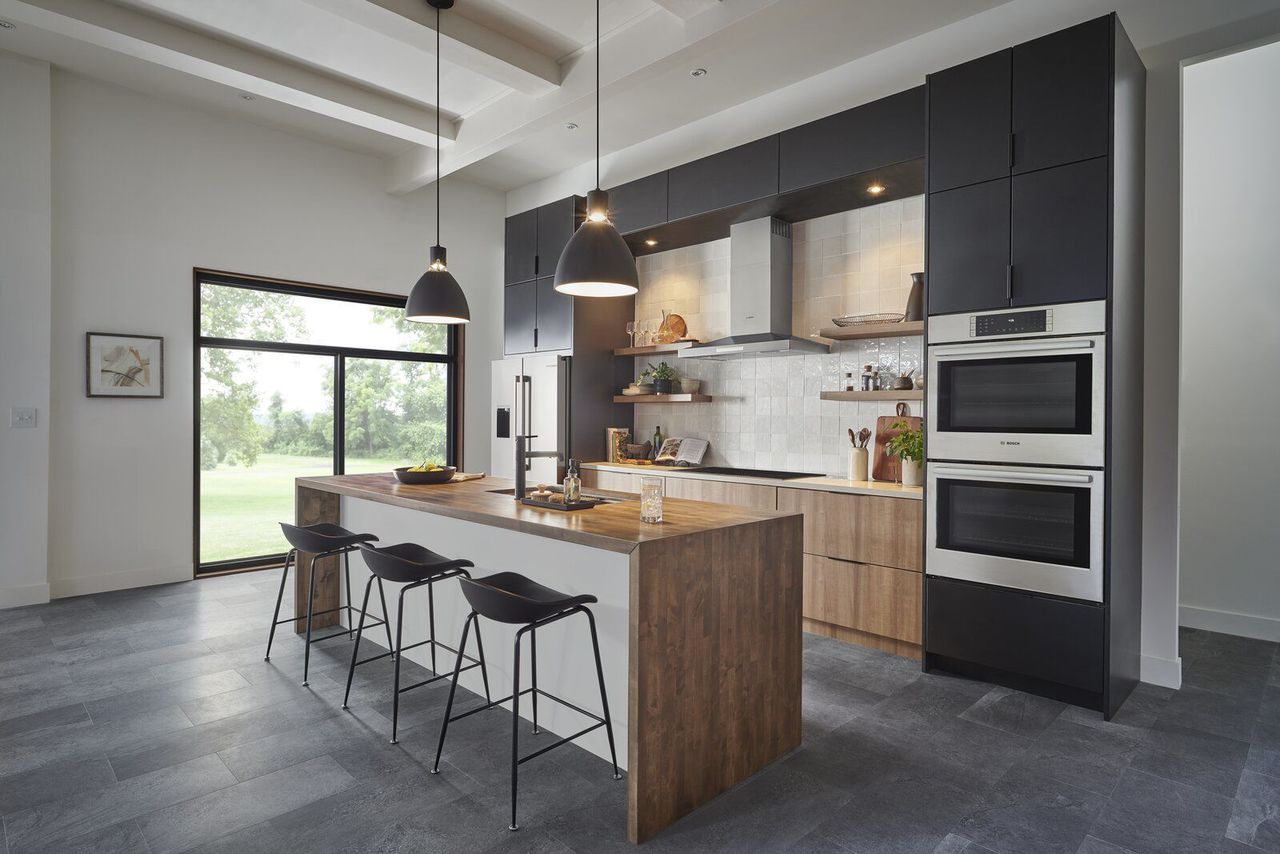 The Energy Star–rated 500 Series refrigerator from Bosch has attractive French doors and offers specialty water filtering and ice features. The Benchmark Series double-wall oven includes soft-close door hinges and a range of cooking methods, including convection.


Celebrate the Small

For the small kitchen that's short on elbow room, smart planning can have an outsize impact. This single-wall space hinges on multifunctionality and organization-only the most-used items are on display. Stacking the washer and dryer is a classic solution when separate laundry rooms aren't an option.

GK: "In small kitchens, we often make full use of blind corners and take cabinets to the ceiling. Situating the major appliances smartly is important in any kitchen, but especially in small ones in order to avoid conflicting doors of dishwashers and ovens."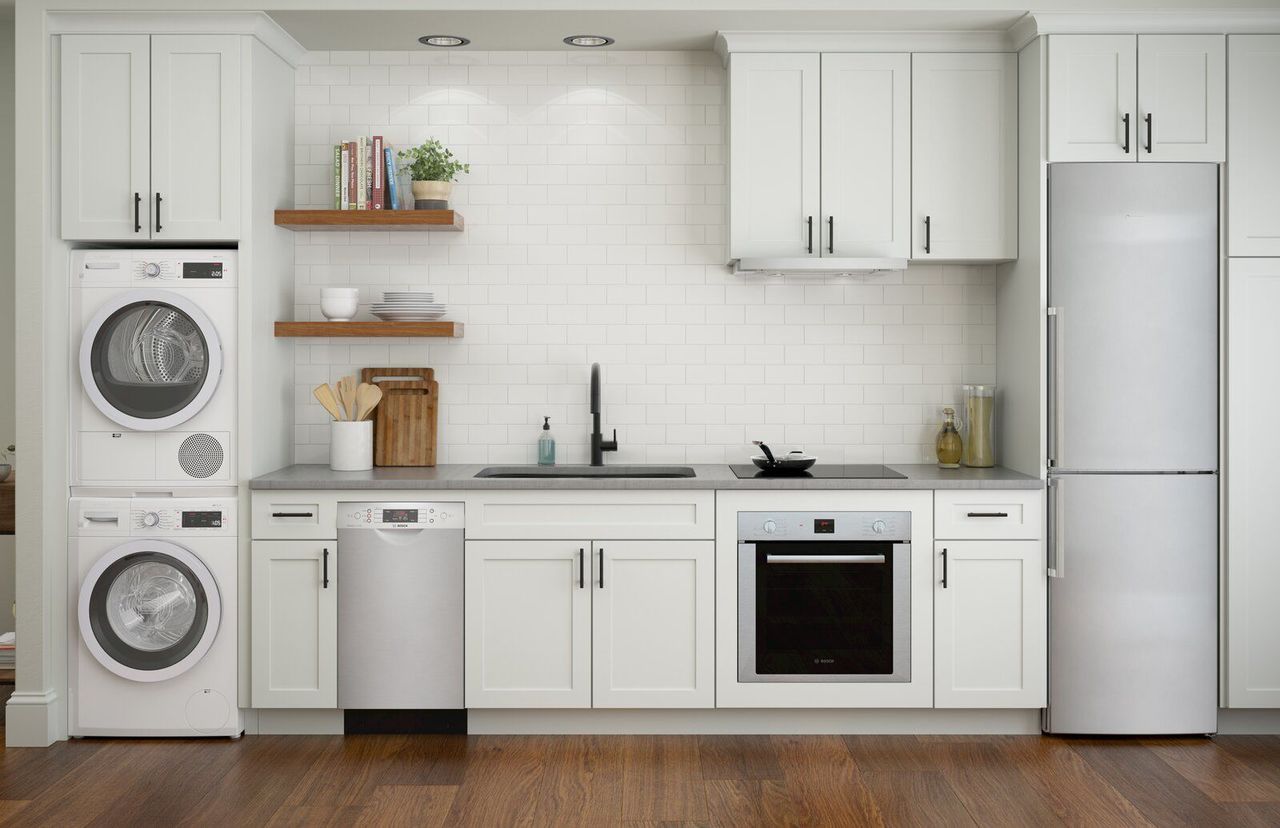 Bosch's 500 Series wall oven delivers high-performance, convection results in compact form and features elegant touch control. Over the induction cooktop, the 500 Series hood's replaceable charcoal filter absorbs odors-which is key in small spaces. The hidden hinge and reversible doors of Bosch's 800 Series freestanding bottom-freezer refrigerator allow for next-to-wall placement and nearly flush installation. ​​The 300 Series compact dryer uses ventless condensation drying technology, eliminating the need for the use of ducting.
Aim High

The household with soaring ceilings and a generous floor plan should think big-and vertically, especially when it comes to storage, as seen in this kitchen with cabinets surrounding both the refrigerator and oven ranges. A large island conceals even more kitchen tools and gadgetry.

GK: ""We try to size the island as big as possible whenever the space is appropriate, and pair it with a beautiful light installation overhead-this really anchors a room. Islands are also key because they help define a wide-open kitchen and create separation between zones."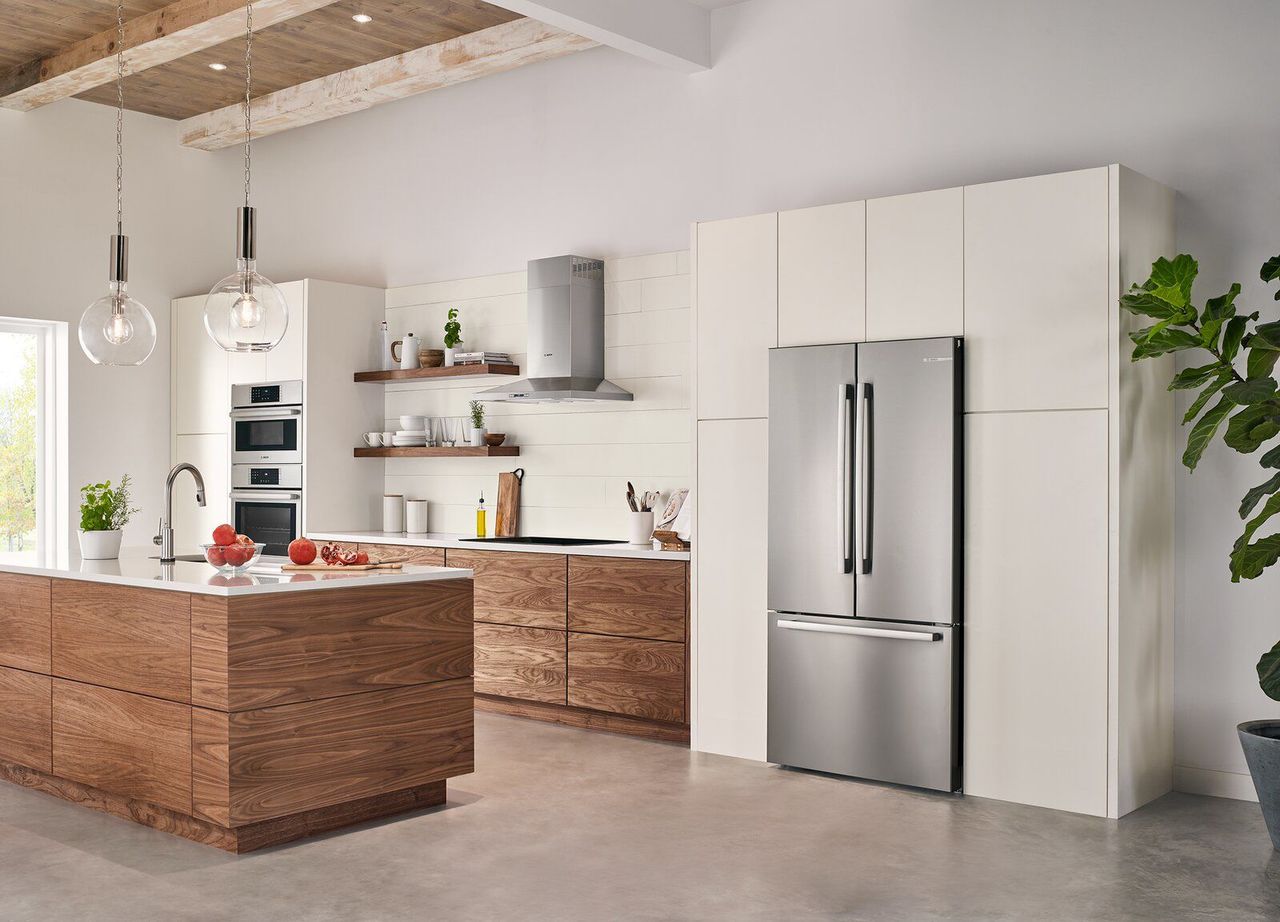 Bosch's 800 Series combination wall oven features "speed" oven capability above and convection options below. The 800 Series induction cooktop feels right at home in this spacious kitchen, with a wide glass surface that offers precise temperature control for a full slate of pots and pans. Wraparound storage sets off the 800 series refrigerator's clean, stainless-steel finish.