From Spanx to Skims, here's everything you need to know about the body-hugging miracle product.
Whether you're looking to flaunt your body's natural figure, or perhaps smooth out any visible lumps for an event, the magic of shapewear can change the way you dress. The confidence-boosting technology of shapewear now comes in an array of options that cater to your body's specific needs, from your arms, to your torso, and down to your legs. Since it's inception by Spanx creator Sara Blakely, that catapaulted the young woman into billionaire status, shapewear has become a crucial part of every woman's life, from visible panty lines to bra buldges, and its rise in mainstream popularity thanks to Kim Kardashian's Skims has provided us with unlimited options that target our every need.

Though we need to be clear about one thing: shapewear is meant to enhance your body's natural contour, not hide it. It accentuates your figure in all the right places elevating your every look with a kick of confidence. And with a plethora of options to choose from, how do we know which shapewear products work best for our specific needs? Navigating through the world of shapewear can be inimidating, but we're here to provide you with a guide around shapewear and what to wear it with.

Dresses

If you're planning to wear a tight-fitting dress on a night out, the best option for you is a shapewear product that hugs and covers your ribcage area down to your stomach. Structured like a corset but without the tight, uncomfortable feeling, torso-hugging shapewear will contour your natural figure and smooth out any lumps around your core area.

Left: Skims Sculpting High Waist Brief ; Right: Wacoal Inside Edit Shaping Brief.
Skirts

Pencil skirts in and off itself are shapewear products with it's body-hugging design made to showcase your curves, but the magic of shapewear accentuates and smoothens visible bumps that skirts aren't able to reduce. By using shapewear underneath skirts, it secures and compresses everything in place and reduces the look of buldges on any outfit.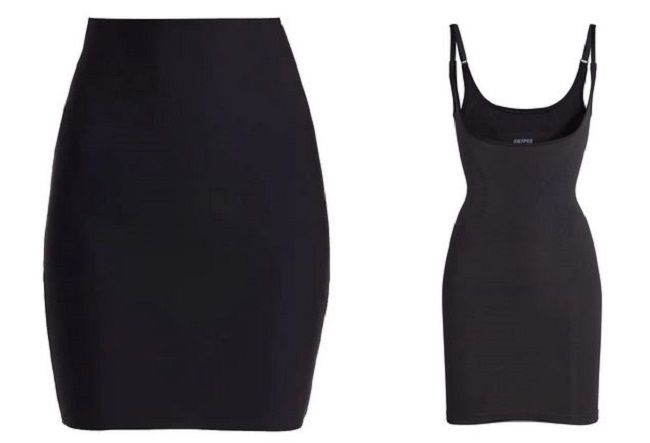 Left: Commando Two-Faced Tech Half Slip ; Right: Skims Sculpting Open Bust Slip.


Jeans

Made to smoothen your core, hips, and thigh area, high-rise shapewear shorts will be your best friend when worn under jeans. Holding everything together while simultaneously lifting your butt and compressing your thigh area will result in a flawless contoured look.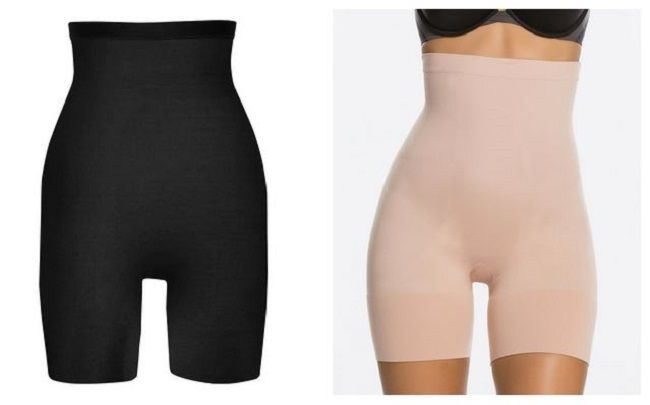 Left: Spanx Skinny Bitches High-Rise Shorts ; Right: Spanx Slim Cognito High-Waited Mid-Thigh Short.


Bodysuits

Lingerie has become an acceptable form of clothing as the trend emerged this past year, and that didn't stop shapewear from jumping into the trend. Bodysuits have been around for quite some time, and while they make for a great night-out look, they also hug your body in the right places and keep everything in place—accentuating your natural figure.
Left: Skims Fits Everybody Square Neck Bodysuit ; Right: Skims Essential Crewneck Bodysuit.